News clips examining recent PTSD, TBI and other combat trauma or deployment-related study insights. First, Jennifer Thomas for HealthDay via BusinessWeek:


War isn't just tough on soldiers. Army wives whose husbands were deployed have higher rates of depression, anxiety, sleep disorders and other mental health issues than the wives of soldiers who stayed home, a new study shows.

Researchers

looked at the medical records of more than 250,000 wives

, accounting for most women married to active-duty U.S. Army personnel. Between 2003 and 2006, about

34 percent of the women's husbands deployed for one to 11 months, 35 percent deployed for longer than 11 months,

while 31 percent of soldiers were not sent overseas.

Among wives of soldiers deployed for up to 11 months, researchers found

almost 3,500 more diagnoses of depression, anxiety, sleep disorders and other mental health issues

than among wives who[se] husbands stayed home.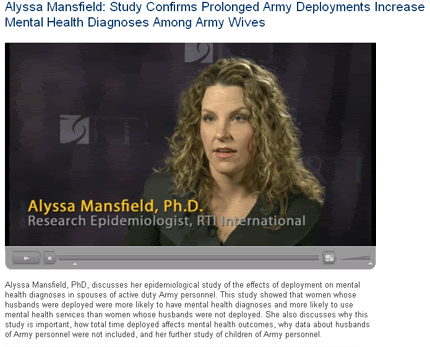 Click on image above to see Mansfield discuss study.
In educational interest, article(s) quoted from extensively.
Continued:
The more months a soldier was deployed, the greater the toll on his wife.

Among the wives of soldiers gone for longer than 11 months during the four-year period, they found more than 5,300 additional diagnoses of mental health issues.

"The wives of soldiers who are deployed to Iraq and Afghanistan are experiencing greater mental health problems and have a greater need for mental health services," said study author Alyssa Mansfield, a research epidemiologist at RTI International in Research Triangle Park, N.C., who was at University of North Carolina, Chapel Hill, when she conducted the research [RTI video of Mansfield discussing study]. "We also found the longer the [soldier] was deployed, the more likely the spouse was to have a mental health diagnosis."

The study findings are published in the Jan. 14 issue of the New England Journal of Medicine.
New Scientist
:
HEAD injuries sustained by Vietnam veterans have revealed parts of the brain vital for two types of emotional intelligence.

Depending on the site of their injuries, the veterans studied were poor either at "experiential" emotional intelligence (the capacity to judge emotions in other people) or "strategic" emotional intelligence (the ability to plan socially appropriate responses to situations).

Led by Jordan Grafman at the National Institute of Neurological Disorders and Stroke in Bethesda, Maryland, researchers gave standard tests for measuring emotional intelligence to 38 injured vets and 29 healthy controls. The 17 vets with injuries to their dorsolateral prefrontal cortex performed worse on experiential tasks but performed normally on strategic tasks. In the other 21 vets, who had damage to their ventromedial prefrontal cortex, the situation was reversed (Proceedings of the National Academy of Sciences, DOI: 10.1073/pnas.0912568106).

Damage to these regions didn't affect cognitive intelligence, suggesting that emotional and general problem-solving tasks are handled independently in the brain.
Amanda Carpenter,
Washington Times
:
In 2007, a high-ranking Navy doctor sent a sobering warning to colleagues:

The service may be discharging soldiers for misconduct when in fact they are merely displaying symptoms of post-traumatic stress disorder.



By doing so, the anonymous doctor noted in a memo to other medical administrators, the service may be denying those troops their rights to Veterans Affairs benefits — including treatment for medical conditions they incurred while serving on the battlefield.

In the future, any military personnel facing dismissal for misconduct after a deployment should be screened first for PTSD, the memo said. The recommendation was never implemented.

High-ranking Navy doctors who oversee medical care for the Marines say such screenings would help avoid sending troops back into society without the ability to get treatment for combat-induced illness from the very government that dispatched them to the battlefield.

"Post-deployment misconduct, especially in a Marine who has previously served honorably,

may indicate an unrecognized and unhealed line-of-duty stress injury that deserves expeditious medical evaluation

and, when indicated, appropriate treatment," said the memo, a copy of which was obtained by The Washington Times. ...

The Army told The Washington Times that

27,973 troops from [the Army] alone have been dismissed from service on punitive discharges from October 2002

, the start of fiscal 2003 and just before the Iraq war began, to May 2009. Close to half — almost 12,700 — were ousted in fiscal 2003.

A good portion of those who have seen combat duty can be expected to have PTSD....

On Monday, the Veterans Affairs Department released preliminary data showing that the suicide rate of young veterans, most of whom likely served in Iraq or Afghanistan, has risen by more than one-fourth.



The suicide rate among 18- to 29-year-old men who have left active military duty rose from 44.99 suicides per 100,000 men in 2005 to 56.77 in 2007

, based on Centers for Disease Control and Prevention figures taken from 16 states.

The active military is seeing the same problem, with the Army cataloging a record number of suicides last year.

Read more >>
Speaking of veterans and suicide, the following figures were reported today in a well-investigated and presented piece by Lisa Black and Stacy St. Clair,
Chicago Tribune
:
On Friday, the Army released new figures showing that, despite prevention and awareness programs, the number of suicides by active-duty soldiers continues to climb. In total,

160 soldiers committed suicide in 2009, up from 140 in 2008.





The suicide rate in all four branches was higher than the overall national average in 2009, with 52 Marines, 48 sailors and 41 airmen taking their lives,

military data show.



The Pentagon counted 301 active-duty suicides in 2009

, the highest since tracking began in 1980. The Defense Department confirmed 235 suicides in 2008, according to a Congressional Research Service report.

More daunting is the question of how many people take their own lives after leaving the military. The Veterans Affairs Department this week reported that

the suicide rate of men from 18 to 29 who left the service increased 26 percent from 2005 to 2007.



But there are countless others who are not included in the statistics because they did not seek help at a VA facility. ...

The Air Force examined suicides committed during active duty between 2003 and 2008 and found that

in 70 percent of the cases the airmen had problems with a relationship; 44 percent had legal trouble; and 29 percent had financial problems.

About 21 percent had been deployed the prior year, and 25 percent were receiving psychological help, according to a 2009 congressional report.

Several studies are under way to increase collaboration between military units and improve suicide-prevention efforts during and after active duty, Bates said.

For instance, the National Institute of Mental Health has teamed with the Army to

collect detailed information from 90,000 active-duty soldiers on their psychological and physical health and social, environmental and family histories

.

Read more >>
Laura Stone,
Montreal Gazette
:
[A] research project headed by a Canadian scientist will for the first time study the brain to find out why people have sleep-related problems

, such as repetitive nightmares, which are associated with PTSD. And solving the sleep problem may have broader implications for treating other symptoms of the illness, such as depression and anxiety, say the project's researchers, from the University of Pittsburgh.

"What we're trying to achieve is to better understand the sleeping brain in people with PTSD, so that we can use that information to develop or use treatments that we know have an impact on what is actually altered in the dreaming brains," said Anne Germain, the study's lead researcher and psychiatry professor, who is originally from Quebec.

"If we can have treatments that also focus on sleep, maybe we can have treatments that are much more effective for PTSD as a whole."

She said findings could also be applied to Canadian veterans.

Although sleep problems have been treated as a symptom of PTSD, Germain said it has never been the main concern in spite of its mitigating effect on everything else.

"So far, the treatments of PTSD exclusively focus on how we feel during the day, and the intrusive images and thoughts and the hyper-arousal (anxiety) that comes with it. They completely ignore the other half, which is the sleep part," she said. "

When we treat nightmares in people with PTSD, daytime symptoms are significantly improved.

"

The project, called the Veterans Sleep Study, involves four separate studies which focus on the brain during sleep. Two of the studies compare the brains of people with PTSD and those without it during rapid eye movement - the cycle of sleep in which we have our most vivid, detailed dreams. ...

Canada's current combat mission in Afghanistan is set to finish in 2011, with Canadian military personnel having completed just under 30,000 overseas tours, sometimes more than once.

According to a Commons committee report from November 2009, it is estimated that some 3,600 Afghanistan veterans could develop mental-health problems, including 1,600 with PTSD.

In the U.S., one in six soldiers who serve overseas show significant symptoms of PTSD or the full-blown disorder, said Germain.

Read more >>
Karen Kaplan,
Los Angeles Times
:
Early administration of morphine to military personnel wounded on the front lines during Operation Iraqi Freedom appears to have done more than relieve excruciating pain. Scientists believe it also prevented hundreds of cases of post-traumatic stress disorder, the debilitating condition that plagues 15% of those who have served in Iraq and Afghanistan.

That conclusion is based on findings published today in the New England Journal of Medicine. They suggest that a simple treatment can stop a single horrifying event from escalating into a chronic, incapacitating illness.

Small clinical trials and observational studies have hinted that opiates and other medications could disrupt the way the brain encodes traumatic memories, thus preventing the incidents from being recorded with too much intensity. The new findings --

troops who received morphine within a few hours of their injuries were about 50% less likely to develop PTSD than those who didn't get the powerful painkiller

-- are a strong endorsement of that theory. ...

Psychiatrists and neuroscientists aren't sure why some people develop PTSD while others don't, but the leading theory is that too much of the stress hormone norepinephrine at the time of a traumatic event causes the brain to malfunction when it records the memory.

The idea behind the preventive treatment approach is to disrupt the transmission of norepinephrine in the brain, either by blocking its release or by preventing it from binding to a receptor. In either case, a drug would have to be administered very early, while the memory was still being encoded. ...

In the latest study, a team from the Naval Health Research Center in San Diego

considered the treatment histories of 696 military personnel who were injured in Iraq between 2004 and 2006 and were cared for at medical facilities in the field

.

A total of 243 patients went on to develop PTSD. Among that group,

60% had been treated with morphine to alleviate the pain of their injuries. Of the 453 people who did not get PTSD, 76% had received morphine.



Overall, the patients who received morphine were about half as likely to develop PTSD compared with those who did not, said epidemiologist Troy Lisa Holbrook, who led the study.

Because painful events are more likely to be traumatizing, the most logical conclusion could be that morphine worked by decreasing patients' pain, Holbrook and her colleagues wrote. But the results also support the theory that morphine can affect the way memories are encoded, they wrote.

Read more >>
Rick Nauert PhD,
Psych Central
:
A new study carried out by Dr. Irit Akirav and research student Eti Ganon-Elazar, working at the Learning and Memory Lab in the University of Haifa's Department of Psychology, suggests the use of cannabinoids may help in the treatment of post-traumatic stress disorder patients.

The study was published in the prestigious Journal of Neuroscience.

According to background information, the result of experiencing a traumatic event — such as a car accident or terror attack — is the appearance of medical and psychological symptoms that affect various functions. While these conditions normally abate, 10 to 30 percent of people who experience a traumatic event develop post-traumatic stress disorder, a condition in which the patient continues to suffer stress symptoms for months and even years after the traumatic event.

The researchers used a synthetic form of marijuana, which has similar properties to the natural plant, and they chose to use a rat model, which presents similar physiological responses to stress to that of humans. ...

Refining the results of this study, the researchers then administered marijuana injections at different points in time on additional groups of rats, and found that

regardless of when the injection was administered, it prevented the surfacing of stress symptoms.



Dr. Akirav and Ganon-Elazar also examined hormonal changes in the course of the experiment and found that synthetic marijuana prevents increased release of the stress hormone that the body produces in response to stress.

According to Dr. Akirav, the results of this study show that cannabinoids can play an important role in stress-related disorders.

"The results of our research should encourage psychiatric investigation into the use of cannabinoids in post-traumatic stress patients," she concludes.

Read more>>
Reuters Health
:
Timothy S. Wells of the U.S. Air Force Research Laboratory, Wright-Patterson Air Force Base in Ohio, studied more than 40,000 members of the U.S. military who had been free of symptoms of depression and had not taken medication for anxiety, stress, or depression before deployment. The subjects were in all branches of the military from some or all of 2000 to 2006.



Those who experienced combat had the highest rate of new diagnoses of depression - about 6 percent for men and about 16 percent for women.

That compared with about 4 percent of men and about 8 percent of women who were not deployed, and about 2 percent of men and 5 percent of women who did not face combat. ...

In their report in the American Journal of Public Health, the investigators note that

male combat specialists had a lower risk for depression than men in health care or other supportive positions

, suggesting that "military hardiness" may help lower risk. ...

Male and female personnel with pre-existing PTSD were more likely to develop depressive symptoms, reflecting a well-known link between the two conditions.

Other risk factors for depression among men included younger age, smoking, alcohol dependence, and service in the Army or Marine Corps. Furthermore, women who were married, divorced, non-Hispanic white, on active duty, or served in the US Navy or Coast Guard faced an increased risk for depression.

Read more>>

&nbsp
Related Posts
Want to stay connected? You can subscribe to PTSD Combat via Feedburner or follow Ilona on Twitter.