Head's up, Northern Illinois.

All current and/or former members of the military; military family members; representatives or members of a veterans service organization; service or resource providers of any sort or stripe whose work includes supporting military/veteran clients; student veterans; and interested supporters are invited to attend a special Benefits/Informational Fair next week.


Organized not by the VA or other such entity, but rather by members of the NIU Veterans Club for their fellow area battle buddies, the first such campus gathering is set to offer the typical and atypical.

This weekend, I received a lively update on preparations from club Vice President and key event coordinator, Aaron Stahly.

"It's going to be special," Stahly said. "We're trying to make it a little more fun and useful than the usual benefits fair people are familiar with."

I'm impressed with what they're putting together for the community, which includes outlying areas west of Chicago, greater DeKalb and Rockford, Illinois.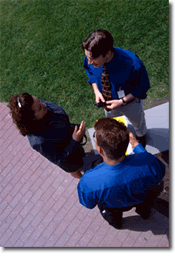 Stahly says the event is not only for NIU veterans. In fact, the fair -- which will also serve as a networking event -- has already received the attention of about 15 different college/university veterans groups intending to send members. These and other attendees can expect to engage with about 40 different veterans service and resource-providing organizations, giving everyone ample time to learn and share important information.

"Some of the more unique expected participants include Outward Bound, the Vet Art Project, and Vets4Vets," Stahly said. "We're excited to have them share their ideas and offerings, and we hope everyone will come out to network, get informed and see some of the great things going on in the area."



What: NIU Veterans Club Benefits/ Informational Fair

When: Thursday, March 4, 2010 -- 12:00 to 4:30 p.m. (attendees can come and go as their time allows)

Where: Holmes Student Center, Regency Room, Northern Illinois University Campus [directions]

Updates: See the event's facebook page.

More information: If you have specific questions on being a participant or attendee, contact NIU Veterans Club Vice President Aaron Stahly via email or at 815.587.4750.

I'm honored to have been asked to be the guest speaker at this important community event. Hope to see many of you there!

And please help spread the word...




&nbspRelated Posts


Want to stay connected? You can subscribe to PTSD Combat via Feedburner or follow Ilona on Twitter.