This past week has marked the sixth anniversary of the start of the Iraq War. As I prepare for my presentation at next weekend's Female Faces of War conference, I'm going through some of my previous writing related to the women warriors of this era. I'm also in the midst of writing my Honors Capstone paper, Combat Veterans, Mass Media and the Advancement of Social Consciousness, that I've been researching since January.

Something I'm still shaping, but wish to share with you...

Women have been smack-dab in the middle of three significant historical markers and media stories to have come out of the Iraq War era so far (as nearly 20 percent of deployed forces in the Middle East, they are a part of many more, of course). Three female service members in particular have also -- each in their own way -- played a role in coming forward to set the record straight on an important issue, provide important evidence and testimony, and share something they felt was hidden or not understood correctly by society.

Three notable female figures of the Iraq War's first year:


Jessica Lynch, an Army private held hostage and made into a hero after her support convoy came under attack during the initial invasion of Iraq in March 2003, set the record permanently straight about what really happened.


Sabrina Harman, former Army Reserve specialist with the 372nd Military Police Company who would later be convicted of participating in Abu Ghraib's horrors, photographed both prisoners and the guards meting out the abuse during the fall of 2003 "trying to expose" what was happening -- even while taking part herself.


Tami Silicio, a Kuwait-based military contractor whose photos of fallen U.S. service members' flag-draped coffins created an uproar after the Seattle Times published them in April 2004, acted to show military families the dignified way in which the bodies of their loved ones were were being transported home.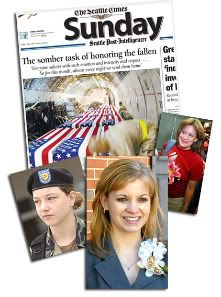 As you can see, I'm not going the easy route, listing merely "heroes" -- although Lynch certainly qualifies as one in my book. The reason Harmon is included yet others are not? There is no doubt that her digital images and emails home describing what was happening at Abu Ghraib prison shaped the course of Iraq War history.
Though their contributions widely differ, it is clear that each made a significant mark. I'll be expanding on their influence as I piece together my remarks for the FFW conference; when I have those ready, I'll be sure to share them with you here as well.
Although a departure from the PTSD-focus on this blog, in extended a few excerpts from a piece I wrote in 2007 about Jessica Lynch and the saga she was swept up in. This post also pays tribute to Lori Piestewa, Lynch's best friend and the first female service member to die in Iraq.
Author's Note: The following are excerpts from a paper I submitted as my final assignment in Northern Illinois University's special section, Iraq on Film – COMS 496 M, offered in Spring 2007 and taught by Professor Jeffrey Chown.

Forging an Icon

[pdf] looked at earlier 'hot button' issues having to do with Iraq War politics, military propaganda and media criticism. I offer the sections having to do with Lynch and Piestewa here as a reminder of the strength, resiliency and moral compass women have brought with them into the military.
Although the names Jessica Lynch and Soshanna Johnson are readily recognized in most homes across the United States, another soldier with them the morning they were ambushed in Nasiriyah –
Lori Piestewa
– doesn't have nearly the same ring. It's a curious thing since Piestewa, Lynch's Fort Bliss, Texas, roommate and a mother of two, was the first female to lose her life in Iraq mere days into the initial invasion. As a member of the Hopi tribe on Arizona's Navajo reservation, she was also the first Native American woman killed in action on foreign soil. In the aftermath of the Nasiriyah attack, Lynch and Johnson and Piestewa (along with others) were taken prisoner. Piestewa would die in captivity and faded from the greater public's view quite quickly, while Lynch and Johnson - to a somewhat lesser degree – became America's first heroes of the Iraq War.
Though Piestewa could have chosen to stay back due to a shoulder injury, the 23-year-old volunteered for deployment so that she could watch over her 19-year-old roommate; she carried out her service to country and friend with skill and bravery and heart, but most Americans don't know her name. In fact, even the media appears not to be all that familiar with her name. As recently as April 2007, in an interview with CBS' Early Show, Lynch spoke again of her battle buddy. The show transcript of her words contains a glaring error: Piestewa's name is misspelled as 'Laurie' rather than 'Lori.' Perhaps a bit of a simple mistake, but one that speaks volumes about our general knowledge of Piestewa. Her Fort Bliss roommate continues to try to correct the record on what happened in Iraq, however, going to great lengths to say she was a survivor, not a hero like her friend. "Lori is the real hero," Lynch says. ...
It was March 23, 2003, the third day of the U.S. invasion, when a portion of the 507th Army Maintenance Company's support convoy, running late and at half strength, their 18 vehicles (two being towed) lagging behind the rest of the 600-vehicle convoy, missed a turn and wound up lost. Capt. Troy King, commander of the 507th had chosen to lead the straggling leg of the convoy rather than move north with the others. Since leaving Camp Victory in Kuwait, he had been up for 55 straight hours, and he and his troops were into their second night of continuous movement. Radio communications were failing, and a shortcut to make up for lost time ended up costing them even more as their trucks got stuck in the soft Iraqi sands. A checkpoint that should have announced a turn off of Route Blue (the code name for the highway they were traveling on) had been deserted after the main line passed through. As a result, the convoy found themselves headed straight into Nasiriyah as dawn broke.
Only after clearing the wakening city once did Capt. King realize that the convoy was heading in the wrong direction. As the order was given to move out of the area quickly, small arms and machine gun fire, mortars and RPGs suddenly tore out from every direction. As the convoy's vehicles accelerated, pulling up the rear was Piestewa along with her passengers, Pfc. Jessica Lynch (whose truck had broken down earlier that evening, Piestewa coming to her aid, saying, "Get in!"), 1st Sgt. Robert J. Dowdy, and two troops that had been picked up after their vehicle had gotten stuck in the sand, Spc. Edward Anguiano and Sgt. George Buggs. As the Humvee sped through the ambush, the soldiers inside firing their M-16s, Lynch glanced over at her friend as she raced to drive them to safety.
Piestewa looked cool, calm and in control.
In front of the Humvee, a 5-ton wrecker piloted by Spc. Edgar Hernandez and carrying passenger Spc. Shoshana Johnson swerved to avoid hitting an Iraqi truck parked in the middle of the road. Hernandez lost control of the vehicle, and they crashed. Nearing the scene of this crash, an RPG struck Piestewa's front-left wheel well, sending the vehicle violently under the wrecker's hitch. Dowdy was killed immediately. Anguiano and Buggs sank into the grave under unclear circumstances. Badly injured, unconscious yet still alive, Piestewa and Lynch were taken to Nasiriyah's Saddam Hospital by their Iraqi captors. While Lynch would be dramatically rescued, her friend, the life draining from her body, would not make it out of Iraq alive. ...
With the forward momentum of Operation Iraqi Freedom in full swing, Americans were served up super-sized helpings of the story of a "[b]lond and waiflike" female soldier boldly fighting-to-the-end, guns a-blazing against the Iraqi militia until her ammo was spent. Early reports by the press had her "emptying her M-16 into Iraqi soldiers," fighting "fiercely," getting "stabbed and shot multiple times," not to mention that she "killed several of her assailants." Jessica Lynch was presented to the American public and the world as if she were a real-life GI Jane action figure. Operation Rally the American Public, the military and the media's propagandistic 'war on the truth,' had clearly commenced. "She was fighting to the death," one unnamed official was quoted as saying. "She did not want to be taken alive."
As the ground war kicked up, a larger U.S.-Middle East media war sparked up, too. This 'air' war revolved around what footage should and should not be shown. Images of dead American soldiers and five visibly frightened POW's captured in Nasiriyah were broadcast on Iraqi TV, while a controversial video tape aired on Al Jazeera showing both Piestewa, still clinging to life, and Lynch in their hospital beds (NBC News would air an edited version of this footage in December 2003).
Word was that the medical staff abused them, slapping them about. Of Lynch's injuries, the Associated Press reported that she had "two broken legs and a broken arm, plus at least one gunshot wound." Government and media reports told of her being brutally raped. Perversely, the story would soon develop into a well-timed, patriotic, 'feel-good' piece for the media and the military; they both pounced and capitalized on it. Reporters were roused from their beds in the early morning hours, told to rush into CENTCOM for an important briefing – many saying after-the-fact that they thought Saddam had been captured – only to be spoon-fed the fable of Jessica Lynch. ...
But the heroes are fighting back with the truth.
On April 24, 2007, Jessica Lynch appeared at a Committee on Oversight and Government Reform hearing entitled Misleading Information from the Battlefield. Its goal was to examine the facts surrounding the Pat Tillman case. Looking every bit the media darling with her blond bob and sweet smile, she challenged the military and the media for their outright lying about the circumstances of her capture and her rescue, saying of them, "I'm still confused as to why they chose to lie and try to make me a legend when the real heroics of my fellow soldiers that day were legendary." Of the media, specifically, Lynch said, "They should have found out the facts before they spread the word like wildfire." Instead they were too busy "all repeating the story of the little-girl Rambo from the hills of West Virginia, who went down fighting. It was not true." The soldier also spoke of the illogic of telling lies in order to pump up stories like hers in Iraq and Tillman's in Afghanistan, saying, "The bottom line is, the American people are capable of determining their own ideals for heroes, and they don't need to be told elaborate lies. I had the good fortune to come home and to tell the truth. Many soldiers, like Pat Tillman, did not have that opportunity."
In closing she said, "The truth of war is not always easy. The truth is always more heroic than the hype."
As for her best friend, Lori Piestewa, on January 19, 2007, Lynch named her daughter Dakota (the Hopi word for 'friendship' or 'ally') Ann (all three women now sharing the same middle name) in her honor. Piestewa, whose surname means 'water pooled on the desert by a hard rain,' would also have a 2,608-foot mountain peak near Phoenix posthumously renamed in her honor. While her story may have been lost in the military and media rush to create a hero out of Lynch, the strength of her character and her bravery have clearly left a mark with those who knew her. Too bad the rest of us weren't given a chance to know Piestewa at the time of her death. It would have been a great comfort to her family – and to America as well.
Video of Lynch's testimony:

Related Posts
Want to stay connected? You can subscribe to PTSD Combat via Feedburner or follow Ilona on Twitter.