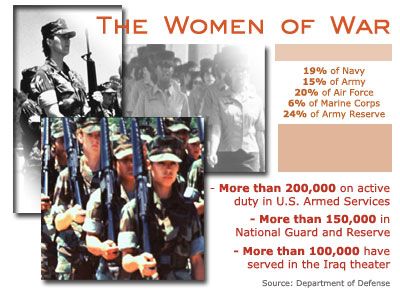 In educational interest, article(s) quoted from extensively.

According to the Department of Defense (DoD), 11% of those serving in Operation Enduring Freedom (OEF) and Operation Iraqi Freedom (OIF) are women. Officially, they are restricted to non-combat roles; however, in wars such as that being waged in Iraq, there are no front lines. Danger lurks at every turn.

Find out how they're faring. More...




And for the women who've served (or support a family member who's served), this news from Military.com's Veteran's Report:

The Specialized Outpatient/Post Traumatic Stress Disorder treatment program of the VA Black Hills Health Care System is hosting its semi-annual Women's Retreat April 28-30, 2006 at the Fort Meade VA Medical Center, two miles east of Sturgis. The program is intended for women veterans (all eras) and collaterals (wives, significant others, mothers, etc.) of male veterans traumatized by experiences during military service. The weekend retreat begins at 12 Noon on Friday and ends at approximately 1:00 p.m. on Sunday. Those wishing to participate must pre-register by phoning 605.720.7449 or 1-800-743-1070, extension 7449. Prior to registration, a brief telephone screening is required.

&nbsp
Related Posts
Want to stay connected? You can subscribe to PTSD Combat via Feedburner or follow Ilona on Twitter.