Earlier today, Congressman Joe Sestak (PA-07) took to the floor of the House of Representatives to talk briefly about 2009's Brain Awareness Week, which began Monday and continues through March 22.


In educational interest, article(s) quoted from extensively.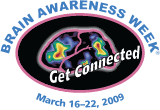 "This is the week that Society for Neuroscience members spread throughout America to speak about the exciting wonders of the mind," Sestak said. But, he added, they also take the time to engage us on issues having not only to do with neuroscience, but also on how to care for patients who suffer damage, such as traumatic brain injury.

"I speak about this as a veteran," Sestak said. "As the Pentagon announced earlier this month that 360,000 of those 1.8 million members of our society who went to Iraq or Afghanistan have returned with a brain injury."

The vast majority of these returning troops have healed, and will heal, he said -- but about 90,000 will have lasting damage.

Remarkable numbers, especially when we recall the big splash a report by USA Today's Gregg Zaroya made in November 2007, revealing that a look at veterans' records showed that ~20,000 OEF/OIF vets showed signs of having some form of TBI -- although the official military count was well below that.

In fact, in January 2007, as Moving a Nation to Care was moving towards its May publication date and the window to making any changes was a day or two away, I had called my publisher in a panic. Opening my review copy to its first page, reading its first paragraph, out jumped what was at the time a glaring typo: a sentence stating that 20,000 of returning Afghanistan and Iraq veterans had been diagnosed with traumatic brain injury.

The official figure at the time was actually ~2,000.

We were able to catch that misprint before the presses were fired up, and I was able to breathe a sigh of sweet relief. Little did I know how quickly my worries would become pointless, and how swiftly the stats that I'd collected in my slim offering would be outdated and dwarfed by the figures yet to come.

Below, some of the latest science, politics and progress on the diagnosis and treatment of TBI, and a recommended documentary. And, if you're interested in sharpening your brain (and the knowledge you pour into it), Dr. Deb has some fun suggestions -- and Mind Hacks will, well, blow your mind.

Gregg Zaroya, USA Today:


Pentagon officials estimated for the first time Wednesday that up to 360,000 Iraq and Afghanistan veterans may have suffered brain injuries

. Among them are 45,000 to 90,000 veterans whose symptoms persist and warrant specialized care.

Army Brig. Gen. Loree Sutton provided the estimate during a news conference about March as Brain Injury Awareness Month. She heads the Pentagon's Centers of Excellence for Psychological Health and Traumatic Brain Injury. ...

Sutton based her estimate upon military health-screening programs showing that

10% to 20% of returning troops have suffered at least a mild concussion. Among them are 3% to 5% with persistent symptoms

that require specialists such as an ophthalmologist to deal with vision problems.

Sutton's estimate is similar to a RAND Corp. study last year that said 320,000 may have suffered a brain injury. Following direction from Congress, the U.S. military began to screen all troops returning from the war zones for brain injury last year.
Kelly Kennedy,
Military Times
:
A hearing meant to give Defense Department officials a chance to explain their plans for spending $900 million allocated for mental health care quickly turned into a debate on how that money should be spent. ...

"

We keep getting studies

," Rep. John Murtha, D-Pa., chairman of the House defense appropriations panel, said at a hearing Tuesday. "

That's the problem with the Defense Department — they study it to death.

" ...

Lawmakers had plenty of ideas of their own: Buy more helicopters to get wounded troops out of Afghanistan faster; begin treating traumatic brain injuries immediately using hyperbaric oxygen chambers; and, most importantly, quit spending so much time studying options that never become reality. ...

But Army Brig. Gen. Loree Sutton, director of the new Defense Center of Excellence for Psychological Health and Traumatic Brain Injury, said there is much positive news since her program was created. ...

She said

there are 20 new sites to deal with mental health and traumatic brain injury issues

, that a new pilot program helps young people who now need assisted-living services, and that

2,700 providers have been trained about PTSD and TBI

. However, she said, the Defense Department missed its goal for hiring new mental health providers.

"Are we hiring enough?" Embrey saked. "I don't think we could hire enough at this point. The services had hoped to hire 1,000, and they've hired 800, so they're not as successful as they'd like."

She said officials are working on better recruiting methods, but

there is a national shortage of mental health care workers.

...

Murtha said

service members in Afghanistan are dying at higher rates from their injuries than service members in Iraq

, and he blamed it on a lack of transportation. "It's taking longer to get out of Afghanistan," he said. "I would assume it's because they can't evacuate them as quickly as they might."

Rep. Sanford Bishop, D-Ga., asked

why the military is not yet using hyperbaric oxygen chambers to treat TBI

in the wake of a recent study of 16 people with TBI that showed all 16 improved.
A new study is
seeking
participants:
Dr. Paul Harch, LSUHSC Clinical Associate Professor of Emergency Medicine, is the principal investigator of a pilot study to determine the effectiveness of one or two courses of hyperbaric oxygen therapy in treating chronic traumatic brain injury (TBI) and TBI with post traumatic stress disorder (PTSD). The study grew out of previous experience in treating TBI with hyperbaric oxygen therapy with improvement in symptoms and function.

Thirty participants will be recruited – half will have traumatic brain injury and half will have both traumatic brain injury and post traumatic stress disorder. The participants will undergo oral, written, and computers tests, as well as an MRI (if the participant has not had one since injury) and SPECT brain imaging. Participants will have 40 hyperbaric oxygen therapy treatments and can request up to 40 more if not improved to his/her satisfaction.
Round trip airfare to New Orleans will be provided to all veterans approved for the study. Depending on branch of service, housing and meals are free or at highly discounted rates. More information, call: 504-309-1445 or 504-309-4948.
In other military TBI research, from the Jan/Feb 2009 Defense Centers of Excellence In Action newsletter [pdf]:
Researchers from the Defense and Veterans Brain Injury Center (DVBIC) - a DCoE component center - have published the results of

a randomized clinical trial comparing different treatment approaches for those with traumatic brain injury

.

The study, appearing in the December issue of the Archives of Physical Medicine and Rehabilitation, compared two rehabilitation approaches: "cognitive didactic" versus "functional-experiential." Although the findings suggest advantages to both methods,

the cognitive approach resulted in better short-term gains in mental function and was more effective in helping younger patients

return to work or school. The functional method led to higher rates of independent living among older patients. Both methods had been validated in prior research but had never been tested head-to-head.

"Our results show long-term functional improvements in both groups," said lead author Rodney Vanderploeg, Ph.D., a research psychologist at the Tampa Veterans Affairs (VA) Medical Center and University of South Florida. Vanderploeg said that

one year after treatment about 6 in 10 study participants overall were employed and living independently

.

"This is remarkable," wrote Vanderploeg and colleagues, "given that none were capable of work or independent living at baseline" and 90 percent had brain injuries
that were considered severe.



The study included 360 veterans or active-duty troops, mostly men, with moderate to severe traumatic brain injury

(TBI). Enrollment for the study ran from 1996 to May 2003, shortly after the onset of the war in Iraq. As such, most of the participants sustained their injuries not in combat but in vehicle crashes, falls or other incidents.
More in the latest DVBIC Brainwaves [
pdf
] newsletter.
Last year, the
Brain Injury Association of NY Military Veterans Project
produced a documentary, Beyond the Invisible: Living with a Brain Injury, revealing the ins-and-outs of the signature injury of our modern wars through interviews with military families coping with TBI and commentary by medical professionals.
Part 1
Part2
Part 3

Related Posts
Want to stay connected? You can subscribe to PTSD Combat via Feedburner or follow Ilona on Twitter.