The Philadelphia Inquirer spent nearly a year reaching out to the Pennsylvania National Guard's Alpha Company following their return from Iraq. They lost six troops while overseas; the Inquirer spoke with almost all of the 131 who made it home alive. The paper's coverage, packaged in a four-part series, began yesterday.

First, Alpha Company's stunning PTSD figure:


Of all the things that Alpha Company has had to struggle with since it came home from Iraq, the most pervasive may be post-traumatic stress disorder, or PTSD.

Of the 126 veterans interviewed or surveyed by The Inquirer, almost half - 46 percent - said they had been treated for PTSD

, most at VA hospitals and clinics in the region.

Alpha's rate of PTSD is higher than that of most U.S. troops who served in Iraq or Afghanistan - partly, no doubt, as a result of its being a frontline combat unit that lost six men. Shelley M. MacDermid, a Purdue University professor who served on a Defense Department mental-health task force last year, said typical PTSD rates among returning veterans were about 14 percent.

"Those are big numbers," she said of The Inquirer's Alpha findings.



National Guard and Reserve units, in general, have shown slightly higher PTSD rates than have regular Army units

, she said. The Defense Department task force said this might be in part because civilian-soldiers were separated after they returned home, rather than staying together as units in which the members could support one another.

Ira Katz, director of mental-health services for the Department of Veterans Affairs, said that among the 300,000 or so veterans who have been seen by the VA, about 20 percent have been diagnosed with PTSD. But he said that twice that number - about 40 percent - have had some "mental condition."

"That's not all that different from your [46] percent," he said.

Both MacDermid and Katz said that PTSD had become a popular shorthand for all sorts of emotional symptoms that veterans experience. These may include depression and anxiety disorders, but not rise to the level of PTSD.
In educational interest, article(s) quoted from extensively.
From yesterday's
opener
:
More than two years after coming home, and on the eve of the Iraq war's fifth anniversary, the 131 survivors of Alpha Company are still trying to sort out the meaning of their sacrifice. These were citizen-soldiers, many of them family men, drawn from across the Philadelphia region. They are, today, police officers and prison guards, construction workers and drugstore clerks. One is an airport screener, one carries mail, and one digs graves.

The Inquirer set out almost a year ago to track down every Alpha member. About a third have left the Guard, and others have transferred to units as far away as Texas and Arizona. One died in a car accident, one went to prison, one melted into the shadows of Army Special Forces. It took court records to find some. Others, although still in the Guard and in the area, were wary of talking.

The newspaper ultimately reached all but one veteran, and all but five cooperated in reporting on how they were doing.

Alpha never expected to go to war. Its members knew it was possible, but the Pennsylvania Army Guard hadn't sent units into combat since World War II. Many of the men had been in the Guard for years without ever venturing much farther than Fort Indiantown Gap on the eastern slopes of the Allegheny Mountains.

Then came 9/11. Then came the Iraq invasion. Alpha was called up in 2004 for almost six months of pre-Iraq training in Texas and Mississippi. The unit then spent nearly 11 months in the dust and danger of northern Iraq, where Alpha endured half a dozen bomb attacks and ambushes in which men were hurt. Besides the six men who were killed, 17 received the Purple Heart for getting wounded in combat.

Amid the relief and joy of coming home in late 2005, the survivors weren't fully prepared for what, to them, were unexpected difficulties of readjusting to civilian life. Some emerged from the trial of Iraq stronger and more self-confident, with high hopes for the future. But others feel derailed and don't know, yet, how to get back on track. Almost half - 46 percent - have been treated for post-traumatic stress disorder, or PTSD.

For many, the stresses of reentry - reacquainting themselves with wives and girlfriends, returning to work or school - caused levels of anger and anxiety that required psychotherapy and medication, often at a VA hospital or clinic. About a third were collecting VA disability pensions for PTSD, hearing loss, bad backs and other injuries - some while still serving in the Guard.

Almost every man said he had felt welcomed home. Sometimes strangers, seeing them in uniform, would say thank you.

But many in the company saw an America bored with veterans' stories - too detached or too distressed by events in Iraq to care much about them

. And that felt like an insult.

For some men, the path to recovery remains as elusive as the shadowy insurgents Alpha stalked on the plain of ancient Mesopotamia.
Read
what deployment was like. Today, the bumpy
road home
:
At Fort Dix, where they arrived 11 weeks after the attacks that killed six of their men, Alpha Company veterans were warned that their homecomings with wives and girlfriends might not be easy.

It was October 2005. Nearly a year had passed while they were abroad. The men would need a break, a chance to do nothing. But so would the women. They had been dealing with babies and budgets and busted pipes all on their own. What's more, the veterans were apt to exhibit symptoms of post-combat stress, including fits of anger and anxiety. That was natural. But if it persisted, it could become a problem.

"You've all changed," said David R. Hulteen of the Army Career and Alumni Program, a bald Vietnam-era veteran with a flowing white beard. "And so has your family. So has everything."

The veterans of the Philadelphia-based National Guard unit looked sleepy and bored as they slumped on hard chairs in the old base chapel. Here they were in South Jersey, an hour's drive from home, maybe less. The autumn landscape beckoned, but they had to sit and listen, during days of debriefings, as one speaker after another told them how hard being a civilian again was going to be.

"It's sometimes just as tough to be back home," said Bonnie Reed of Army Community Services. Tough? No one wanted to hear it. "I just wanted to go home," said Sgt. Lorenzo Martinez. Martinez, like others, could not visualize the road ahead. He could not know that, months later, flashing back to a sniper incident in Iraq, he would find home to be a deeply threatening place.

"I dreamt of this place," Staff Sgt. David Jock said. Nine days before his first Christmas home, the Alpha Company medic was nursing a beer at a bar in tiny Oxford, Chester County. It was where Jock felt most at home since coming back.

He had survived the Aug. 9, 2005, attack in which four men had been killed, and his left shoulder still hurt where the ligaments had been torn when his humvee rolled into a bomb crater. A slight man with sinewy muscles, Jock said he was dealing with guilt - guilt that he had made it, guilt that he had felt "glad it wasn't me."

He had not felt able to return to his civilian job as a paramedic. After seeing so much blood in Iraq, he didn't think he could handle the flashbacks he was sure the work would bring. Feeling bad was weighing him down.

He and his wife, Susan, shared a twin house with her disabled grandmother up the street from the tavern. They were having a hard time. They had been married only a year before he was called up, and they had spent their first anniversary packing his uniforms and toiletries for Iraq. Then he had been away almost 18 months. Susan, now pregnant, thought Jock was drinking too much.

"We need helmets when we clash," he said.

Several other Alpha Company veterans had returned to find their marriages over. Some marriages that had been weak to start had not stood up to the stresses of the long separation.

A platoon sergeant from Philadelphia's Feltonville section came home to an empty house. His wife had moved to Georgia and taken their 8-year-old daughter. A soldier from Kutztown said his wife told him while he was still in Iraq that "she didn't want to be married anymore." He said: "I came home to a bunch of boxes on my front porch."

Jock knew he was hard to live with. He didn't sleep well and was often angry. He felt as if he was always on edge, always on guard. While Christmas shopping at a Wal-Mart in Parkesburg, he had been talking at the checkout with another war veteran. A woman complained that they were holding up the line. Jock wheeled around and cursed at her. His outburst surprised him.

"I just haven't been feeling like the old Dave," he said. "The old Dave had a good sense of humor. My patience is not what it used to be. The amount of anxiety that has built up is incredible. I have never felt this way before." ...

On the dreary afternoon of Feb. 8, 2006, three months after Alpha Company came home, more than 200 mourners were packed into Lamm & Witman Funeral Home in Wernersville, west of Reading. They were there to say goodbye to Spec. Tyler Kline, a company veteran.

Alone in his car, Kline had driven off a rural road near his parents' home at 10:49 on a Thursday night and struck a tree. A deputy Berks County coroner ruled him dead on the spot. By morning, almost all of Alpha had heard the news. The soldiers were devastated. It was as if another man had been killed in Iraq.

Ray Hildebrand, who had been Kline's roommate, said the men had known some might die in the war - but at home? Not the day after a man turned 21. Kline's birthday had been that Wednesday. Some of his friends had taken him to celebrate at the VFW hall in Myerstown and then at a bar in Robesonia. He had slept safely at Hildebrand's house.

"We all thought we would grow old together and be brothers to the end," Hildebrand said. Many in Alpha had not seen one another since coming home in October. They had felt a little lost, isolated. Sgt. Jim Murray, 31, of Phoenixville, a poker buddy of Kline's, said later that his friend's death set back his own readjustment to civilian life.

"You go through all that crap, wondering if you are going to see the next day," he said. "And then you come home and you're free and life is good - and then some car accident kills you. "What the heck is the point?"

The Alpha veterans had been on duty at Beiji, 110 miles north of Baghdad, when their six comrades killed in two August 2005 bomb attacks were buried in Pennsylvania. The guardsmen had therefore never really had a chance to mourn.

Now, six days after Kline's accident, they were turned out at Christ Lutheran Cemetery in green dress uniforms, desert camouflage and stiff civilian suits. As an honor guard fired three blank volleys and a trumpeter blew Taps, they fought back tears of pent-up grief.

Afterward, Murray and his wife silently wended their way back to Phoenixville and ended up at the home of another Alpha veteran. The one thing they didn't talk about was loss. They'd had enough of that. ...

Moments after a February sunrise, four Philadelphia police detectives and three uniformed officers banged on the door of a rowhouse on South 53d Street. They had come with a search warrant.

They were investigating a drive-by shooting that wounded three men. In a car that might have been involved, they had found a Glock semiautomatic pistol. They traced the pistol to an occupant of the house: Joseph Steven Smith, 22, a soldier in Alpha Company. Now, they wanted to see what was in the house. They found 2.2 grams of crack cocaine and a .22-caliber Beretta pistol they said Smith had bought illegally on the street.

Smith was arrested.

Word spread among Alpha Company veterans that the popular private first class, a beefy 5-foot-11 and 230 pounds, was in jail. Alpha veterans who were members of the Police Department checked on Smith's status. The rumor was that Smith had been charged in the drive-by shooting. But that was not the case. The District Attorney's Office had charged him only with drug possession and having a stolen firearm.

Staff Sgt. Anthony Kelly, among other Alpha leaders, was shocked. Smith had been an eager soldier, a man who volunteered for extra combat missions when a platoon was short a man for a patrol. In April 2006, two months after Smith's arrest, the charges were dismissed. But then came another arrest in Essington, Delaware County, in September.

The Delaware County authorities accused him of dealing drugs and arrested him on six criminal charges. Capt. Kenrick Cato, who had taken over from Anthony Callum as company commander, at one point checked with Smith's mother to make sure Smith had a good lawyer. He did. Smith, by then, had withdrawn from contact with his old Alpha comrades.

Several months after the Delaware County arrest, Smith pleaded guilty in Delaware County to one charge - criminal conspiracy - and was sentenced to a year in prison. He spent much of it at a state prison before being released. Smith declined several times to speak with The Inquirer. Cato said he thought Smith's Iraq experience might have added to his troubles by giving him the sense that, having survived a war, he was invulnerable.

Many of the men, he said, felt that way, at first.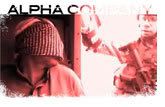 Read more
and view
previous
Alpha Company Inquirer articles. Tomorrow, the Inquirer will look at the flashbacks that haunt some of the returning soldiers who were generous enough to share their experiences with us.
As difficult as these issues are to face, these stories help us to better understand the consequences of war on individual, family and society. Thank you, Alpha Company, for entrusting us with them.

Related Posts
Want to stay connected? You can subscribe to PTSD Combat via Feedburner or follow Ilona on Twitter.