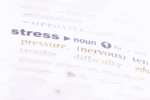 Have a troop serving overseas? You're probably wondering what you can do to ease their transition back to civilian life once they're home. You probably also want to do all you can to prepare yourself for that long-anticipated reunion.

Click on 'Article Link' below tags for more...

Well, there are a number of great books that have been written to help those looking to do just that. Some of the following are also available as books-on-tape/cd, if you prefer that format:

Please add any of your own recommendations in comments. I'll be happy to add them to the list.




Related Posts


Want to stay connected? You can subscribe to PTSD Combat via Feedburner or follow Ilona on Twitter.