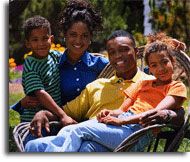 The DOD has once more christened April the Month of the Military Child. Since 1986, this month is set aside to focus on honoring the littlest member of the military family. I'll share resources and family transition tips for those returning home from a long deployment overseas.

Click on 'Article Link' below tags for more...

First, some military resources you might want to make use of:

Explore Grand Forks [ND] Air Force Base's Escape Zone, a new interactive learning center opened just yesterday at 410 Seventh Ave., Building 320, on base. Open for all active-duty military families (Reserve and Guard included), the Escape Zone offers a place for parents to join their kids in a number of hands-on activities and programs aimed at helping with their pre- and post-deployment bonding. Phone (701) 747-5608 for more details.




Don't miss these two great clearinghouses of family info: DeploymentLINK and the valuable Blue Box of resources.

Highly recommended -- lots of Blue Box family reintegration guides, including the following must-haves workbooks:




Access the DOD's Military Child in Transition website, brimming with great information for both parent and 'military brat' (said lovingly, of course :o). Some of the gems you'll find here are the 85-page Military Students on the Move Toolkit for Parents [pdf]; the 29-page Parent's Guide to the Military Child During Deployment and Reunion [pdf]; and the 12-page How Communities Can Support the Children and Families of Those Serving in the National Guard or Reserves [pdf].




Check out the DOD's Military Homefront website. Take a special look at the resources collected on their Children & Teens page.




Have your kids explore Kids Information on Deployment Stuff (KIDS), a website made especially for them. Click on their grade level (grouped into three categories), and away they go!




View the Army Reserve Family Programs Readiness Video, Dealing with the Emotional Side of Deployment, that explores what to expect during your soldier's deployment. You'll also learn to handle the stress and emotions that you'll be feeling during this anxious time. Although the video is geared toward the couple's relationship, kids will benefit, too.




Take a look at the Deployment Health Clinical Center Family & Friends page. It has a lot of resources waiting for you including links to the following videos: Making Your Reunion Work, Family Readiness Groups, and Family Assistance Center.

A few other resources:

Give Zero to Three a quick look; they're a nonprofit whose mission is to "support the healthy development and well-being of infants, toddlers and their families." They have some veteran-specific resources including the 8-page booklet Little Listeners in an Uncertain World: Coping strategies for you and your child during deployment or when a crisis occurs [pdf].





Read WNBC's great article which provides a list of things parents and teachers can do to support military children. A few tips include:


Keep in touch. Help kids find ways to keep in touch with their parents overseas. E-mail and/or phone calls can be helpful, when available. Kids can also send letters and/or packages.


Build a scrapbook. If a parent will or may be out of contact for an extended period of time, help kids keep a journal, scrapbook or photo album of daily events to share with their mom or dad when they return. Pay particular attention to holidays and special occasions like birthdays, school plays or graduations. Kids will want to help parents "catch up" on these events when they return.


Leave comforting reminders. Some parents record themselves reading a familiar and soothing story before they leave. Others write notes or leave photographs to be opened each day or week.


Kids need predictability. Be careful about promises to call at a certain time or come home on a specific date.


Schoolwork issues. Children may experience a slight decline in classroom performance while a parent is on active military duty. Children may have difficulty studying with so many other things on their mind. Other children may actually focus on schoolwork as a way to deal with their anxieties. In general, teachers should be told that a parent is on active military duty. It may help them understand any academic or behavioral changes they may see in the classroom.


Get in touch with other military families. Help kids make contact with other kids whose parents are on active military duty. In some areas, school guidance counselors or local therapists are organizing informal groups to give kids a chance to talk about their thoughts and fears.


Limit TV. Many children in military families are riveted to the details of daily media coverage. In part, this may be an effort to master the situation by gathering as much information as possible. This can be an important and healthy reaction. Young children (preschool and school age) should not watch war-related coverage unattended. It's best done with a parent or other adult who can provide reassurance and/or help answer questions. Even adolescents should be encouraged to limit TV viewing. Research clearly indicates that constant exposure to war related coverage may heighten anxiety. Read more on kids' viewing of TV war coverage.
These are only a few of the suggestions, so I'd highly recommend taking a look at the entire article.




Military.com's Your Children and Separation page offers solid advice and links to more solid resources for military parents. A few suggestions:


Be Truthful. Children are very perceptive! As soon as the servicemember starts planning and preparing for a drill or deployment, the child will catch on that something is up. Do not lie to your child in an attempt to shield him or her from the truth or they may assume something worse. Talk to your child openly and honestly.


Share Feelings. Children often lack the vocabulary to share their feelings. It will help if parents talk about their own feelings which will help children communicate their feelings. Let your child know that even negative thoughts and feelings are OK and normal.


Explore Destination. Using a map or globe, show your child where you are going and chart your route. Using books or encyclopedias, explore weather conditions, cultural norms, or products produced in that region.


Communicate with Teachers. If your child is school-age, let the teacher know what is going on at home. The teacher may use maps and chart your travels with the class!


Design an Activity to Pass Time. With your child, design or create an activity to help mark time. For younger children, make a paper chain with a link for each day you will be gone that the child can use to measure time (the child will break a link each day). For an older child, choose a book that you both would enjoy and each read a pre-assigned passage everyday.


Show Your Workspace. If possible, set aside time to show your child the ship and where you will be eating, sleeping, and working. Or, take your child to the armory prior to departure and show him or her the artillery guns or weapons that you might be working with while away.


Let Your Child Help You Pack. Letting your child help you pack will allow him or her to be more involved in the process and also allow them to "care" for you. If possible, let them decorate the inside of your footlocker. Not only will they have great fun but you will enjoy their artwork for days and months to come.
Read to learn to identify signs of possible distress in your child.




Finally, the following helpful tips come from the Blue Box's A Soldier and Family Guide to Redeploying:


Deployment Reunions and Children

Deployment reunions and reintegration are a process, not an event. The process requires time and effort. Stress levels may remain high up to seven months post deployment. School is a setting that remains the same for the child of a deployed parent[; t]herefore, it's an important part of their life. Families and schools working together help children adjust to the changes inherent in deployment reunions and reintegration.

Tips for Parents:



Talk with you children before the service member comes home much as you did when the parent was preparing to leave.

Tell your child's teacher about the return of the military parent from deployment.

Use the services of the Family Support Center and Army Community Service to help address the special challenges of wartime deployment reunions and reintegration.

Know that children's behavior will greatly depend on how their parents renegotiate, compromise, and communicate.

Take care to avoid abruptly shifting love and attention from the children to the returning spouse.

Help children understand that they have changed while the parent was away, AND that the parent has changed, too. Assure them that even though the parent may look or act differently than the child remembers, the returning parent is their same father or mother that left and that loves them.

Understand that children may experience a variety of feelings:



Happy that they will see the parent again.

Afraid that the parent will not like the way they have changed, or that the parent will leave again.

Excited about being able to share some of their favorite activities again.

Proud that their parent is doing an important job for our country.

Jealous of the time and attention taken from them and now given to the returning parent.

Worried that all these feelings are not normal.

Know that the children may not respond to discipline from the returning parent because of the loyalty to the parent that remained behind. Children may test the limits of the family rules to find out how things may have changed with the return of the deployed parent.

Go slowly and let the children set the pace in accepting the parent back. Plan some special time for just the child and the returning parent to get reacquainted.

And finally, just go easy on yourself. Take things one step at a time. And seek out outside help in all of its forms to help support your transition back into the family you so missed -- and so missed you -- while you were away.



Related Posts


Want to stay connected? You can subscribe to PTSD Combat via Feedburner or follow Ilona on Twitter.