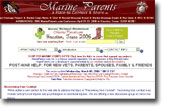 A great resource for military families, the non-profit MarineParents.com offers a Recovering from Combat Page filled with resources "for new vets, parents, spouses, family & friends." You'll find a brand new PTSD bulletin board, an impressive collection of post-war coping links, as well as information on their upcoming conference featuring an incredible line-up of speakers.

Click on 'Article Link' below tags for related links...




&nbspRelated Posts


Want to stay connected? You can subscribe to PTSD Combat via Feedburner or follow Ilona on Twitter.