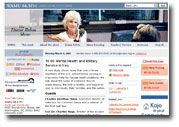 Well worth a listen [real : windows], last week NPR's Diane Rehm Show touched base again on the quality of health care -- and aftercare -- our returning troops are receiving:


Medical Care for Soldiers and Veterans



An update on the ongoing care and benefit challenges faced by wounded soldiers, veterans, and their families.



Guests




Anne Hull, reporter, "The Washington Post"

Dana Priest, intelligence correspondent for "The Washington Post" and author of "The Mission: Waging War and Keeping Peace with America's Military"

Related Posts
Want to stay connected? You can subscribe to PTSD Combat via Feedburner or follow Ilona on Twitter.