Following their outstanding series of reports on outpatient conditions at Walter Reed Army Medical Center this past February, Washington Post reporters Dana Priest and Anne Hull cover the journey of many returning troops coping with combat PTSD:


Army Spec. Jeans Cruz helped capture Saddam Hussein. When he came home to the Bronx, important people called him a war hero and promised to help him start a new life. The mayor of New York, officials of his parents' home town in Puerto Rico, the borough president and other local dignitaries honored him with plaques and silk parade sashes. They handed him their business cards and urged him to phone.

But a "black shadow" had followed Cruz home from Iraq, he confided to an Army counselor. He was hounded by recurring images of how war really was for him: not the triumphant scene of Hussein in handcuffs, but visions of dead Iraqi children.

In public, the former Army scout stood tall for the cameras and marched in the parades. In private, he slashed his forearms to provoke the pain and adrenaline of combat. He heard voices and smelled stale blood. Soon the offers of help evaporated and he found himself estranged and alone, struggling with financial collapse and a darkening depression.
Even though a VA psychologist diagnosed Cruz with PTSD, and even though proof of his combat service was "well documented," his VA disability claim was turned down by evaluators.
Click on 'Article Link' below tags for more...
In the interest of education, article quoted from extensively.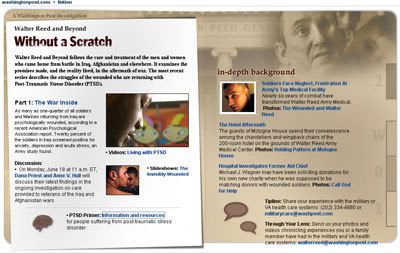 Continuing:


Veterans Affairs will spend $2.8 billion this year on mental health. But the best it could offer Cruz was group therapy at the Bronx VA medical center. Not a single session is held on the weekends or late enough at night for him to attend. At age 25, Cruz is barely keeping his life together. He supports his disabled parents and 4-year-old son and cannot afford to take time off from his job repairing boilers. The rough, dirty work, with its heat and loud noises, gives him panic attacks and flesh burns but puts $96 in his pocket each day.

Once celebrated by his government, Cruz feels defeated by its bureaucracy. He no longer has the stamina to appeal the VA decision, or to make the Army correct the sloppy errors in his medical records or amend his personnel file so it actually lists his combat awards. "I'm pushing the mental limits as it is," Cruz said, standing outside the bullet-pocked steel door of the New York City housing project on Webster Avenue where he grew up and still lives with his family.

"My experience so far is, you ask for something and they deny, deny, deny. After a while you just give up."

A bit of historical context:


Jeans Cruz and his contemporaries in the military were never supposed to suffer in the shadows the way veterans of the last long, controversial war did. One of the bitter legacies of Vietnam was the inadequate treatment of troops when they came back. Tens of thousands endured psychological disorders in silence, and too many ended up homeless, alcoholic, drug-addicted, imprisoned or dead before the government acknowledged their conditions and in 1980 officially recognized PTSD as a medical diagnosis.



Yet nearly three decades later, the government still has not mastered the basics:

how best to detect the disorder, the most effective ways to treat it, and the fairest means of compensating young men and women who served their country and returned unable to lead normal lives.

And a bit of what's to come:


They occupy every rank, uniform and corner of the country. People such as Army Lt. Sylvia Blackwood, who was admitted to a locked-down psychiatric ward in Washington after trying to hide her distress for a year and a half and Army Pfc. Joshua Calloway, who spent eight months at Walter Reed Army Medical Center and left barely changed from when he arrived from Iraq in handcuffs; and retired Marine Lance Cpl. Jim Roberts, who struggles to keep his sanity in suburban New York with the help of once-a-week therapy and a medicine cabinet full of prescription drugs; and the scores of Marines in California who were denied treatment for PTSD because the head psychiatrist on their base thought the diagnosis was overused.

They represent the first wave in what experts say is a coming deluge.

Some of the current problems:


The Institute of Medicine reported last month that

Veterans Affairs' methods for deciding compensation for PTSD and other emotional disorders had little basis in science and that the evaluation process varied greatly

. And as they try to work their way through a confounding disability process, already-troubled

vets enter a VA system that chronically loses records and sags with a backlog of 400,000 claims

of all kinds.

Baseline requirements for disability claim approval place those with PTSD at a disadvantage:


To qualify for compensation, troops and veterans are required to prove that they witnessed at least one traumatic event, such as the death of a fellow soldier or an attack from a roadside bomb, or IED. That standard has been used to deny thousands of claims. But

many experts now say that debilitating stress can result from accumulated trauma as well as from one significant event

.

In an interview, even VA's chief of mental health questioned whether the single-event standard is a valid way to measure PTSD. "One of the things I puzzle about is, what if someone hasn't been exposed to an IED but lives in dread of exposure to one for a month?" said Ira R. Katz, a psychiatrist. "According to the formal definition, they don't qualify."

Another problem? When the feared stigma against seeking help becomes all too real:


For the past 2 1/2 years, the counseling center at the Marine Corps Air Ground Combat Center in Twentynine Palms, Calif., was a difficult place for Marines seeking help for post-traumatic stress. Navy Cmdr. Louis Valbracht, head of mental health at the center's outpatient hospital, often

refused to accept counselors' views that some Marines who were drinking heavily or using drugs had PTSD

, according to three counselors and another staff member who worked with him.



"Valbracht didn't believe in it. He'd say there's no such thing as PTSD,"

said David Roman, who was a substance abuse counselor at Twentynine Palms until he quit six months ago. "We were all appalled," said Mary Jo Thornton, another counselor who left last year.

A third counselor estimated that

perhaps half of the 3,000 Marines he has counseled in the past five years showed symptoms of post-traumatic stress. "They would change the diagnosis right in front of you,

put a line through it," said the counselor, who spoke on the condition of anonymity because he still works there.

Please read the rest, which returns to the plight of Army Spec. Jeans Cruz. Good to see this issue being covered by these reporters. Then head over to Washington Post to view their multimedia presentation, "The Invisibly Wounded," where you'll get to know Cruz and others who gave their stories to WaPo reporters. You might also be interested in viewing the videos, "Living with PTSD:"

Emille Tracy


Richard Hoffman


An additional 17 minute video Q&A with Dr. Arthur S. Blank Jr. on PTSD can be found at the Washington Post. In addition, WaPo offers the following invitation:


On Monday, June 18 at 11 a.m. ET, Post reporters Dana Priest and Anne V. Hull will discuss their latest findings in the ongoing examination of the treatment of men and women coming home from the war with physical and mental wounds.

Submit your questions early or during the discussion

Visit the series' main page for more.

And very nice to see a link back to PTSD Combat (under 'References') from the Washington Post's companion resources page.
Want to stay connected? You can subscribe to PTSD Combat via Feedburner or follow Ilona on Twitter.