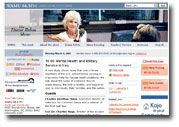 Give a listen to today's Diane Rehm Show for an important program:


Younger Veterans
Diane and her guests talk about how this era's veterans of the wars in Iraq and Afghanistan differ from past generations of veterans, and how the country can better meet their needs, from health care to employment to military benefits.



Guests




William A. Boettcher

, past national commander of AMVETS and co-chair of the National Symposium for the Needs of Young Veterans



Rick Maze

, Times News Service staff writer



Patrick Campbell

, sergeant in the D.C. National Guard who served as a combat medic in Iraq



Shoshana Johnson

, retired specialist from the U.S. Army and America's first black female prisoner of war (Iraq, 2003)



Lonnie Moore

, president of the board of directors for the Wounded Warrior Project. He is medically retired as an Army captain.
Want to stay connected? You can subscribe to PTSD Combat via Feedburner or follow Ilona on Twitter.