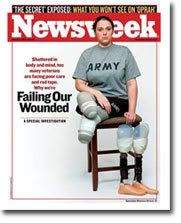 Following last week's Washington Post Walter Reed investigation, Newsweek ratchets up attention on the treatment of our returning troops with a cover story that broadens the scope of the problem to include the VA. What Newsweek adds to the mix is damning:


A NEWSWEEK investigation focused not on one facility but on the services of the Department of Veterans Affairs, a 235,000-person bureaucracy that provides medical care to a much larger number of servicemen and women from the time they're released from the military, and doles out their disability payments. Our reporting paints a grim portrait of an overloaded bureaucracy cluttered with red tape; veterans having to wait weeks or months for mental-health care and other appointments; families sliding into debt as VA case managers study disability claims over many months, and the seriously wounded requiring help from outside experts just to understand the VA's arcane system of rights and benefits.

"In no way do I diminish the fact that there are veterans out there who are coming in who require treatment and maybe are not getting the treatment they need,"

White House Deputy Press Secretary Tony Fratto tells NEWSWEEK.

"It's real and it exists."
Click on 'Article Link' below tags for more...


Newsweek explores the problem of homelessness:


Already, nearly 200,000 veterans—many from the Vietnam War—sleep on the streets every night, according to the Department of Veterans Affairs.

But young warriors just back from the Mideast—estimated around 500 to 1,000—are beginning to struggle with homelessness too.

Drinking or using drugs to cope with PTSD, they can lose their job and the support of family and friends, and start a downward spiral to the streets. Their tough military mentality can make them less likely to seek help. Advocates say it can take five to eight years for a veteran to exhaust their financial resources and housing options, so they expect the number to rise exponentially in a few years. "Rather than wait for the tsunami, we should be doing something now," says Cheryl Beversdorf, president of the National Coalition for Homeless Veterans.

The problem is mainly a lack of resources, advocates say.

There are only about 15,000 beds available in VA-funded shelters or hospitals nationwide, and nearly every one is taken.

In some smaller cities there simply aren't many places for a homeless veteran to go. And as affordable housing units shrink nationwide, veterans living on a disability check of, say, $700 a month, (which means a 50-percent disability rating from the VA), are hard-pressed to find a place to live. Most shelters require veterans to participate in a rehabilitation program, but a "fair amount" of veterans just go back to the streets once they leave, says Ed Quill, director of external affairs at Volunteers of America, the nonprofit housing group for veterans that helped Felty.

The March 5 issue should be on newsstands tomorrow. Read the offerings online or be sure to pick up a copy for full coverage. Submit questions to reporter Dan Ephron. He is going to be available for a Live Talk about the broken state of health care for injured veterans returning from Iraq, on Tuesday, Feb. 27, at noon, ET

Cast your vote: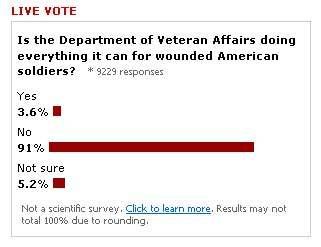 Click over to a smattering of the discussion going on today on the issues raised by the Newsweek piece here and here. But more importantly, let's contact our elected representatives and tell them we are no longer going to avert our eyes.




&nbsp

Related Posts




Want to stay connected? You can subscribe to PTSD Combat via Feedburner or follow Ilona on Twitter.