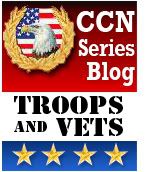 An invitation to be the first to read the opening installment of a new series on combat PTSD appearing this morning on General Wesley Clark's Clark Community Network blog. You may remember this team for their gripping traumatic brain injury (TBI) series on the 'signature wound' of the Iraq War.

I'm pleased to have been invited to write with CCN's Troops & Vets team for this special look at the effects of post-traumatic stress disorder on 'Society and the Soldier.' Today's offering is a preview of sorts. Many of the grafs were cuts made from my upcoming book, Moving a Nation to Care, due to size limitations. Let me -- and CCN -- know what you think...

Click on 'Article Link' below tags for related posts...




&nbspRelated Posts


Want to stay connected? You can subscribe to PTSD Combat via Feedburner or follow Ilona on Twitter.