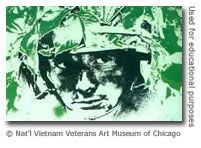 If you're in the Madison, WI area, you're invited to a limited engagement exhibit, The Art of War: Trauma, Healing & the Vietnam Veteran through July 10, 2006. The exhibit features artwork loaned to the Wisconsin Veterans Museum by the National Vietnam Veterans Art Museum of Chicago which "highlight not only the Vietnam experience, but also how veterans have dealt with the trauma of war." A free PTSD art therapy program is also scheduled for May 2, 2006.

Click on 'Article Link' below tags for details and directions...

First, the art therapy program details:


In conjunction with the "The Art of War: Trauma, Healing and the Vietnam Veteran," the Wisconsin Veterans Museum will offer a program on the use of art therapy to assist with post-traumatic stress disorder on Tuesday, May 2, at 7 p.m. in the museum's education center on the second floor. Dr. Dean Krahn from the Middleton Memorial Veterans Hospital will discuss the topic. The program will include art from current hospital patients.

The museum, an educational activity of the Wisconsin Department of Veterans Affairs, is at 30 W. Mifflin St. on the Square. Hours are 9 a.m. to 4:30 p.m. Monday through Saturday and noon to 4 p.m. Sundays. For information, call 608-264-6086.

Some more Art of War event information and details:


A war veteran once said, "If you don't know any history it's as though you're born yesterday." And today the quote's scariest implications, being a naked babe in battle, unarmed with experience, are compounded by Vietnam veterans' reality: Their experience-weighted voices, and art, may be their most important weapons today.

We need such weapons because these survivors understand what it was like and how to fight a guerrilla war such as Iraq. Part of the problem may be a repressive psychosis -- it's all too easy to dismiss the Vietnam War as a national nightmare. "Were it not for my pictures, I could easily have convinced myself I was never there," marvels Army still photographer James McJunkin, in an artist's statement from a new show of almost hallucinatory potency, "The Art of War: Trauma, Healing and the Vietnam Veteran," at the Wisconsin Veterans Museum through July 10.

Location: 30 W. Mifflin Street (on the Square), Madison, WI
Museum hours: 9 a.m. to 4:30 p.m. Monday through Saturday, noon to 4 p.m. Sundays.
More information: 608-264-6086.




&nbspRelated Posts



Want to stay connected? You can subscribe to PTSD Combat via Feedburner or follow Ilona on Twitter.