Creative expressions of war by its warriors is nothing new. That's because one of the most powerful ways to communicate and process an intense experience like combat is through art. Returning vets from Iraq and Afghanistan are no different than past veterans, and they've begun sharing their poetry, paintings, and musings with us. Here's a brief look at a few of them...

Click on 'Article Link' below tags for more...

The Poet

PBS' NewsHour w/Jim Lehrer recently introduced us to Brian Turner, a 39-year old poet and teacher who served in Bosnia in the late 90's before serving in Iraq. He described life as a combat zone poet:


When I was in Iraq, it was mostly when I would come back from the mission, we'd get a little down time and I'd pull out a notebook and sketch out a few lines or write a journal entry or maybe a full poem. And at the time I felt I just wanted to capture events that were happening around me and to let people, once they came back home, to let people make of that what they would.

Here, Bullet is the result. A snippet:


Here is the adrenaline rush you crave,
that inexorable flight, that insane puncture
into heat and blood. And I dare you to finish
what you've started. Because here, Bullet,
here is where I complete the word you bring
hissing through the air, here is where I moan
the barrel's cold esophagus, triggering
my tongue's explosives for the rifling I have
inside of me, each twist of the round
spun deeper, because here, Bullet,
here is where the world ends, every time.

View the Newshour program or listen to audio for an excerpt from his book of poetry.

The Rapper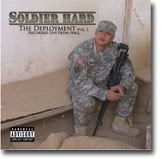 Jeff Barillaro, aka 'Soldier Hard' enlisted in the Army a year after high school and went on to serve 14 months in Iraq as a convoy truck commander.

One of the artists featured on the OEF/OIF veteran compilation To the Fallen -- Vol. 1 (Soldier Hard contributed the song Walk With Me, an invitation into the world of a combat veteran [clip]) he also recorded the full-length album The Deployment-Vol 1 while, well, deployed. Give a listen to Real Soldier, Mission Complete, and a few more selections (and ringtones, too).

One of the really impressive things about Soldier Hard is that his voice is equally powerful when he's not rapping. A very eloquent interview subject, he sat down with Robert Mills of American Microphone to talk about being a career soldier, recording his album in Iraq, and the challenges of adjusting to life upon return:




The Multidisciplinarian
While some veterans aim for their art to be apolitical, some have a decidedly strong and pointed statement to make. Aaron Hughes is one of those veterans.





From Chicago's National Vietnam Veterans Art Museum, which is presenting Hughes' work -- the first Iraq War veteran art exhibit featured at the museum -- through May 2007:


Aaron Hughes shares a series of projects that bring to the forefront the over-complex personal realities of the War in Iraq. The projects convey a series of metaphors, critiques, and ambiguous narratives in order to deconstruct the nostalgic war epic that informs much of how mass media interprets war. Veering away from ideologies, these projects point instead to the complexity of daily experiences, practices, and tactics. This shift suggests that personal expressions and independent alternative communications can deconstruct the social, cultural, and political walls that foster dehumanization.

But Hughes' canvas flows out into the world, as evidenced by this fascinating clip of performance art called 'Drawing for Peace':



The artist explains:


This was performed at the intersection of Wright and Green Streets in Champaign, Illinois against the war in Iraq and for Peace. It is an attempt to claim a strategic space in order to challenge the everyday and its constant motion for a moment of thought, meditation, and PEACE.

As Hughes methodically works with his bit of chalk, these words surround him:


I am an Iraq War Veteran.
I am guilty.
I am alone.
I am drawing for peace.

The more I explored Hughes' work, the more I was drawn into the world he has created. His work is haunting, charitable, and sublime. Don't take my word for it -- follow those links.

Other vets are also picking up instruments to help them convey their message via pen and pencil, revealing what they've seen and done in order to come to terms with their time in a combat zone. Still others, non-servicemembers attached to deployed units, sought out the combat zone to document it with paints and brush...

The Painter
New York artist Steve Mumford went to Iraq numerous times in the first year and a half of the war. He not only painted of his experiences, he wrote eloquently about them as well.


I arrived a week ago at the base of the National Guard's 3rd Battalion, 124th Infantry, now patrolling the Baghdad neighborhoods of Al Wasiria and Maghreb, or, in military parlance, sector 17. The guard took over this sector from the army a couple of months ago, and has been working hard to win over the hearts and minds of its citizens ever since. The base is a former Iraqi officers' club, and like everything directed at Saddam's military elite, it's styled along the lines of a Donald Trump production: huge, spacious and plenty of mirrored glass. ...

The battalion, based in northern Florida, is the first combat arms unit from the National Guard to serve in a war since Korea, a fact that rankles some of the enlisted men I've spoken to, who joined the guard expecting that they would stay close to home. Some say that the army gets better treatment, even though they're doing the same job. Since guard units are funded and equipped by their states, their equipment tends to be different and older than the regular army's.

Morale tends to be higher in the rifle companies, which leave the base continuously on patrolling missions as well as occasional sweeps and raids. Although things have been relatively quiet in the last few weeks, the soldiers are all aware of the dangers -- snipers and IEDs (improvised explosive devices) placed along the roadside.

The most difficulty they've had recently took place when the killing of Saddam's two sons was announced; the neighborhood erupted in celebratory gunfire. What goes up must come down, and some 40 Iraqis had to be hospitalized with wounds from these "God bullets," with two later dying. The base's roof guards took cover inside from the falling rounds and one patrol from Bravo Company found itself in a firefight which the Iraqis initiated under cover of the celebration; a little girl was killed in the crossfire.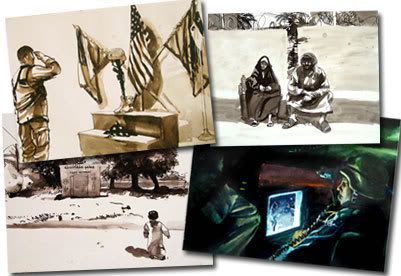 Arriving in April 2003 on his first trip, and leaving in October 2004 on his last, Mumford only glimpsed the coming increase in violence as the insurgency and civil war were yet to take hold. His experience in Iraq seems much more mild and romantic than those that might be available to a combat artist deployed today:


In a village or cafe, the sight of Mumford with a sketch pad attracted attention. Iraqis would crowd around him as he drew, pointing and making comments in a friendly way. "Iraqi men are just crazy to have their pictures taken or painted," Mumford says. The women, in line with Muslim customs, did not approach him. Rarely did anyone object to being drawn - except a suspected insurgent who strongly protested, the artist says.

Mumford would ask before sketching a soldier if he felt he might be intruding on a private moment. Nonetheless, the watercolors and drawings in the book reflect what seem to be dozens of private moments - soldiers on guard duty in a state of suspended watchfulness, an Iraqi shopkeeper's son sitting patiently in the street, an Iraqi man staring pensively at the ground in a tumbledown neighborhood. These are moments that make up the human drama that Mumford experienced in Iraq, in all its tedium, fear, anger, patience, pride, and hope.

Mumford's work is now available in a book form, Baghdad Journal: An Artist in Occupied Iraq.




&nbspRelated Posts


Want to stay connected? You can subscribe to PTSD Combat via Feedburner or follow Ilona on Twitter.