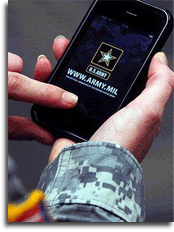 Recent press reports on science, technology and health re: combat veterans and military. Edric Thompson, CERDEC Public Affairs via Army.mil:


Maj. Gen. Nick Justice, Research, Development and Engineering Command commanding general and key members of his staff traveled to Apple headquarters March 5. Apple officials gave the Army group tours of its laboratories and other facilities and talked about some examples of where the military is already using Apple technology. The Army's research and development command is evaluating commercial hand-held solutions such as iPad, iPhone, iPod, iMac, and MacBook platforms. ...

"

We're continuing to leverage commercial technology for battlefield uses; we can't ignore that kind of existing knowledge

," [Justice] said. "Our job, as stewards of the taxpayer's dollar, is to adopt and adapt appropriate commercial technology and offer the best possible solution to the warfighter."



The meeting was part of the Army's efforts to support "Connecting Soldiers to Digital Applications,"

an initiative to demonstrate the technical capabilities of hand-held devices and applications to the Army and gathering warfighter. The working group is tasked with looking at how commercial cellular technology - including devices, applications and networks - could be utilized in a tactical environment.
In educational interest, article(s) quoted from extensively.
A fascinating video clip features Segway inventor
Dean Kamen
at TEDMED 2009 talking about the world's most advanced prosthetic arm.
What makes it so special?
Clay Dillow,
Popular Science
:
Stephen Colbert had inventor and sci-tech evangelist Dean Kamen appear as the headlining guest on last night's Colbert Report showing off the latest version of DEKA Labs' most exciting brainchild: the Luke Arm.

Named for Luke Skywalker (who else?), the Luke arm began as part of DARPA's Revolutionizing Prosthetics program and has evolved into one of the most sophisticated prosthetic limbs ever produced. And Kamen, never one to miss a good opportunity to tout the benefits of science and technology, gave viewers an impressive firsthand demonstration of just how far the arm has come since DEKA Labs undertook the project in 2005:.

The idea behind DARPA's funding of the arm, of course, is to

create a neurally-controlled limb that will help amputees function much as they did before losing a limb

– particularly those amputees returning home from Iraq and Afghanistan after losing limbs. As Kamen shows Colbert, we haven't quite achieved Skywalker-like seamless bionic control, but we're getting closer all the time.
From last week's
appearance
on The Colbert Report:
The Economist
:
WHAT the helicopter was to the Vietnam war, the drone is becoming to the Afghan conflict: both a crucial weapon in the American armoury and a symbol of technological might pitted against stubborn resistance. Pilotless aircraft such as the Predator and the Reaper, armed with Hellfire missiles, can hit targets without placing a pilot in harm's way. They have proved particularly useful for assassinations. On February 17th, for example, Sheikh Mansoor, an al-Qaeda leader in the Pakistani district of North Waziristan, was killed by a drone-borne Hellfire. In consequence of this and actions like it, America wants to increase drone operations.

Assassinating "high value targets", such as Mr Mansoor, often involves a moral quandary. A certain amount of collateral damage has always been accepted in the rough-and-tumble of the battlefield, but direct attacks on civilian sites, even if they have been commandeered for military use, causes queasiness in thoughtful soldiers. If they have not been so commandeered, attacks on such sites may constitute war crimes. And drone attacks often kill civilians. On June 23rd 2009, for example, an attack on a funeral in South Waziristan killed 80 non-combatants.

Such errors are not only tragic, but also counterproductive. Sympathetic local politicians will be embarrassed and previously neutral non-combatants may take the enemy's side. Moreover, the operators of drones, often on the other side of the world, are far removed from the sight, sound and smell of the battlefield. They may make decisions to attack that a commander on the ground might not, treating warfare as a video game.

Ronald Arkin of the Georgia Institute of Technology's School of Interactive Computing has a suggestion that might ease some of these concerns. He proposes involving the drone itself—or, rather, the software that is used to operate it—in the decision to attack. In effect, he plans to give the machine a conscience.
Interestingly, a 2008 study on Air Nation Guard remote-controlled Predator drone operators "[are
citing
stressors from] the exhaustion that comes with the shift work of this 24-7 assignment; the classified nature of the job that demands silence at the breakfast table; and the images transmitted via video."
Psychological tolls of war are carried by all who participate -- even those thousands of miles away.
Jessica Hamzelou,
New Scientist
:
Forgetting your woes might make you feel worse, not better.



People with impaired memory, it turns out, feel sad even when they have forgotten what made them sad in the first place

– a finding that suggests emotions and memory are not as connected as we thought.

Neuroscientist Justin Feinstein at the University of Iowa in Iowa City showed a compilation of clips from heart-rending films, including Forrest Gump, to five people unable to form new memories because of damage to their hippocampus. Ten minutes later, his team tested the memories of these patients and a group of five people with normal brain function.

The

felt a lingering sadness even though they struggled to remember the simplest details of the clips

, whereas those with healthy memories felt fine by then (Proceedings of the National Academy of Sciences, DOI: 10.1073/pnas.0914054107). ...

It is also possible that

using drugs or therapy to block painful memories in people with post-traumatic stress disorder may actually hamper their recovery

, Feinstein says. "By not having that memory, you might actually prolong the emotional pain," he says.

Related Posts
Want to stay connected? You can subscribe to PTSD Combat via Feedburner or follow Ilona on Twitter.