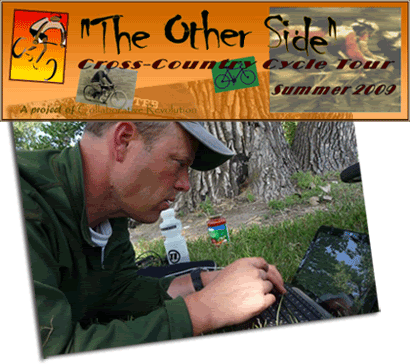 Very excited to pass on this news!

We've secured what I think is a stellar venue for Iraq vet and author Tyler Boudreau's "The Other Side: Cross-Country Cycling Tour Summer 2009" stop in the Rockford area. Great thanks to the board members and Executive Director Kip Kirkland of Poplar Grove Airport Vintage Wings & Wheels Museum for agreeing to host this gathering on Monday, August 10, 2009, at 6:00 p.m.

The details we have so far are in extended.


If you already know you're planning to come, head on over to our online registration form (it's quick, I promise).

Registering by August 7, 2009, will be appreciated.

Tyler can currently be found riding somewhere between Bismarck and Fargo, N.D. Visit his photo album to see get a visual on his experience so far, which began in Seattle in mid-June. He's also posting notes to his blog throughout his trip as seen above (ah, the wonders of modern technology).



"Joining Forces: A Dialogue on Forging Military and Community Bonds with Iraq Veteran, Author and Cross-Country Cyclist Tyler Boudreau"



When:

August 10, 2009 – 6:00 p.m.


Where: Poplar Grove Airport Vintage Wings & Wheels Museum
5151 Orth Road, Hanger 16
Poplar Grove, IL 61065
http://www.thevintagemuseum.com

If you are planning to attend, please register prior to August 7, 2009 at http://www.surveymonkey.com/s.aspx?sm=Ch43f61Y5J68ZaeXGqlxaQ_3d_3d

The public is invited to attend a unique event in scenic Poplar Grove, Illinois – just a short distance from Rockford – as we roll out the welcome wagon for former 12-year Marine and Iraq veteran Tyler Boudreau. Boudreau, the author of Packing Inferno: The Unmaking of a Marine, is in the middle of a cross-country cycling trip – that's on a bicycle, not a motorcycle – riding from Seattle, Wash., to Northampton, Mass., in an "effort to re-acquaint himself with the land, to reintegrate with his community and family, and to positively re-invest his strength in America."

Ilona Meagher, author of Moving a Nation to Care: Post-Traumatic Stress Disorder and America's Returning Troops, and Jeremiah "J.D." Kammes, Kosovo and Iraq veteran and Northern Illinois University Veterans Club President, hope to facilitate a lively and open exchange between audience and guest.

Participants will leave with a greater understanding of what it means to be a 21st century veteran, as well as what community members can do to support them when they return home. The evening will be of value to area civilians, troops and veterans and their families, veterans groups and counselors, and anyone interested in sharing their related stories or resources.

While Boudreau may be spinning in on wheels of a determinedly non-vintage type, the spirit of his journey and desire to soar are a perfect fit for the mission of Poplar Grove Airport's Vintage Wheels and Wings Museum.
Will add more updates to this page as they're available.
Hope you can join us!

Related Posts
Want to stay connected? You can subscribe to PTSD Combat via Feedburner or follow Ilona on Twitter.