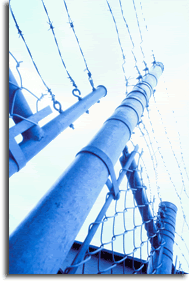 Recently I received a heartbreaking email from the wife of a former Iraq veteran bearing a heavy burden and seeking help. Sue's husband, Joseph "Pat" Lamoureux, was arrested last fall after engaging in a shootout with police officers responding to a domestic disturbance call. One officer was injured before Lamoureux was shot and subdued.

Like our OEF/OIF forces who turned to war blogging to engage the media and nation even while they were deployed, and the countless grieving military families who erected memorial Web pages after receiving the news that their loved one was killed in action, Sue has gone online to broadcast her appeal and organize a petition for help with her husband's case.

All of these efforts -- infused with passion, pain and complexity -- are also likely a form of writing therapy. They aren't set up to produce tempered and tested professional media pieces, so it's a good idea to visit with an extra helping of empathy for the individual doing the posting and consider sharing a contact or advice or whatever you feel is appropriate.

As much as possible, we must -- all sides -- tread these murky waters with calm, cool collection and a warm heart.

We owe that to one another.


In educational interest, article(s) quoted from extensively.

As I've written in a number of previous posts re: the issue of returning veterans and violence, this is a delicate subject, an entirely difficult matter. No one wishes that we return to the 'crazed combat veteran' stereotype that reached its apex following the Vietnam war...that type of thinking was uneducated then and entirely inappropriate today.

Let's keep our own assumptions and defenses in check.

Knee jerk dismissals or strong opinions without some compassionate deliberation aren't very useful here. Neither are hard-line approaches or excessive excuses when trying to broach the issue of what society owes its PTSD-diagnosed and medicated combat veterans who are incarcerated after breaching the law.

Each side must be looked at and given its due.

In the case above and that follows, not only is the Lamoureux family obviously suffering, so is the wounded police officer and his family. No one must be slighted or made to feel their experience is any less traumatic or 'valued' than the other.

When crimes are committed, a certain and clear responsibility must be taken by those actively involved in creating the situation -- no one involved in these issues is expecting that veterans in trouble get a free pass -- but determining what sentence is appropriate should beg the following questions:


What is a veteran's service and experience worth?


What special considerations does one earn if, having had no prior arrests, a combat veteran diagnosed with PTSD goes down a dark pathway -- even momentary -- that will ruin their (and their family's) life even further?


How can we ensure our legal process is fair to both veteran and victim(s) affected by the incident?
I don't have the answers to these tough questions.
Fortunately, some professionals -- public officials, sheriff's offices and judges, often pressed into action by the public -- across the U.S. have begun aggressively tackling this difficult task. Rather than passively reacting (and making costly missteps and mistakes along the way), they are changing the way they generally prosecute and rule on such incidents.
We'll look at some of the people doing this important work at the very end of this very long post. There's also a listing of similar 0EF/OIF returning vet incidents reported in the press recently.
And, of course, more details on the Lamoureux case.
So, let us deliberate, let us consider. And let's try our best to look at this issue carefully from all sides because some of our military families depend on it.
First, some background on the Lamoureux case from Keith Rogers,
Las Vegas Review Journal
:
Joseph "Pat" Lamoureux couldn't erase from his mind the sight of the young Iraqi girl walking up to his heavy equipment transport truck and blowing herself up.

"Her body parts were all over his vehicle," his wife, Sue, said about the 2003 suicide bomber attack.

She said her husband was knocked down from the blast and later was evaluated for traumatic brain injury. In a benefits claim he filed with the Department of Veterans Affairs, Lamoureux wrote that the Iraqi girl, who was 12 to 14 years old, "came out of nowhere."

Then there was a firefight near the Baghdad airport and, later, an old man with a donkey who wouldn't stop when soldiers hollered at him. "He was 'lit up,'" Sue Lamoureux wrote in a July 1 e-mail. "To this day Pat believes the old man may have been deaf, and the image of him haunts Pat."

She said it was the weight of post-traumatic stress from these and other incidents that caused her 46-year-old husband to mentally collapse last September. That's when he went on a shooting spree that began in their mobile home at Terrible's Lakeside RV Park and Casino in Pahrump and ended after a pre-dawn gunbattle with Nye County sheriff's deputies.

Lamoureux was wounded and surrendered. He has been charged with multiple felony counts of attempted murder with use of a deadly weapon. His preliminary hearing is expected to be held next month in Nye County Justice Court in Pahrump.

The case is another one with undertones of post-traumatic stress disorder, or PTSD, involving local military personnel who returned from combat and committed violent acts, adding to a fast-growing problem among those who have served in Iraq and Afghanistan.
Original
charges
Lamoureux faces include "four counts of attempted murder of a police officer, two counts of discharge a firearm into a structure, battery with a deadly weapon and possession of a firearm while under the influence of drugs/alcohol. Bail was set at $2,500,000."
Sue, in a July 18 email interview said that her husband did not do drugs, although he was taking some 10+ VA-prescribed prescription medications. She also
explains
what minimum sentences each charge carries in Nevada on her blog.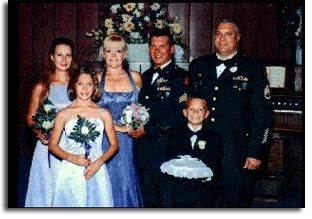 The son of a music professor at Virginia Tech, according to his wife of eight years, Lamoureux is from a large military family.
Many of his maternal uncles, a brother and a son all are either currently serving in or have worn a U.S. military uniform in the past.
During Pat's career, his wife says he earned the following: National Defense Service Medical, Combat Action Badge, Armed Forces Reserve Medal A/M Device, Army Service Ribbon, CAB, Global War on Terrorism, and was recommended for Bronze Star w/V.
"There are others," Sue wrote. "His DD214 needs corrections."
Pat's first stint in the service was in the Army from February 1987 to May 1993. In May 2001, he re-upped with the Army Reserve.
"Pat is a very meticulous and structured, scheduled type person," Sue wrote. "He likes the orderliness of the military."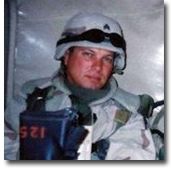 His unit -- the 257th Transportation Company, Heavy Equipment Transport (HET) -- was activated in February 2003 for deployment to Iraq. Pat and the rest of the 257th went to Fort Bliss for their training and deployment preparations.
In April 2003, they headed to Iraq.
Unfortunately, ever since being hospitalized for pneumonia at William Beaumont Army Hospital during the pre-mobilization period in Fort Bliss, Pat's body was not functioning at 100 percent. Nonetheless, he was ordered to deploy. After four months in the combat zone, in August 2003, according to his wife, he was airlifted out due to severe pulmonary problems.
"When he arrived in Germany," Sue wrote, "a doctor told him if he had stayed 2-3 more weeks, he probably would have died, the oxygen in his blood was so depleted."
But Pat's problems while deployed were hardly of the merely physical kind.
Picking up
Rogers' reporting:
Robert J. Brown, a staff sergeant who was Lamoureux's convoy commander on most of his missions, said the convoys were shot at "day and night."

"If you stopped, you got shot. We were sitting ducks outside of that wall, wire, perimeter or sand berm."

Brown said he routinely positioned Lamoureux's truck in the middle of a convoy that usually stretched four miles between the lead truck and rear truck. Lamoureux was armed with a Squad Automatic Weapon.

"When Pat says what happened at the airport, that happened," Brown said Tuesday from Brooke Army Medical Center in Texas.

On top of that, Sue Lamoureux describes the "tremendous guilt" her husband felt after he was airlifted to Germany with a breathing disorder, only to learn later that Staff Sgt. Cameron Sarno, one of his fellow Army Reserve soldiers in the Las Vegas-based 257th "Rolling Thunder" Transportation Company, was killed in Kuwait when another truck slammed into Sarno's while he was changing a tire on Sept. 1, 2003.

Early on in the deployment, Lamoureux's convoy stopped where an Iraqi tank crew had burned to death. One body "was stuck to the side of the tank" and her husband has since been haunted by the smell of burnt flesh, Sue Lamoureux said.

"That night before things spiraled out of control, Pat was screaming, 'Sarno' at me. I told him there wasn't anything about that situation that was his fault," Sue Lamoureux said. "And he screamed at me again. 'Sarno, you don't know. ... I could have kept him from dying.'"

To no avail, Sue Lamoureux tried to make her husband understand that Sarno's death was a tragedy that he couldn't have prevented.

The discussion escalated into a confrontation that prompted her to pack up some belongings and her laptop computer and leave.

"That's when he snapped," she said.

Before her quick exit, he took her laptop and reached for his pistol. As she drove away, he apparently fired many rounds from a .45-caliber pistol into the laptop.

Nye County sheriff's deputies responding to the domestic disturbance call were immediately engaged in a gunbattle.

One of them, Eric Murphy, was wounded as Pat Lamoureux fired from behind boulders and trees with two different weapons. After about 15 minutes, Lamoureux was shot in his lower legs by deputies who fired in the direction of pistol muzzle flashes, Nye County Sheriff Tony DeMeo said July 2.
Related Incidents

Rogers lists a number of other related incidents in his
article
.
I'll add a few more to the mix, from a piece I began writing last summer that was never posted called
PTSD Timeline Latest Incidents: Intimate Relationships of Suicide, Violence and PTSD
.
The incidents below have one thing in common.
Each OEF/OIF veteran resorted to violence (either the inward -- suicide -- or outward kind) following a specific triggering event: the threatened or real loss of a spouse (and, in some cases, the children). In fact, one of the many incidents listed in the
Seattle Weekly
article I credit with initially drawing me into this work back in 2005 had a similar trajectory:
July 26, 2005—Army Spc. Leslie Frederick Jr., 23, stationed at Fort Lewis, shot and killed himself at his South Tacoma apartment. Wounded while serving 15 months in Iraq, Frederick had recently been among the first soldiers to receive the Army's new Combat Action Badge, which represents, says Army Chief of Staff Gen. Peter J. Schoomaker, "the Warrior Ethos." Frederick, according to relatives, suffered psychologically from the stress of combat. His wife also won a divorce and custody of their child six days before his suicide.
A sampling of related "trigger" incidents I've found in my own research (there are more, unfortunately, many more that go unreported and/or that I haven't had time to capture):
(Some links, saved in 2008, may now be broken)





5/29/2006, David Fickel (MN)


Committed suicide one day following break-up with girlfriend



5/27/2007, Brian Skold (Sauk Rapids, MN)


Committed suicide by cop one month after divorce finalized [April 11] (three sons, one daughter)



11/5/2007, Steven D. Lopez (Cody, WY)


Murder/Suicide of wife, self after an argument over child (two toddlers) visitation.



6/30/2008 - Jesse Kerry (Honolulu, HI)


Police stand-off w/suicidal intent; his wife had recently left him and took their son to live on the mainland



7/1/2008 - David Animas-Esquivel (Framingham, MA)


Died from alcoholism/ptsd (he was 33) following break-up of marriage, loss of access to (two) kids



7/10/2008 - John Wimunc (NC)


Murdered estranged wife (she had restraining order on him)



7/11/2008 - Carl McCoy (Clarksville, TN)


Two-times deployed OIF vet in custody battle w/ex-wife committed suicide; killed self after VA appointment was cancelled



7/31/08 - Derrick Hendon (Akron, OH)


Committed suicide following collapse of marriage, the wife taking their two kids to live in Israel in 2007



08/08/08 - Jake Clements (Iowa)


Committed suicide on phone with ex-girlfriend; he'd returned from Iraq only months earlier



08/08 - Paul Norris


Murder/suicide of Bosnia/Iraq vet and a woman he'd been stalking

Of course, no blame should be placed on a fleeing spouse for being the trigger of events such as these.
Protecting oneself and one's kids in a dangerous, escalating situation is the proper course of action. These incidents are meant merely to spotlight the reality that when someone with PTSD feels they are no longer able to control their circumstances or life -- and losing one's main source of social and familial support is a great challenge to their security -- they can often lose control.
Because veterans are more likely to have a firearm in their homes, the chance for an accidental death occurring as a result of an unintentional discharge of a weapon is very real and has happened in the past. And so, tragedy arrives even if the marriage is sound and the veteran is healthy both physically and mentally.
In December 2007, a decorated Oregon Marine
accidentally shot
and killed his wife when his pistol (with which he'd been practicing his draw only days before taking a new job as a sheriff's deputy, fulfilling a lifelong dream) discharged. The Marine, a Bronze Star Iraq veteran who had "braved fire to aid an injured Iraqi soldier in December 2005 and three days [later] helped rescue Marines from a disabled truck as IEDs were exploding" all around (leaving a friend dead in the attack), called 911 immediately.
"Responding officers found [him] administering first aid to his wife," who was still conscious and able to relate to them that it was an accident. She later died at an area hospital. His wife had written on her MySpace page that they were happily married for three years. "While under investigation, [the Marine] turned over his handgun to police, declaring he never wanted to see it again. He abandoned plans for a law enforcement career and began working as a truck driver, hoping he could forge a new life."
Police Officers, Veterans and PTSD

The intersection of veterans and police officers reflects a unique relationship and consideration, as the incident above shows. It brings to mind some points covered in Dr. Rachel M. MacNair's thought-provoking book,
Perpetration-Induced Traumatic Stress: The Psychological Consequences of Killing
. While this section considers PTSD and violence from the police officer perspective, some of the themes covered somehow fit in our foray here today.
From book's foreword by Harvey Langholtz:
PTSD is a clinically recognized diagnosis and something that is now universally accepted as a predictable reaction to war or other stressful events. It seems axiomatic that the survivor of war or tragedy deserves to be accorded a measure of sympathy, and perhaps a diagnosis of PTSD can be considered a clinical expression of that sympathy for the victim based on what he or she has been through. ...

But it may not at first be so easy to understand why a perpetrator might also suffer from symptoms that are similiar to PTSD. After all, wasn't it the perpetrator who brought about the stress-inducing situation in the first place? Why should we feel sympathy for the perpetrator and how can he or she claim to be suffering from anything remotely like PTSD? And even if the perpetrator is suffering, isn't that some fair justice?
In a fascinating and relevant chapter in her book called
Both Sides of Law Enforcement
, MacNair delves into areas that might be helpful for us to consider here. [I've been fortunate to have meet MacNair years ago at the conference, and I do hope that she agrees that sharing a long section here with you in the interest of eduction is useful and granted.]
While it is common that active participation in the trauma is not attended to as a possible etiological stressor for PTSD, the case of police who shoot in the line of duty is the exception that proves the rule. It is readily admitted that police get PTSD from such incidents, and it is a particular kind of PTSD that is worse than what comes from being shot at. This has been clearly asserted in several studies (Carson, 1982; Loo, 1986; Mann & Neece, 1990; Manolias & Hyatt-Williams, 1993; Martin, McKean & Vetkamp, 1986; Neilson, 1981; Stratton, Parker & Snibbe, 1984).

In this case, the blame of the officer having to shoot is placed with the criminal(s) who created the traumatic situation. The officer's traumatic symptoms are viewed as a sign of virtue and sacrifice for being a good officer. In contrast to the soldier, the police officer is treated as someone who naturally would find shooting someone to be repulsive. Unlike military action, there is no social interference in admitting to it and sympathizing with the officer accordingly. The attitude is one of sympathy toward the officer who was put in a situation in which it was necessary to shoot.

The officer is seen as already being a victim because the trauma was bad enough to make shooting necessary. Shooting is to be avoided if at all possible; therefore, if it happens to be a good officer doing his or her duty, acknowledging psychological difficulties is no insult. Unlike the soldier, who is expected to be fierce in battle, the idea of psychological difficulties for the police officer is a mark of virtue. It is, after all, the criminal who is blamed for causing the shooting. The officer has been victimized by being put in the situation where shooting could not be avoided. It is perceived as one of the many reasons to be sympathetic to police officers.

There are some differences between police officers and others. Because the incident occurs in the context of an occupation that they continue to pursue, there is a constant reminder of possible trauma. Police have a self-image of being in control that is important to them, and an incident or incidents may cause additional stress if it counters that self-image. There are commonly legal repercussions in the form of hearing following the incident, which exacerbate the stress. In addition to the stress of the hearing itself, the determination of whether the shooting was justified by necessity or unjustified is likely to make a major difference in the psychological aftermath to the officer. Whether the officer agrees of disagrees with the assessment will also make a difference.

As with all cases of Perpetration-Induced Traumatic Stress (PITS), there are confounding possibilities on having PTSD before the incident. Police officers are disproportionately likely to be combat veterans. Like anyone else, they may have suffered child abuse, accidents, natural disasters, or been victims of crime. They are frequently targets of criminals simply by virtue of being police officers. They also can be exposed to more traumas by virtue of being emergency personnel -- rescuers deliberately called in to handle already existing traumatizing situations. They have to deal at length with the aftermath of the traumatization to others (e.g., Follette, Polusny & Milbeck, 1994; Hallet, 1996). The extent to which PTSD symptomology already exists before a shooting incident complicated the study of the etiological nature of the shooting incident itself.

PTSD is an important area of study not only in understanding the therapeutic needs of such officers, but in understanding how it can cause violence by police. Some studies on veterans have suggested a possibility that the presence of PTSD can contribute to the commission of violent crimes (e.g., Davis & Breslau, 1994; Hall & Hall, 1987; Hiley-Young et al., 1995; Lasko et al., 1994; Wilson & Zigelbam, 1983). An analogous process could happen with police officers. There can be a psychological need to master the trauma, or a related sensation-seeking syndrome. Arousal and lack of self-control, a survivor mode, hypervigilence, and readily available trauma reminders can lead to overreaction in situations. Constricted affect of depression can negatively impact appropriate judgments. The possibility of outbursts of rage is clearly counterproductive for avoiding unnecessary incidents.

Therefore, the study of PTSD is necessary both for the benefit of the officers and for the purpose of having their jobs done well and appropriately.
Enlightened Enforcement

So how are cases involving returning vets being handled?
There's no blanket answer, as local municipalities have their own rules and regulations and legal codes to follow. But, a few communities have stepped up efforts to tackle the issue head-on. Many are finding it pays to take extenuating circumstances and prior service records into account.
If the veteran is a first-time offender (as Pat is according to his wife) and, depending upon where they happen to live and the crime involved, they may be happy to learn that their local legal systems are already prepared for these special cases.
Or they may find out that they are not.
Will that be the case for Sue Lamoureux? This last clip from the Rogers
article
has me a bit apprehensive:
[Nye County Sheriff Tony] DeMeo [who, incidentally, Rogers reports is a Vietnam veteran] said he doesn't know about Lamoureux's PTSD or whether it would have made a difference in his deputies' response. "We responded to a domestic disturbance with shots being fired," he said. ...

DeMeo said if Sue Lamoureux was so aware of her husband's PTSD problems, "it should have been incumbent upon her to remove those weapons from the residence."

Sue Lamoureux said her husband had never shown signs of being a violent person, and she had no reason to believe he would ever use a weapon against anyone except in a combat situation.
Admitting I don't know all the details, and that I'm not in a position to condemn the officer's views, but blaming the wife in such an incident is a bit jarring. Fortunately, there are ample examples of police forces and court houses across the country more thoughtfully grappling with these sensitive cases.
A California jury earlier this year
concluded
that Sargent Binkley deserved a look at the total picture. Binkley is a former West Point graduate who served in Bosnia and Honduras who was arrested and looking at 12 years in jail for holding up two pharmacies to feed his painkiller addiction, the same medication the VA prescribed -- over 15 times -- for injuries suffered while the former Army Ranger was based in Honduras. Civilian doctors had also diagnosed Binkley with PTSD. The jury sentenced him to treatment, not a life behind bars.
In January 2008, the nation's first Veterans' Court
came to order
in Buffalo, N.Y., to "intercept troubled veterans before they plunge further into an already overwhelmed criminal justice system."
In addition to California and New York, leaders in the law enforcement ranks in
Massachusetts
,
Wisconsin
,
Minnesota
and many more states are training their forces for the special challenges PTSD-diagnosed combat veterans can present.
In 2006, Norfolk, Mass.,
District Attorney William Keating
saw the looming problems in his area. And so, he (along with co-producer Kevin Bowe, whom I had the great fortune of
meeting
a number of times during my book tour in 2007)
created
an educational video and special training program for its first responder forces:
The goal of the "Beyond the Yellow Ribbon" training is to provide immediate and appropriate intervention to a veteran experiencing PTSD or other adjustment disorder by educating firefighters, police officers and ambulance personnel. District Attorney Keating has provided the training DVD to every first-responder agency in Norfolk County, and it is posted on www.norfolkda.com. The training DVD has been sent to law enforcement, military, social service and clinical staff in more than 15 states, and several states have implemented similar first-responder training.
Another incredible force, this one out west, in producing such training videos and programs is Darin C. Farr of Utah Veterans Affairs. From KSL TV5, Salt Lake City, Utah:
Watch Walking Wounded
, the full training program mentioned in the news segment above. Farr, a former veteran himself,
continues
his essential work in Utah to help to educate both law enforcement and military families on PTSD.
Let's hope there are a few such committed people out in Nevada, especially as the Lamoureux case moves forward in the courts.
As for
Sue Lamoureux
, her work continues as well. The self-described "rock," the one who "always has the answers," now faces a challenge to those perceptions: She doesn't have all of the answers, and she desperately
needs the help
of others.
"At the beginning of this my older brother told me, 'Sue, outside of the obvious, this is going to be the hardest thing you have ever done in your life because it is going to go against the grain of the very person that you are – you will have no control,' she wrote.
"To a degree, he's right," she wrote. "But I will put my hand on everything I can to control it in a manner that will benefit Pat to the best of my ability."
"I have to save this man's life."
[UPDATE Jan 21, 2010]:
Video Sue uploaded today...

Related Posts
Want to stay connected? You can subscribe to PTSD Combat via Feedburner or follow Ilona on Twitter.