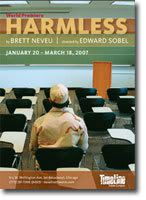 Running through March 18 is TimeLine Theatre Company's world premiere of Brett Neveu's ("one of the most acclaimed playwrights to emerge in Chicago in the last decade") psychological drama, Harmless. Directed by Edward Sobel, here's what the Chicago Tribune and Sun-Times have to about it:


[Sun-Times]

In his newest work, "Harmless," prolific Chicago playwright Brett Neveu creates a tumultuous scenario on a college campus, as a creative writing professor is questioned about what is going on in his classroom. Part of what is at issue are First Amendment rights and the responsibility of the artist in a wider society.



[Tribune]

"Harmless" playwright Brett Neveu ... explains that his play "comes from the perspective of civilians dealing with the war. . . . It's about the extremes of violence that happen during war, and it's also about the responsibility the general public has toward returning veterans and how they're viewed when they come back. How can we relate our circumstances to theirs?"
Click on 'Article Link' below tags for link to preview video of two scenes, directions, and show times...


How did I find out about this play running in my old Lake View neighborhood? I stumbled upon the production's Study Guide, and happened to see that PTSD Combat is listed in their citations. Very cool. Just purchased my tickets -- catch it if you can.

It's gotten a thumb's up from Chicago's entertainment bible, the Reader, too. The evening I'm attending has a post-show discussion slated, so I'll be sure to pass along my impressions.

First the review from the Reader:


At first glance Brett Neveu's new play looks like yet another docudrama: a troubled college freshman submits a disturbingly violent first-person story to his fiction-writing class, which pits an adjunct professor against the school's president in a battle over the student's free-speech rights. But when the student turns out to be an Iraq war vet and the possibility of war crimes emerges, Harmless becomes a Mametian cat-and-mouse game full of ethical ambiguities. It takes director Edward Sobel a while to get his three-person cast up to speed, but once he does this is an engrossing, harrowing ride. (JHa) Through 3/18: Wed-Fri 8 PM, Sat 4 and 8 PM, Sun 2 PM, TimeLine Theatre Company, Wellington Avenue United Church of Christ, Baird Hall Theatre, 615 W. Wellington (courtyard entrance), 773-281-8463, $15-$25.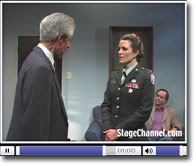 Take a peek at two clips available online from Harmless, starring John Jenkins, Juliet Hart and David Parkes.

More specifics from Timeline Theatre's website:


Directions | Purchase Tickets



Performance Dates:


January 20 - March 18, 2007
previews 1/16 - 1/19



Performance Times:


Wednesday, Thursday
& Friday at 8 pm
Saturday at 4 pm & 8 pm
Sunday at 2 pm



Running time:


Approximately 1 hour,
with no intermission



Prices:


Regular Price $25
Previews $12
Students (w/valid ID) $15

Interested in bringing a group
of 10 or more people?
groupsales@timelinetheatre.com



Special Events:


Free Post-Show Discussions with members of the cast added after these performances:

* WED 2/28 at 8 pm
* FRI 3/2 at 8 pm
* SAT 3/3 at 4 pm
* SUN 3/4 at 2 pm
* FRI 3/9 at 8 pm
* SAT 3/10 at 4 pm
* SAT 3/10 at 8 pm
* SUN 3/11 at 2 pm


&nbsp

Related Posts




Want to stay connected? You can subscribe to PTSD Combat via Feedburner or follow Ilona on Twitter.