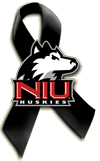 More lives dramatically changed by another base act of the type we've become all too familiar with over the past few years.

I'm sure most have by now heard about the events on the Northern Illinois University campus yesterday afternoon. I'm a student at NIU and was seated at a doorway, catching up on reading between classes, in a building immediately next to Cole, the building where the shooting took place. [I shared my experience in a post after returning home.]

Alongside so much mourning that we have before us, we have much to be proud of. I witnessed some really courageous, kind, insightful actions yesterday. I'm proud to be a Huskie, blessed to be a part of the NIU family. Yet even more importantly, I'm keeping those most directly faced with personal losses in my thoughts tonight and in the days and months ahead. We will persevere.


By

Abraham Lincoln

(who lost three sons during his lifetime):

"In this sad world of ours, sorrow comes to all...
It comes with bitterest agony...
Perfect relief is not possible, except with time."
[UPDATE Feb 19, 2008]:
A few tribute videos
[UPDATE Feb 22, 2008]: A selection of coverage from the past week
(...coming soon)
Wikipedia:
NIU shooting

Related Posts
Want to stay connected? You can subscribe to PTSD Combat via Feedburner or follow Ilona on Twitter.