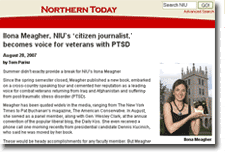 Northern Illinois University runs a blush-worthy piece on the journey I've been on since Moving a Nation to Care published last May.

Photos, credited to NIU/ Scott Walstrom, were taken on campus last Wednesday -- in front of the Castle above and the lagoon below -- on the wilting-in-the-heat summer afternoon just before Thursday's storms and Friday's flooding. From Northern Today:


Summer didn't exactly provide a break for NIU's Ilona Meagher.

Since the spring semester closed, Meagher published a new book, embarked on a cross-country speaking tour and cemented her reputation as a leading voice for combat veterans returning from Iraq and Afghanistan and suffering from post-traumatic stress disorder (PTSD).

Meagher has been quoted widely in the media, ranging from The New York Times to Pat Buchanan's magazine, The American Conservative. In August, she served as a panel member, along with Gen. Wesley Clark, at the annual convention of the popular liberal blog, the Daily Kos. She even received a phone call one morning recently from presidential candidate Dennis Kucinich, who said he was moved by her book.

These would be heady accomplishments for any faculty member. But Meagher isn't a professor, she's a student at NIU – a junior studying journalism. "It's been an incredible journey," Meagher says from her home office in small-town Caledonia, northeast of Rockford. A 41-year-old former flight attendant, Meagher is not a traditional student nor is she a traditional journalist.

Her work would best be described as "citizen journalism" – the use of blogs and new media by people at the grassroots level to collect, report, analyze and disseminate news and information. ...

In the spring of 2006, her work drew the attention of Ig Publishing in New York, which asked her to write a book on the plight of returning veterans. Meagher devoted herself to the project, reading all she could on PTSD and interviewing veterans, their family members, veterans' advocates and medical experts.

"Moving a Nation to Care" was published in late May 2007.

"The whole point of the book is to bring the average person, just like me, up to speed on the issue of PTSD," Meagher says. "I also wanted to provide a resource for veterans and military families while pointing out why average citizens should care about the issue and what they can do about it."
Click on 'Article Link' below tags for more...


Continuing:


The book frames present-day debates over PTSD in the context of history. Meagher found mentions of combat stress in ancient Greek writings and eventually chronicled 80 different names for the disorder, including nostalgia, hysteria, shellshock, buck fever, combat fatigue, battle reaction and disorderly action of the heart. Her studies at NIU helped as she researched and wrote the book – and worked to publicize it.

"So many of my professors went out of their way to help me," Meagher says. "They gave me opportunities to practice my presentations and broadcast news of my work to others. And they gave me personal assurances that I could accomplish my goals."

In Communication Professor Jeff Chown's class, Meagher studied films on Iraq, learned about Middle East history and participated in intense discussion about representations of the war. In an honors class taught by English Professor Steve Franklin, her work would crop up in discussions about the great thinkers throughout history and their views toward war. Franklin, himself a veteran, took an interest in her work outside of the classroom as well.

"Ilona is really engaged in life, in terms of politics, policy and contemporary and moral issues," Franklin says. "She provides an exemplary example for students and citizens."

Thanks to everyone at NIU. What a great welcome back!

Please read the rest (and the accompanying sidebar), which includes news of Walter Reed's plans to distribute copies of 'Moving a Nation to Care' to all chaplains and chaplains assistants attending next month's North Atlantic Regional Medical Command (NARMC) conference. Ever aware that my work has been blessed by the great help of many hands and hearts.

Thank you, one and all.



Related Posts
Want to stay connected? You can subscribe to PTSD Combat via Feedburner or follow Ilona on Twitter.