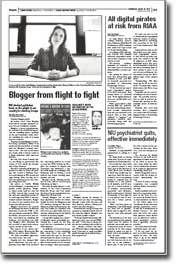 As we count down the final weeks before Moving a Nation to Care's arrival (only five weeks to go?!) and we near the close of another fine month, I'd like to share a few notable mentions. Let's get right into it:

Today, a great personal honor arrives on page three of the Northern Star, Northern Illinois University's newspaper of record. I arrived Monday on campus to find that that managing editor, Michael Swiontek, wanted an interview (thx, Prof. Akst). The result? This big chunk of real estate today.

Contributing comments were Markos Moulitsas Zúniga, editor of Daily Kos (and NIU alumni inducted into the Northern Star Hall of Fame just this month), the online community (in tandem with ePluribus Media) that gave me a forum to develop and share my PTSD work, and Jim Starowicz, an active Vietnam veteran whose tireless work would exhaust lesser souls. Rounding it all off, my thanks to Northern Star photographer Mike Greene, too.

Click on 'Article Link' below tags for more...

Reprinted in full for media kit [pdf].


March 28, 2007

Blogger from flight to fight
NIU student publishes book on the plight of our country's returning troops

Junior journalism major Ilona Meagher recently finished writing a book titled "Moving a Nation to Care: Post-Traumatic Stress Disorder and America's Returning Troops," which will hit bookshelves in May.

Article by: Michael Swiontek, Managing Editor • mswionte@northernstar.info

Tragedy changes people.

At surface level, Ilona Meagher looks like an average, attentive, 41-year-old non-traditional student.

Meagher, a junior journalism major, possesses an overwhelming passion for shedding public spotlight on the post-traumatic stress disorder engulfing the souls of so many Iraq war veterans.

Tragedy changed Meagher's plans. Becoming a journalist, editor of an online journal and author of a book were not Meagher's original ambition in life - her life soared above the clouds, with a 15-year career as a flight attendant with American Airlines.

Her life, like those of many others, was firmly in place before the events of 9/11 shook the foundation of her existence.

Post-9/11 cutbacks put Meagher in position to take an early-out package. She created a freelance business specializing in Web design and copy editing. Then, one day, an article she read from across the country changed her life.

An article in Seattle Weekly shocked Meagher, prompting her to ponder several questions. Meagher, whose sister took her own life in 2000, learned that several Iraq war veterans committed suicide after suffering from PTSD. A self-proclaimed natural researcher, Meagher's quest to get answers drove her deeper into the questions.

Meagher discovered her passion for writing by her desire to advocate awareness of post-war PTSD. A citizen journalism cooperative, ePluribus Media, discovered her data online, and helped by compiling the database, fact-checking and editing. Meagher feels fortunate she has received so much help informing the masses on the issue.

The success of her online journal, PTSD Combat: Winning the War Within, has led to other ventures.

"All these incredible opportunities came to me," she said.

Tragedy also has changed Meagher's aspirations. One year ago, a publisher from New York contacted her, expressing interest in a book on post-war PTSD written by Meagher. The network of experts and journalists she developed a rapport with made the seemingly overwhelming task of writing a book without any formal training manageable, she said.

Meagher's book, "Moving the Nation to Care," will be released by Ig Publishing on May 1.

Recently, Meagher became a contributor to the Clark Community Network's Troops and Vets series, the blog of former presidential candidate Gen. Wesley Clark.

Though Meagher has no military experience herself, her father fought for both the Hungarian and U.S. military, giving her the foundation to pursue military topics, she said. She credits her husband, who still serves as a pilot with American Airlines, with giving her the ability to work on her blog unpaid.

A nonprofit company has contacted Meagher about potentially presenting her a grant for her blog work and her contribution to the PTSD database.

"As difficult as it has been to juggle everything, I learn something with every class," she said. "No matter what the topic is, the more informed you are about a variety of issues, the more you are going to be able to understand a lot of concepts that are bigger than post-traumatic stress."

Meagher spends an average of three hours per day corresponding through e-mail with veterans and their families, editors, citizen journalists and other bloggers.

Even with the strong feelings and opinions presented on both sides of the Iraq war debate, Meagher has not chosen a public stance.

"It doesn't matter what party affiliation you have, you can get PTSD," she said. "I have met so many people that are working hard on this issue - citizens, activists and veterans. While the data is depressing and hard, I have met so many incredible people through email and meetings - they inspired me."


Anyone who says that good journalism doesn't change lives would find themselves at odds with my experience. Please read the rest; the PDF version contains a sidebar of quotes from Markos and Jim.

[UPDATE Aug 31 2007]: Previous links are now broken, so I've excerpted in full for archiving and saved a PDF of the cached page.

News: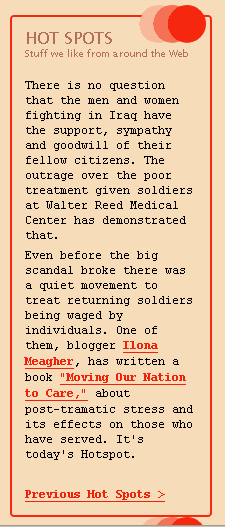 Aldon Hynes, editor over at Orient Lodge and many other domains (he did some outstanding reporting from his seat at the recent Lewis 'Scooter' Libby trial), had this nice comment earlier this month:


When you start talking about PTSD of returning soldiers, I want to point out Ilona Meagher's book Moving A Nation to Care: Post-Traumatic Stress Disorder and America's Returning Troops. I've met Ilona at a couple conferences. She is a great writer and I've managed to get a review copy of her book. I highly recommend it to anyone concerned with the fate of our servicemen and women.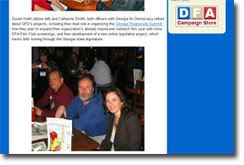 We both attended the National Conference on Media Reform held in Memphis in January (and the preceeding Journalism That Matters sessions). I was his guest at a Democracy for America dinner meet-up one drizzly evening, shared on the DFA website.

View more pics of both the dinner as well as the other two events we'd attended in my Flicker album.


Finally, I'd like to share news of my inclusion in unConventional, a book capturing last years' YearlyKos Convention held in Las Vegas, Nevada:


UnConventional, YearlyKos: Citizens, Focus and Action, an in-depth eBook covering the first YearlyKos convention is available NOW. A team of four brilliant photographers led by Mona Brooks along with an editorial staff led by Hunter of Daily Kos fame, documented every aspect of the convention, from caucuses to keynote speeches, from volunteers to political heavy-hitters, so many Kos bloggers, and more.

The book combines complete convention coverage with personal essays [and] beautiful portraits to boot...

Some incredible writing (and my own essay slipped in as well) available in a visually stunning snapshot of a positively-charged and dynamic gathering of hearts and minds. Feel free to head back over to my Flicker album to view more photos of YearlyKos 2006 to see what I mean. Looking forward to taking part in YK2007...

Join us!
Want to stay connected? You can subscribe to PTSD Combat via Feedburner or follow Ilona on Twitter.