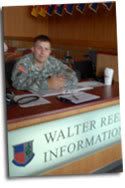 Apologies for lagging behind in updates.

Unlike better online writers, I'm not an on-the-fly type who churns things out easily while on the road. From Chicago to Washington, D.C., I've been busy absorbing a lot of information and talking with a lot of people these past 10 days. From last week's seat on a YearlyKos Convention panel with none other than General Wesley Clark to this week's Journalism That Matters Conference and visit to Walter Reed Army Medical Center, it's been a busy August.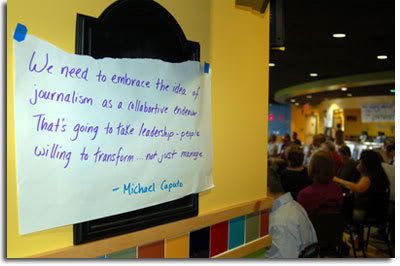 A few notes on my comings and goings, disappearances and sightings before getting back to the more important work of covering issues that concern the state of post-combat reintegration in our returning troops.

Click on 'Article Link' below tags for more...

The highlight for me at last week's YearlyKos Convention was the opportunity to meet and talk with veterans of today's wars and those previous. Some of those vets (clockwise, below) included Gen. Clark and Brandon Friedman (my fellow panel mate and author of The War I Always Wanted: The Illusion of Glory and the Reality of War -- A Screaming Eagle in Afghanistan and Iraq, flanked by me and The Ground Truth director Patricia Foulkrod), Sally Westgate, Calvin Williams (technically not a vet himself, but one that works with and for those returning today) and Lt. Col. Charlie Brown.

(Warning: There's a lot of Ilona in the next collage :o)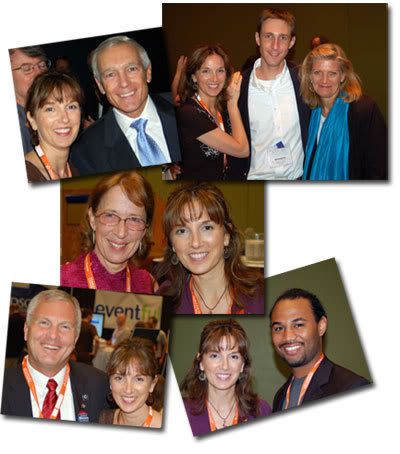 Unfortunately, the lion's share of the media coverage of the panel I took part in focused on a few moments of controversy rather than the discussion itself, though one person did include a few lines beyond it:


I attended a session on why progressives and the military have in common this morning and there was a dust-up on the dais between panelist John [Soltz] of VoteVets and a uniformed questioner. (an Army captain) John took issue with the fact that he was at the conference in uniform (his question was pretty innocuous) but this is a sign of things to come. ...

Another panelist, Ilona Meagher, said that after the war, the hard work for the civilians has just begun...how do we welcome our troops back and let them know that their experience was meaningful...across the board, from the protesters to the yellow flag crowd...we all need to agree on this.

Vets Steve Young, Eric Massa, Jon Powers, Jay Buckey (a NASA astronaut), Jon Soltz, Rich Noriega, Josh Lansdale and other military family members and veteran supporters were also a real joy to have a chance to share a few words with. The only downside? Not enough time to chat at length with (and photograph) them all!




Other highlights included hanging out with my publishers and fellow authors at the Ig Publishing booth, and my colleagues at the ePluribus Media booth.




While the convention was in full swing we learned that The New Republic had requested a download of the incidents we've tracked in the ePluribus Media PTSD Timeline (far too many have yet to be entered, as the work involved with Moving a Nation to Care has temporarily taken me off of the project; however, a number of new incidents have been fact-checked and will be available online tomorrow). On Monday, TNR included a link and nod to our work in an article exploring the death of Jeffrey Lucey, a Marine whose story appears in Moving and whose parents have just recently initiated a lawsuit against the VA:


But whether Lucey's memories of what he did were of real or imagined events, what remains striking about his story is the degree to which the fear and anxiety that are normal to war are mixed from the start with a searing guilt. Lucey may never have killed two unarmed Iraqi soldiers, but he did witness the carnage in Nasiriyah and perhaps elsewhere, and that may have fuelled his later delusions.

This toxic combination of anxiety and guilt may be a factor in the high incidence of mental illness and of suicide among Iraqi veterans. According to a study published last March in the Journal of the American Medical Association, 19.1 percent of the soldiers who returned from Iraq "met the risk criteria for a mental health concern," compared with 11.3 percent from Afghanistan and 8.5 percent from other locations. One website has tracked over 150 cases of severe mental illness that have led, among other things, to suicide and even murder by returning vets.

On Tuesday, as I fittingly prepared to head out to Washington, D.C., for my third turn in the Media Giraffe Project/Journalism That Matters collaborative sessions, an interview that I'd recently given Buzzflash appeared. From its introduction:


Ilona Meagher doesn't have a degree in journalism (although she is working on one, even though she's already proven that she doesn't need one), but she's far ahead of all those D.C. stenographers who wouldn't know a scoop if they were ordering a cone in an ice cream store. As a self-starter, former flight attendant, she has become one of the national experts on the epidemic of Post Traumatic Stress Syndrome among our GIs returning from Iraq and Afghanistan.

What started as an area of personal interest became a vital book on a major problem facing our combat veterans (which of course the Busheviks would prefer to ignore), Moving a Nation to Care: Post-Traumatic Stress Disorder and America's Returning Troops.

After interviewing Meagher, we recently met her at the Yearly Kos conference in Chicago. She's enthusiastic, impassioned, immersed in her subject matter, and enormously knowledgeable about what she writes about. Now, isn't that what you would expect of a mainstream journalist, let's say, writing for the Washington Post on national issues, but don't get?

If our media is going to be reformed and restructured to remove it from the narrow corporate frame of the mainstream media, which keeps so many issues out of the news because they might make the powers that be punish them by cutting back on tax breaks or not granting favorable regulations, it will come from citizen journalists like Ilona Meagher.

Be sure to head over to read the full interview.

The problems noted in that last paragraph were just the topic of conversation at this week's Journalism That Matters session. Many good hearts and minds working to find a new model of news gathering and reporting; clearly, judging by my journey and that of so many others, today's mainstream media is not meeting our needs.

In my case, if traditional news organizations had been covering the issue of combat PTSD back in 2005 in a way where my initial questions could have been easily answered, perhaps I wouldn't have been spurred to act to find the answers myself. Perhaps many of us 'citizen journalists' would have been more than happy to leave the reporting of serious issues to the 'professionals.' It sure would have made for a more leisurely life for this gal.

Perhaps not as fulfilling or meaningful, but certainly more leisurely.

In addition to the decay of hard-hitting investigative journalism once voraciously practiced by American media, the top-down, one-way communication model that the field of journalism has been built on these past decades is also crumbling, with many in traditional media camps stumbling and a few grumbling. Some are clearly taking the lead in changing their news organizations (not always for higher purposes; some admittedly doing it merely as a bottom-line or self-preservation concern), and I applaud those efforts.

Indeed, making contact with those in the mainstream, no matter how good their work may be or how important the need for that connection may be, is quite difficult if initiated from the outside.

A few weeks ago, I received an email from a business owner interested in donating hundreds of high-quality speech therapy DVDs to returning troops coping with traumatic brain injury, or TBI. After trying to contact a high-profile member of the mainstream media who has done remarkable work in this area with no success, he contacted me.

His concern was that the donation go directly to the troops, that they weren't diverted inadvertently or accidentally. I replied to the gentleman that I was shortly attending a conference in Washington, D.C., and would make an effort to get them into the hands of someone at Walter Reed Army Medical Center if he would like.

He enthusiastically agreed.

I wish to thank Chaplain Kristi Pappas for agreeing to meet with me, a stranger, at such short notice (and I thank Dudley and Dean Evenson for sharing this contact with me) on Thursday afternoon to accept delivery of the first of those important donations. I was also honored to drop off copies of my book to be given to those who might have a need or wish to have one.

Of all the things done this past 10 days, that WRAMC meeting was the most fulfilling. Clearly, I'm not a traditional journalist, as such an action is not something that those in the field consider a part of their job description. Fortunately, new media journalism has created a new brand of journalism, a new breed of journalist. And I'm proud to call myself a member of that class.




Related Posts


Want to stay connected? You can subscribe to PTSD Combat via Feedburner or follow Ilona on Twitter.