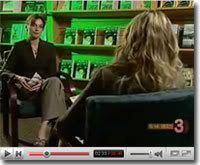 Media opportunities on the Moving a Nation to Care book tour have led to two upcoming local television programs I'd like to share with you this week.

In the Phoenix area (or near a computer) this Monday night?

3TV's beautiful -- inside and out -- Carey Peña begins a two-part series on combat PTSD featuring clips from an hour-long interview I sat for during my visit to Tempe's Changing Hands bookstore last month. (I learned that Peña had previously interviewed Madeline Albright in that very spot). The first segment airs tomorrow, Monday July 23, between 5:00 and 6:00 pm on Good Evening Arizona. Catch it as well in Peña's online archives.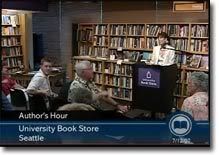 For those in the Seattle area, my University Bookstore stop last week was taped by TVW; in addition to being available online, area viewers can watch my turn on Author's Hour Thursday July 26 at 8pm and Sunday July 29 at 9pm.

More media spots if you can't get enough!
Want to stay connected? You can subscribe to PTSD Combat via Feedburner or follow Ilona on Twitter.