Dramatic headline, huh? Well, I just returned this evening from this week's Moving a Nation to Care book signing/community pow-wow and it was another stunning gathering of hearts and minds, this time at Seattle's University Bookstore.




That's Dudley and Dean Evenson (I introduced them to you a few days ago), yours truly and Iraq veteran and poet John Roth and the most lovely Mrs. Roth. You'll also catch Gordy Graham, a Vietnam veteran who runs a state program to get veterans involved in environmental projects, talking to John and his wife in the bottom right photo. Click on 'Article Link' below tags for more...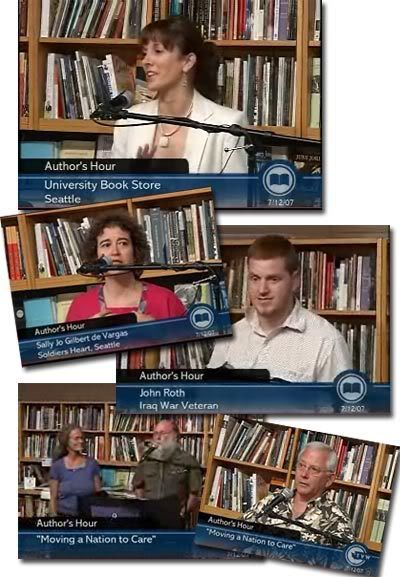 We filled 2 hours crammed full to the brim with conversation on the topic of how best communities can come together in support of their -- and our -- returning troops and military families. We ran so late (they just couldn't get any of us to stop talking with one another) we had very little time for pictures to do the gathering justice. (Thanks go out to my bro-in-law, one of my favorite Vietnam vets, for these awesome pics and for the limo service!)

So many people were vital to the success of Moving a Nation to Care's University signing, many who can't be seen in this handful of photos. Like my Seattle city guardian angel, Ramona Gault (who literally made all of it possible; thank you for the invite to your city and for coordinating what I believe -- and others would likely agree -- was a valuable community gathering), and Sally Jo Gilbert de Vargas -- both of Soldier's Heart -- Seattle. You are doing such wonderful work in your area of the country. So many others that we missed photographing -- like even the audience! Oh, and what an audience it was.

Fortunately, the evening was filmed by a crew from TVW, the Washington State Public Affairs Network. You are invited to have a seat in the audience, too, so-to-speak when my appearance on Author's Hour (oh dear, our evening ran to two hours so they have more than enough footage to use...) will air in two weeks, on Thursday, July 26th at 8pm and again on Sunday, July 29th at 9pm on Seattle's TVW. I'm not sure what local tv channel to point you to, but listen or watch the program via the following online live broadcast streams if you're near a computer:


Thursday, July 26th at 8pm
Sunday, July 29th at 9pm

VIDEO:
* Dialup: Real Video, Windows Media Video
* Broadband: Real Video, Windows Media Video
* Español traducido: Real Video, Windows Media Video

AUDIO ONLY: Real Audio, Windows Media Audio

[UPDATE November]: Video of our evening appears no longer to be online; audio of the event is still available.


Want to stay connected? You can subscribe to PTSD Combat via Feedburner or follow Ilona on Twitter.