From the Bloomer [WI] Advance, July 4, 2007: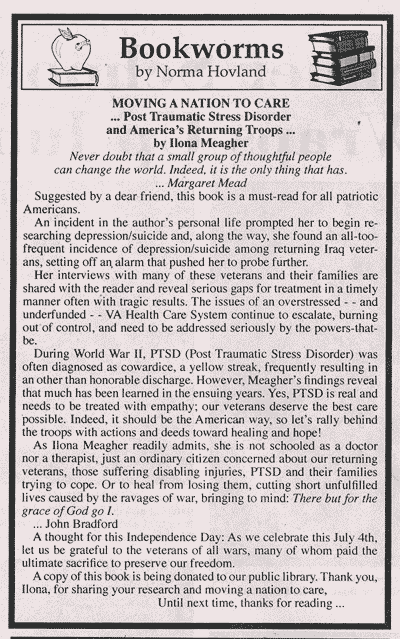 Click on 'Article Link' below tags for text of review...

Since the Advance, which has served the northwestern Wisconsin farm community of Bloomer for over 120 years, has not made the text of their Bookworms column available online, I do hope they will allow me to share this kind review with you.

(Thank you, Shirley, for your guiding hand in this one.)


Bloomer Advance, Inc. Wednesday, July 4, 2007
~Bookworms~
By Norma Hovland



MOVING A NATION TO CARE

... Post Traumatic Stress Disorder and America's Returning Troops ...

by Ilona Meagher

Never doubt that a small group of thoughtful people can change the world. Indeed, it is the only thing that has.... Margaret Mead



Suggested by a dear-friend, this book is a must-read for all patriotic Americans.

An incident in the author's personal life prompted her to begin researching depression/suicide and, along the way, she found an all-too-frequent incidence of depression/suicide among returning Iraq veterans, setting off an alarm that pushed her to probe further.

Her interviews with many of these veterans and their families are shared with the reader and reveal serious gaps for treatment in a timely manner often with tragic results. The issues of an overstressed - - and underfunded - - VA Health Care System continue to escalate, burning out of control, and need to be addressed seriously by the powers-that-be.

During World War II, PTSD (Post Traumatic Stress Disorder) was often diagnosed as cowardice, a yellow streak, frequently resulting in an other than honorable discharge. However, Meagher's findings reveal that much has been learned in the ensuing years. Yes, PTSD is real and needs to be treated with empathy; our veterans deserve the best care possible. Indeed, it should be the American way, so let's rally behind the troops with actions and deeds toward healing and hope!

As Ilona Meagher readily admits, she is not schooled as a doctor nor a therapist, just an ordinary citizen concerned about our returning veterans, those suffering disabling injuries, PTSD and their families trying to cope. Or to heal from losing them, cutting short unfulfilled lives caused by the ravages of war, bringing to mind: There but for the grace of God go I....John Bradford

A thought for this Independence Day: As we celebrate this July 4th, let us be grateful to the veterans of all wars, many of whom paid the ultimate sacrifice to preserve our freedom.

A copy of this book is being donated to our public library. Thank you, Ilona, for sharing your research and moving a nation to care.

Until next time, thanks for reading ...

Thank you, Ms. Hovland, for writing so kindly.
Want to stay connected? You can subscribe to PTSD Combat via Feedburner or follow Ilona on Twitter.