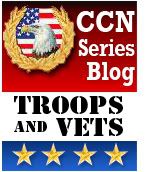 General Wesley Clark's Clark Community Network has just unveiled a new Troops and Vets issues blog that I'm honored to be the newest member of.

Today, the second installment in their traumatic brain injury [TBI] series, Purple Hearts, Broken Bodies, makes its appearance (first article).

Click on 'Article Link' below tags for related links...




&nbspRelated Posts



Want to stay connected? You can subscribe to PTSD Combat via Feedburner or follow Ilona on Twitter.