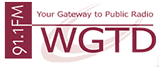 Thanks to new media, you don't have to be in Kenosha, WI Wednesday morning to catch an informative program on combat PTSD. Just tune into WGTD's online stream at 8:10 am CST/9:10 am EST (or check show archives following its airing).

Click on 'Article Link' below tags for more details...

Details:


KENOSHA - WGTD (91.1 FM) is owned and operated as a public service of Gateway Technical College and is an affiliate of Wisconsin Public Radio. "The Morning Show" airs every weekday morning between 8:10 and 9 a.m. Wednesday['s] guest will be Dr. Edward Tick, author of "War and the Soul: Healing our Nation's Veterans from Post-Traumatic Stress Disorder." Tick is a psychologist who treats PTSD in soldiers. He will be in southeastern Wisconsin at the end of January for several public presentations.

More information on the programs offered during Dr. Tick's visit available via Lake House Center, or download a handy PDF flyer.




Related Posts


Want to stay connected? You can subscribe to PTSD Combat via Feedburner or follow Ilona on Twitter.