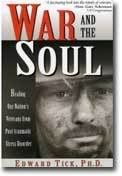 Dr. Edward Tick has written one of the definitive books on the effect of war on its combat veterans. I can't recommend War and The Soul: Healing Our Nation's Veterans from Post-traumatic Stress Disorder highly enough. But Dr. Tick is not merely writing about the process of reintegration -- he's busy traveling the country (and world) bringing his message to those who need it most.

This past weekend, Dr. Tick and his wife Kate Dahlstedt (also a psychotherapist), conducted their first Soldier's Heart Veterans Return Retreat in Albany, N.Y., their home base. Later in the month, Dr. Tick brings his important skills to the Midwest in a series of programs hosted by the University of Wisconsin-Parkside and the Lake House Health & Learning Center in Racine, Wisc.

Click on 'Article Link' below tags for more...

On this past weekend's retreat, from the Albany Times Union:


They had seen the hell of war and they had all been damaged by it in ways large and small, visible and not visible. Now they were coming together to heal. ... The wounds on display were raw and searing, close to the surface, whether the veteran fought five decades or five months ago. "This history keeps repeating itself, and we're saying we're not going to let it happen again," said Hugh Scanlen, 59, of Fort Davis, Texas, a gunner on an Army helicopter in Vietnam.

"I'm seeing vets from Iraq on the streets now and they're lost," he said. "I'm watching them go through what I went through, and that's not right."

Scanlen said he denied his own PTSD symptoms through two failed marriages and a string of personal problems before he began seeking treatment. "I'm here because we're not doing enough to help our troops coming back from Iraq now," said Scanlen, who hugged Ron and wrapped an arm around the shoulder of another Iraq vet named Peter.

Ron and Peter, who asked that their last names not be used, had come to the retreat reluctantly after prodding from their wives. Tears flowed as the women stood beside their men throughout Friday's heart-wrenching moments of catharsis. They described their husbands as depressed, isolated, irritable, unemployed, broken in spirit and adrift. They had urged their spouses to attend the retreat in an effort to get some help and to save their troubled marriages.

Other 'Soldier's Heart' programs are springing up across the country, in Washington and Indiana and Colorado, just in the nick of time.


Tick, author of "War and the Soul" and other books on problems facing veterans, predicted a surge of returning Iraq war veterans in need of treatment. He augments his treatment with nontraditional methods such as leading vets on healing journeys back to Vietnam and Iraq, or participating in Native American rituals and studying ancient Greek texts for enlightenment on archetypal healing paradigms.

Tick's holistic approach can be encapsulated in a new term he's coined for the far-reaching symptoms of PTSD. "Post-terror soul disorder," he calls it. "It is our culture that is disordered by war. It is a communal affliction," he said.

Details on southeastern Wisconsin's upcoming events with Dr. Tick:


Jan. 25, 2007: War and the Soul workshop from 9 a.m. to 4 p.m. at University of Wisconsin Parkside, Kenosha, WI. $75 tuition includes lunch. Call the univeristy (262) 595-2312.

Jan. 25: Public forum for veterans, family members and others from 6 to 8 p.m. at University of Wisconsin-Parkside Union Cinema. No charge. Call (262) 595-2312 for information.

Jan. 26: War and the Soul: Training for Clergy from 9 a.m. to noon at Lake House Health & Learning Center, 932 Lake Ave., Racine.$30 tuition or donation, with CEU certificate provided for clergy members.

Jan. 26: Potluck and Conversation with Ed Tick for veterans, family members and friends from 6 to 8 p.m. at Lake House Health & Learning Center, 932 Lake Ave., Racine. Bring dish to share if you are able. Donations welcome but not necessary. Call (262) 633-2645 to reserve or for information.

Jan. 27-28: "Reconciliation Journey, A Process of Healing for Veterans, Family and Community" healing experience and professional training from 9 a.m. to 5 p.m. Saturday and 9 a.m. to 4 p.m. Sunday at Lake House Health & Learning Center, 932 Lake Ave., Racine, WI. Tuition is $200 for professionals, with sliding scale for veterans and family if they cannot afford the full fee; 13 hours of CEUs will be provided for professionals at extra nominal charge. Call (262) 633-2645 to reserve your space or for more information.

Additional events can be found at Dr. Tick's Sanctuary: Mentoring the Soul website.




Related Posts


Want to stay connected? You can subscribe to PTSD Combat via Feedburner or follow Ilona on Twitter.