As of Dec 1, 2007, this veteran is still missing. Updated details here.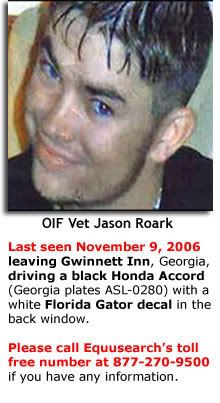 We have another missing veteran -- from Georgia.
You may remember the story of a recently returned Iraq War veteran who went
missing
at the end of September.
The Ohio vet eventually
turned up
in Washington state, apparently "with a full beard and mustache and living in the woods. ...He was found coherent, tired and stating he was 'looking for his men'."
Although 'going into the bush' may not be a satisfying conclusion to such missing persons cases, at least families know their loved one is alive.
Have you seen Jason Roark?
Click on 'Article Link' below tags for details and helpline info...


Atlanta's WXIA-TV Channel 11 reported today:


Gwinnett County police are investigating the disappearance of a 26-year-old Iraq war veteran. Jason Roark made it home safe after two tours of duty, but has not been seen in two weeks.

Now, his family has turned to a private investigator to help find their son.

The Texas search team, Equusearch has been enlisted to find Roark and it is the same search team that was used to find missing teenager, Natalie Holloway. Several of its members were in Gwinnett County Saturday, trying to retrace Roark's last steps in hopes of bringing the young man home.

Roark's mother, Terry hopes that after 17 agonizing days, the Roark family may finally get some answers. "It's my only child, and he's been missing for 17 days and I have no whereabouts whatsoever," said Terry Roark.



Surveillance video obtained by Equusearch showed Roark checking into the Gwinnett Inn [in Snellville, Ga.,] at 4:30 a.m. on November 9.

That morning, Jason was seen several times walking in the parking lot and driving his black Honda Accord. Surveillance video showed Roark leaving the motel for the last time at 11:04 a.m.

Apparently, the last person to have seen Roark has allegedly given some information to the police which does not jibe with what surveillance cameras picked up on the scene.


Whatever the outcome of the investigation, Terry Roark said she needed answers, even if that answer is devastating. "He served this country, now its time to help him," said Terry Roark.

[Nick Berntson, a college friend of Roark's and the last person to have seen him alive] is currently being held in the Gwinnett County jail on a probation violation. Equusearch was looking for Jason's car, a black Honda Accord with a white Florida Gator decal in the back window and Georgia plates with the number ASL-0280.



Anyone with information is asked to call Equusearch's toll free number at 877-270-9500.

See Channel 11's video report.

Additional details from the Columbus Ledger-Enquirer:


Roark left the Army in October 2005 and had been treated for depression and post-traumatic stress syndrome after returning from Iraq,

said his mother, Terry Roark of Dallas, Ga. Roark had started a job as an assistant manager at Texas Roadhouse restaurant in Snellville three months ago, she said.

Terry Roark said she believes her son did not simply disappear on his own. "It's like he was just in a 'poof'," she said. "No sightings, no traces of him anywhere. He has no money, no credit cards, and was last seen in blue jeans and a T-shirt. No coat."



Roark was stationed at Ft. Bragg and served with a Special Operations Forces pyschological unit.

In interviews, his mother has said that his PTSD does not seem to figure into the disappearance. I do hope that they find him, soon.



Again, please call 877-270-9500

with any leads you might have.

From the Gwinnett County Police:


(Thursday 11/09/06) The Gwinnett County Police Department is currently investigating the disappearance of 26-year-old Jason Michael Roark of Snellville.

Roark was last seen by his friend. The two had been drinking together at a local bar in Lilburn. After drinking, the two rented a room at a nearby hotel. The witness told authorities that the last time he saw Roark was when Roark left the hotel at approximately 7AM that Thursday.

Roark was last seen in his '00 Black Honda Accord bearing Georgia Tag ASL0280. At this stage of the investigation foul play is not suspected, however it has not been ruled out.

Anyone with information concerning Jason Michael Roark is asked to call the Gwinnett County Police Department at 770-513-5300

.

Source: Gwinnett County Police

Related Posts
Want to stay connected? You can subscribe to PTSD Combat via Feedburner or follow Ilona on Twitter.