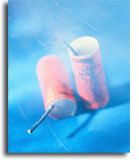 Happy Independence Day. For most of us, today is a day to fly the flag, get together with family and friends, reflect on our nation, and cap it off with a fireworks display. Some even set off our own firecrackers. I know people in my neighborhood surely do; they've been going off nearly every night now for about a week and a half! What most don't realize is that many returning troops dread the arrival of this holiday.

Click on 'Article Link' below tags for more...

From the book Charlie Company: What Vietnam Did to Us:


There was a shadow over [Vietnam vet Roy] Rosson's easy Marlboro-man smile when he came back to Fort Hood, Texas to finish out his extended tour and to reconnect with his roots in Oklahoma. On one trip home, he rekindled his acquaintance with his schoolmate Connie. He had been one of twelve boys and she one of the twelve girls in their graduating class at Ripley High, and when she married him during the spring break in her senior year at Oklahoma State University, she still imagined that he was the shy, loose-gaited country boy she had grown up with. It was only afterward that she began to see how tightly Vietnam had wound him. They were watching fireworks from the porch at her family's place on their first Fourth of July together; one went off close to them, and when Connie turned to say something to Rosson, he was flattened out face down on the ground.


From I Was Shell Shocked, Newsweek:


Spc. Abbie Pickett doesn''t seem like a war-weary vet. The 23-year-old blonde from Darlington, Wis., has a sweet disposition and an even sweeter smile. But she has something in common with the most grizzled and disgruntled of combat veterans: posttraumatic-stress disorder (PTSD). July 4th is a day of dread not celebration for Pickett. She planned to spend it at the movies where she hoped she'd be safe from sudden, loud noises. Last year, the sound of the firecrackers sent her running for cover.


Recently posted at PostSecret (they remove all past posts every week; no archives on the site, but I captured the image when I posted on it last month):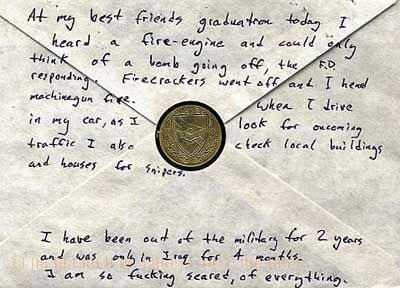 The email reply to this individual from PostSecret:


To the person who was in Iraq for four months. I was in Iraq for 13 and I hate fireworks now, too. I don't like the Fourth of July. I almost puked at last year's fireworks. Twice. I know how you feel. It sucks. I would never wish it on my worst enemy.


From Military.com:


Most of the symptoms of combat stress that soldiers experience are emotional responses, but nearly everyone interviewed shared the same physical response to loud noises.

"We missed getting blown up a couple of times, so when I hear a loud noise I jump," said Sharpe, explaining that his compound in the Green Zone was bombed regularly. "We had one [mortar round] that landed right outside our area, the building shook and all the windows broke," he added, recounting his experience in Baghdad. Davis thought that he was doing okay until the Fourth of July. "I couldn't listen to the fireworks," Davis said. The repetitive explosions were overwhelming and Davis said he had to leave the festivities.


[UPDATE: July 5, 2006]

This from UPI:


Memorial Day may be the beginning of summer, but Independence Day is the unofficial beginning of firecracker season, which can be hard on military veterans, the elderly and pets. Many vets know the terror of thunderstorms, construction blasts and fireworks, which can bring back painful memories, according to Katherine Smythe, a social worker at VA Medical Center in Buffalo, N.Y.

Although the scheduled fireworks sponsored by municipalities can sound like a firefight, some veterans say it is the individual firecrackers and noisemakers that continue during summer weekends that are the worst: They sound like gunfire and they're unexpected. "When you're sitting on a blanket with your family with a cold drink in your hand and you're watching fireworks there's no mistaking where you are," a retired U.S. Army colonel who used to jump out of airplanes told UPI's Caregiving. "But it does bother some of my friends; it can be unnerving."

Dogs, cats and humans are subject to the startle response, according to Dr. Larry Lachman, a licensed clinical psychologist who practices cognitive-behavioral therapy for patients with PTSD. "A person with post-traumatic stress disorder is exposed to a traumatic event that either involved the threat of death or great bodily injury to another or themselves -- from war, mugging, cancer, car accident," said Lachman. "The person's reactions involve fear, helplessness or horror." ...

Exposure to fireworks/firecrackers that sound like gunshots can lead to a relapse or exacerbation of those symptoms, according to Lachman. "Remember that PTSD is an exaggerated and sustained enhanced fight-flight survival response that is conditioned to 'stay on' following day-after-day death, destruction, gunshots, bombs and explosions, which require the soldiers to be on constant hypervigilance to survive," Lachman said. "That type of behavioral conditioning won't go away quickly or by itself when returning home, especially if the veteran is exposed to cues that trigger the body and mind's conditioned response for survival and fighting and being alert." ...

In Albany, fireworks are included for numerous holidays including Father's Day, but for those wanting to escape the clamor, Lachman recommends an air-conditioned noisy movie theater or a camping trip or hotel far from major firework displays.

Veterans can find assistance through PTSD veterans' groups, hospital programs, psychologists or doctors who, if necessary, can prescribe short-term medication, according to Lachman.

Important to keep this in mind as you move through your day, especially if you're with a vet.

Want to stay connected? You can subscribe to PTSD Combat via Feedburner or follow Ilona on Twitter.