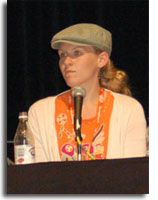 My coverage of the 2006 YearlyKos Convention will arrive in four parts, each highlighting the words and experiences of the four panelists expertly representing the Iraq and Afghanistan Veterans of America (IAVA). Part I offers a general introduction to The View from the Ground: Iraq Veterans on the War and Returning Home discussion, then moves into presenting the story of Iraq veteran Abbie Pickett – whose continued desire to educate the American public about Iraq and PTSD have caught the attention of many news organizations. Check out her Newsweek profile and interview on NPR's Day to Day program. I consider myself lucky to have had a few moments to chat with her this past weekend. Click on 'Article Link' below tags for more...

They came from Wisconsin and New York City, from Texas and New Hampshire. They came to represent our fighting forces in Iraq, stepping up to the plate to do the difficult and demanding work our nation sent them to do. They came to Las Vegas to speak to us, asking us to help them this time. And they ended up delivering one of the most riveting, informative, and moving panels at YearlyKos.

They're the men and women of Iraq and Afghanistan Veterans of America – IAVA -- (one of them starring in the award-winning documentary The War Tapes). I'll introduce them to you and share with you what they had to say during their presentation to us this past weekend.

Describing the panel, The View from the Ground: Iraq Veterans on the War and Returning Home, the convention booklet says:


More than a million American troops have served in Iraq or Afghanistan. Tens of thousands of troops have been wounded, and hundreds of thousands have sought care for mental health concerns like depression and post traumatic stress disorder. But lack of funding support from Washington means that hundreds of thousands of vets are struggling through red tape, being denied VA benefits, and waiting months for appointments. Bottom line: veterans aren't getting the care they need as they transition back to civilian life. Hear four veterans talk about their experiences in war, their return home, and what you can do to help veterans of the current wars.


Before we get into what they had to say, let me introduce them to you (bios taken from the YearlyKos panel info page and The War Tapes website):


Abbie Pickett, from Darlington, WI, served as a combat support Specialist in Operation Iraqi Freedom from May 2003 to April 2004. Her unit built check points, helipads, and runways throughout Iraq. She joined the Army at 17, while still in high school. Abbie says she considered military service a part of her "civic duty," and she remains a member of the Wisconsin National Guard. Abbie is devoted to increasing awareness of women's issues within the military and has been working with the Wisconsin VA on women's Welcome Home packages along with former Governor Tommy Thompson's wife, Susanne. She has also worked in Public Affairs for Governor Jim Doyle. She is a college student at Edgewood College, and lives in Madison. Abbie has participated in a number of IAVA College Tour events and writes for the IAVA blog.


Perry Jefferies is the IAVA's Veteran Outreach Director. He served as a First Sergeant with the Army's 4th Infantry Division in Iraq, traveling through the Sunni Triangle to the Iran-Iraq border to set up Camp Caldwell – future home of the new Iraqi Army. Often frustrated by the absence of priority on planning and basic Soldier needs, he has spoken out about the lack of basic necessities such as food, water, and repair parts. He's served in Korea, Germany, and the United States before deploying to Iraq in infantry, armor, and cavalry units and was an instructor at the Armor School at Fort Knox. He retired in 2004 and was awarded the Bronze Star and the Legion of Merit. He is a member of the Order of Saint George for service to Armor and Cavalry. Originally from Waco, Texas, Jefferies lives with his wife in Copperas Cove and works for a large contractor with the blood program at nearby Fort Hood. He rides motorcycles in his spare time.



Zack Bazzi stepped in for Robert Acosta, who was unable to make it to the event at the last minute. Zack was born in Lebanon; his family immigrated to the US when he was 8 years old, moving to Watertown, MA. He joined the Army in 1997, assigned to the one and only 101st Airborne Division (Air Assault). He deployed to Bosnia and later to Kosovo on his way to his year-long deployment in Iraq. Above all else, Zack is a professional soldier, saying, "Being a soldier is a fundamental part of my identity. It is something that I love and enjoy doing. Being deployed to go to war that is being questioned back home does not affect my passion for the job. I will do my professional duty regardless of the political context or my personal feelings on the matter." Evidence of his leadership ability can be found in the award-winning documentary, The War Tapes, which he 'stars' in. Zack is attending University of New Hampshire and enjoys running, working out, hiking and camping and reading a good book. His greatest passion is traveling, which he's getting a chance to do in support of his new movie!


Paul Rieckhoff is the Executive Director and Founder of Iraq and Afghanistan Veterans of America. He enlisted in the U.S. Army in 1998 and served a tour of duty in Iraq lasting from April 2003 to February 2004. During that time, Paul was a 1st Lieutenant, and served as an Infantry Platoon Leader in the 3rd Infantry and 1st Armored Divisions. Paul's Platoon conducted over 1,000 dismounted and mounted combat patrols, and was centered in the Adamiyah section of central Baghdad. Prior to going to Iraq, Paul worked as a high school football coach and an Investment Banking Analyst on Wall Street. Paul received a Bachelor's degree in Political Science from Amherst College and continues to serve his country as a 1st Lieutenant and Detachment Commander in the New York Army National Guard.

An impressive group of veterans…

The panel opened up with Paul Rieckhoff giving a quick overview of the IAVA's mission: to lobby for policies that properly provide for our troops and veterans, keep our military strong, and guarantee our national security for the purpose of a stronger America.

They also work to empower Iraq and Afghanistan Veterans to use their credibility and experiences to speak truth to power and shape public opinion. IAVA's membership includes Democrats, Republicans, and Independents, and the organization wants to hear from all of them – and make sure all of them are heard in the American public square. For proof of the importance of the returning veteran voice today, see my commentary over at ePluribus Media yesterday.

"Both parties are playing jumpball," said Rieckhoff. "Neither party has done a great job on this issue. Whichever one figures it out, and starts listening to and taking care of the troops will find itself embraced by the public." He also added, "We're not against the Administration. Our complaints aren't because President Bush is a Republican, but because he was the one in charge." (all quotes paraphrased from notes.)

They were clearly upset the troops had been sent into battle without proper provisioning of body armor and equipment. They're just as dismayed now that they're home to find the VA is underfunded by $3 billion. They told stories of returning troops using duct tape to keep prosthetic limbs in place, and of endless waits to get a VA appointment.

Soldiers returning with mental health issues, especially posttraumatic stress disorder, were also a concern for each of them, especially for Abbie Pickett who is coping with sleeplessness, crying jags, and hyper arousal. She shared her story with us of joining the military at 17 and 3 months later attending her junior prom. At 19 she was sexually assaulted by a superior in the Army (a trauma which raises the intensity and incidence of PTSD in female troops who are later re-traumatized by combat experiences). By the age of 20 she was in Iraq, where she was deployed with the National Guard for 15 months.

In an MSNBC interview, Abbie spoke about some of her combat zone experiences:


Pickett drove a 2,300-gallon refueling truck all over Iraq and occasionally took small-arms fire. "It was a bomb on wheels," she says. While on base in Baqubah, a city northeast of Baghdad, a mortar attack hit the building she was in. "I could feel it in my body. I knew it was incoming," she says. She helped tend to the wounded and then drove them in a Humvee to the base hospital. While she was unloading them, the hospital got hit. "All we could do was throw our bodies over the patients," she explains. She wasn't physically injured, but afterward she says, "I was shell shocked."

Abbie says that she has her good and bad days.

It's incredible to consider the breadth and depth of experiences she's had at such a young age. Some don't make it out alive. Abbie says she knows all too many who've committed suicide following their tours of duty. She's chosen to speak out and tell her story, doing outreach while traveling with IAVA to colleges across the country, to get the public's attention and help. She wants America to get engaged, get interested in its returning vets.

In an informal interview we had following the panel discussion, she told me, "At first when you arrive at the campus and look out into the crowd, you see a sea of faces and aren't sure what to expect. They don't seem to be too interested in what we're going to say. They have to be there, so they don't seem too excited about it." But, then things change. "I tell my story and that's when I see their faces change. They start to ask their questions…many of which are quite good," she says. You can see the pride and satisfaction in her face at making the war a bit more 'real' to the kids who get a chance to hear her story. "I feel I've really been able to connect with them," Abbie beamed.

Well, she connected with the slightly older crowd at YearlyKos, too.

If you'd like to tell others about Abbie's story and her work with IAVA, she's featured in a flyer ("Iraq Veterans Need Your Help") available for download. And please let her know you've got her back by writing info@iava.org.

Wishing Abbie all the best as she moves forward in her work, and thanking her for her service to our country in and out of uniform. Abbie's a modern day hero -- as are all of our troops. I salute her and IAVA for giving troops like Abbie the support they need to speak to us about their experiences, and for offering them the national platform to be able to do so.



Join or Support the IAVA

The Iraq and Afghanistan Veterans of America was formerly known as Operation Truth. In December 2005, it changed its name to IAVA to more accurately reflect their mission. They are a nonprofit, non-partisan group working to amplify the voices of those troops who've most recently served (and are serving) their country.

What's the mission of the IAVA, the first and largest OEF/OIF veterans organization?


The mission of Iraq and Afghanistan Veterans of America is to ensure the enactment of policies that properly provide for our Troops and Veterans, keep our military strong, and guarantee our national security for the purpose of a stronger America. We uniquely empower Iraq and Afghanistan Veterans to use their credibility and experiences to speak truth to power and shape public opinion. IAVA's membership includes Democrats, Republicans, and Independents.

They currently have about 1,000 veteran members, and an additional 50,000 non-veteran supporters. If you agree they're doing great work, consider joining by emailing them (if you're a veteran), getting on their email list for updates on news and events (for everyone), or even donating a few bills so they can keep up the good work (definitely for everyone).




&nbspRelated Posts


Want to stay connected? You can subscribe to PTSD Combat via Feedburner or follow Ilona on Twitter.