Here's a quick overview of a few treatment options presently being used to help PTSD coping mechanisms. You'll find these programs used in military facilities, VA Centers/Hospitals, and civilian treatment centers.

Click on 'Article Link' below tags for more...

Cognitive Behavioral Therapy (CBT):
Not to be used within a month of trauma. Therapists work with you to help change/overcome crippling and/or irrational beliefs and thought processes, such as:

survivor guilt
self-blame
irrational/uncontrollable anger
fear
Systematic Desensitization/Exposure Therapy:
Increasing escalation and exposure to things that trigger a traumatic memory in order to desensitize you to it.

Medication:
Drug treatment options include anti-anxiety and anti-depression medications.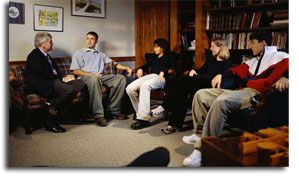 Group Therapy:
A way to encourage discussion of traumatic memories and symptoms with others who have been there, too.
Want to stay connected? You can subscribe to PTSD Combat via Feedburner or follow Ilona on Twitter.