At the end of April 2006, I returned home from a few days of down time with my husband to a surprising email from a small New York publishing firm. Ig Publishing said that they were interested in putting out a book on combat PTSD. Would I write it?

The following month I set about fashioning a proposal for what would eventually become Moving a Nation to Care and began reaching out to possible interview subjects for the project.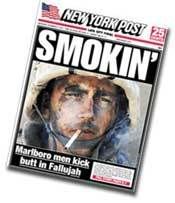 It didn't take me long to know without any hesitation whose story I needed to open the book with: James Blake Miller, aka the Marlboro Marine. I'd begun covering the issue of combat PTSD and our returning troops in September of 2005 and Miller made a deep impression on me when he came forward only a few short months later, in January 2006, to tell the world of his struggle with PTSD.

He was so honest about his experience in the many interviews he gave, and so clearly carried no other agenda than simply wanting to help destigmatize the diagnosis he'd been given. Dr. Robert Roerich, who eventually contributed Moving's foreword, was in touch with Miller at the time that I was working on my proposal and contacted him on my behalf.

Miller agreed to an interview, writing, "I'm interested only if it's going to be a positive outlook on PTSD and it is aimed at helping our veterans, and others, who have it. I want to tell the story, not for the sake of telling it, but to try to change how things are perceived and maybe to alter the labeling."

That was at the end of May 2006.


In educational interest, article(s) quoted from extensively.

Within weeks, Miller's life began to unravel and he sent out a public plea for privacy, which I honored. Into the summer, as I worked on my book, I emailed him a few times with updates on its progress, but never pushed him to return contact. He never did, and that was okay. I couldn't imagine a book on combat PTSD without his story, however; he had played such a vital role in trying to educate us since returning from Iraq.

And so, for Moving's first chapter, I did my best to piece his story together from the existing reports and interviews he'd given. In the chapter notes, I explained all of this, and wrote a special note to Miller, saying, "I hope, Blake, that you are pleased with the direction and mission of the final product; I did try to stay true to your desire to tell the tale in order to help and not hurt our troops and their families."

Since then, I've kept an eye out for any updates on Miller, often thinking to myself that no news is good news. At least it meant that he was alive, if not necessarily well. Today, Los Angeles Times photographer Luis Sinco delivers a heartbreaking 3-part multimedia update on Miller that is essential viewing.

Indeed, he has been struggling with his PTSD, and he could use our prayers -- as can those soldiers and military families today working to come to terms with all they have been through.

As an introduction, the following is extra material I'd submitted in Moving a Nation to Care's manuscript, grafs that didn't make it into the final book due to size limits. Please read on for Sinco's update in today's Los Angeles Times.


The Journey to War



Lance Corporal James Blake Miller trained at North Carolina's Camp LeJeune with the 1st Battalion, 8th Marine Regiment of the 2nd Division. The Tarawa division (named for a famous WWII Marine battle in the Pacific) had participated in the Cuban Missile Crisis. In 1983, the 1-8 lost 223 members in the Marine barracks bombing in Beirut, Lebanon, the biggest Corps hit since they took Iwo Jima decades earlier.

Today's modern 1-8 first deployed to Iraq as part of Task Force Tarawa during the initial invasion, losing 18 Marines in the taking of Nasiriyah from March 23-29, 2003. Its second deployment, in June 2004, was with the 24th Marine Expeditionary Unit, Miller in tow.

Edgy about the journey before him, Miller channeled that energy into his smoking. A pack-and-a-half habit rose to two-and-a-half packs at deployment; and once in the 'Sandbox' of Iraq, it shot up to five-and-a-half packs a day. The company's medic later said of Miller's habit, "I tried to get him to stop – the cigarettes will kill him before the war. I get on him all the time. But this guy is a true Marlboro man."

The 1-8's first assignment was setting up lookouts for the telltale white trucks favored by the insurgents for transporting and planting their roadside bombs and firing their mortars in Anbar Province. The Marines were specifically tasked with protecting Haditha Dam, which churned out 1/5 of the country's electricity.

The duty made Miller feel like he was doing something important for the Iraqi people. For the most part the enemy remained faceless, and Miller and crew were coasting along comparatively well. They lost guys here and there to snipers or IEDs or even accidents, but they had time to pass out candy and have a few laughs with the local kids, too.

But the fairly idyllic time would soon fade to black.

When the 1-8 got its orders for the Fallujah invasion on November 5, 2004, sandstorm swirling around them, everyone knew it would be a ferocious clash. Five Iraqi interpreters bailed out. Looking back on it, Miller said, "It puts butterflies in my stomach right now. I don't know if you can describe it." He grasped around a little more, and then gave up, "I don't think words can." No one had stepped foot inside the Sunni stronghold in months – but they were going in.

The evening set for assault nearing, the young Marines found themselves involved in intense training exercises. Miller remembers it all as a blur. Though stressed, the gathering of men for the mission from the various companies that had been spread throughout Iraq resulted in some happy reunions.

Miller, for example, ran into Demarkus Brown, a 22-year-old friend from infantry school days. The African-American from Virginia who had jokingly introduced himself to Miller when they had first met saying, "What's up, cracker?" was a welcome sight.

Love of music and shared experience had bonded the two and ensured they would become fast friends. They were glad to see each other. It would be the last time they would share a laugh; the last time they would do anything together, for that matter.

Brown, a machine gunner known for an ever-present smile and love of the Marines, would be killed by enemy action on November 19, 2004. He was 22. He joined over 100 other American troops to perish in Anbar Province that cold November.

A southerner brought up in the Christian faith, Miller was conflicted about the battle that loomed large before him. Brought up to believe killing was a sin, his orders were to destroy life in a city, ironically, famous for its 130 mosques. His company was specifically charged with pounding Al Hydra Muhammad Mosque (thought to be the insurgency's command center).

Miller phoned his adoptive grandmother on the brink of the assault, asking her, "How can people go to church and be a Christian and kill people in Iraq?" She later explained, "He was raised where that's one of the Ten Commandments, do not kill. I think it's hard for a soldier to go to war and have that embedded in them from small children up, and you go over there and you've got to do it to stay alive."



Coming Home





A lot of Vietnam vets suffered from PTSD, but nobody took the time to understand or help them. Now some of those guys are living on the street. You look at their situation, and you think about what they did for their country and where they are now … and it hurts. --

Lance Cpl. James Blake Miller


James Blake Miller left the Middle East and returned to his Kentucky home in February 2005 a hero. On the second day of the Fight for Fallujah, Miller had taken his first cigarette break following an intense nightlong rooftop fire fight. Cigarette dangling from his lips and the blood and grime of war on his face, Luis Since – an embedded photographer with the Los Angeles Times – shot a picture that would make Miller famous. His superiors had wanted to send him home, out of harm's way, yet Miller refused to leave his friends on the field of battle.

He would be happy to be home. But in many ways, his days at war were far from over. Almost immediately, he began having nightmares. Pumping his trigger finger repeatedly, he tried to fight off the ghosts of Iraq. Still they followed him into the daylight hours. One day, he peered out of his wife's college dorm room window to see an Iraqi body lying on the ground. He was anxious, easy to anger and frequently "blanking out." He sought help, and a military doctor spotted the signs of PTSD.

Yet in early September 2005, he was reactivated and sent to recover bodies and help police New Orleans in the wake of Hurricane Katrina. "I really didn't want to go … there was a possibility we would be shooting people," he told San Francisco Chronicle reporter Matthew B. Stannard. "We could be going into another (urban warfare) environment just like Iraq, except this would actually be U.S. citizens." It would be like "Fallujah 2, right here in the states," Miller feared.

Tensions mounted on board the USS Iwo Jima where his unit was stationed as they waited out Hurricane Rita. "I was coming out of the galley, when this sailor made a whistling noise that resembled the sound of a rocket-propelled grenade," Miller remembered. "I don't know why he did it … but something just triggered and I flipped out." He assaulted the sailor in a blacked-out rage.

On November 10, 2005 – exactly one year to the day his famous photo made its way around the world – Miller received an honorable but early discharge from the Marine Corps. He started VA counseling and soon began speaking out about his PTSD.

Throughout the first half of 2006, Miller gave interviews describing one young man's experience of war. Once more he received the attention of a nation, but this time it was as conflicted about Iraq as he was. Letters and gifts and visits came from strangers simply wanting to tell him, "It will be all right."

June 2006 became a blur of activity. He and his wife, Jessica, who had been married with few frills a year earlier were now showered with a lavish wedding donated by a grateful community and well-wishing strangers alike. Even Luis Sinco, the Los Angeles Times photographer whose camera froze a moment and face in Fallujah, was there. It was almost a full-circle moment that provided some closure. Almost.

Miller's best man was missing as were his other Marine brothers. They were heading back to Iraq. For the Marine who would not leave his battle buddies behind when given the chance in Fallujah: another psychological burden as they returned to battle without him. And for his mates: more exposure to the trauma of war.

Within a few days, citizen Miller was on the road as well, heading off to Washington, D.C. Honored by the National Mental Health Association for speaking out candidly about his combat-related PTSD, he met with Rep. Mike Michaud [D-Maine], ranking member of the House Veterans' Affairs Health Subcommittee. Chronicle reporter Matthew B. Stannard wrote of a conversation between the two men:



As they left, Michaud urged Miller to continue to speak out – to lawmakers, to VA officials, to his fellow veterans. "You shouldn't underestimate yourself as one individual, what you can accomplish. You telling your story is really powerful."

It's the kind of thing Miller has heard often over the past five months: that telling his story to the world is helping other vets who lack his ability to speak out despite the pain and the pride. He always appreciates the kind words, but wonders if the people who say it aren't missing the point.

"It's not what I can do to help people," he would say. "It's what everybody else can do."
In the interest of education, article quoted from extensively.
From the
Los Angeles Times
:
James Blake Miller was in a world of pain, and I figured I should be by his side.

A veterans' treatment program in West Haven, Conn. -- arguably the best in the nation -- offered hope. Moe Armstrong, a pioneer in vet-to-vet counseling, had heard of the Marlboro Marine's troubles and sent him feelers about coming for a visit. Despite my reservations about getting too involved, I had flown from Los Angeles to Kentucky to help Miller grab this lifeline. I coaxed him into my rental car and we headed north. ...

I had taken a photo of Miller for the Los Angeles Times during the battle of Fallouja in November 2004. He was leaning against a wall, a cigarette dangling from his lips. To my surprise, the image became iconic, capturing a sense of the front line in a young Marine's face. It appeared in dozens of newspapers and on TV broadcasts, giving Miller a moment of fame.

Back home, he had struggled to put Iraq behind him. He was medically discharged from the Marines, suffering from post-traumatic stress disorder. He suffered flashbacks, drank heavily and retreated into a shell.

We had stayed in touch, casually at first. Then something deeper had developed between us. I was one of the few people who could reach him, who understood what he had been through.

I'd flown east in June 2006 after Miller's wife called me, asking for help. During the long drive to Connecticut, it began to sink in that despite our 25-year age difference, Miller and I had a lot in common. We both had religious upbringings. We both went to public schools and ran with reckless crowds. We'd both found acceptance through sports. ...

We talked about the dissonance we felt. We existed in our own postwar world, forever changed by the experience. Meanwhile, everyone around us seemed distracted by trivialities -- the price of gas, a sex scandal in Washington, a paparazzi photo of Britney Spears without panties.

Fueled by coffee and Marlboros, we crossed six state lines and covered 870 miles. At dawn we arrived in West Haven. It was pouring rain. ...

Over the next month, I stayed by Miller's side as he began to reveal the things that weighed so heavily on his mind. At his request, I sat in on most of his therapy sessions. He said my presence put him at ease, but I never put down my camera, never stopped documenting the story.

Miller told Harkness how empty and confused he had felt when combat ended. How he had placed the barrel of an M-16 assault rifle in his mouth on the outskirts of Fallouja one day, taken a deep breath and reached for the trigger.

"What made me so special that I deserved to stay here and my buddies didn't?" Miller asked, speaking of friends who had died. "At one point, I was almost mad at them. How could my buddies leave me like that? We came together. We were supposed to leave together. I don't know how you can disconnect that feeling."

He told us about an event that haunted him. From an observation post in Fallouja, he had seen a head pop up amid the wreckage of several cars. It was a free-fire zone. He squinted into his rifle scope, saw a patch of dark curly hair and squeezed the trigger.

Later, Marines advanced on the scene and found a dead boy, 6 or 7 years old, his curly hair mottled by bits of brain and blood. There was more, he said -- terrible things he couldn't divulge. Not now. Maybe never. ...

By mid-October 2006, Miller had again slipped into depression. Memories flooded back as the second anniversary of the Fallouja battle approached. As the death toll mounted in Iraq, he worried about his buddies who had again deployed to the Middle East.

Marriage counseling proved difficult; sessions often ended in stony silence. Vaguely familiar facial features reappeared in Miller's dreams: a mole, thick beards and curly black hair. Then, body parts exploding.

Jessica became frustrated. They didn't talk. They stopped having sex. One night later that month, Miller called me, sounding depressed. I offered to come see him. By the time I arrived, Jessica had moved out. They next met at a law office in Pikeville. The smoke from Miller's cigarette hung thick in the air. The couple sat across a wide table and agreed to proceed with a divorce.

So much for happy endings, I thought, recalling their wedding.

As Miller and I drove back to West Virginia, news crackled over the radio. The Democrats had routed the GOP in the midterm congressional election. Public sentiment about Iraq had soured, and Defense Secretary Donald H. Rumsfeld, the architect of the war, was resigning.

Miller had mixed feelings. "That's good news, I guess," he said. "But it should've happened a long time ago. Everybody that's dead now. I mean, what's the point?"

It was Nov. 9, 2006 -- two years after I took the famous picture of Miller and a year after he left the Marines. In his empty apartment, Miller took his wedding picture from the wall and replaced it with a Meritorious Mast, a certificate detailing his valor in combat. He drank beer for comrades living and lost.

He spoke the names of the dead: Brown, Gavriel, Holmes, Ziolkowski.

"I didn't cry then, and I won't now," Miller said. "I just can't." ...

It took a while to get to know Miller. But I've come to appreciate his intelligence, generosity and dignity. He is a talented musician and skilled mechanic. I try to relate to him as a brother, even though I'm older than his father.

He has helped me sort through the craziness of Fallouja. I can't stop the war, but Miller has given me a chance to make a difference -- by helping him. And maybe myself. Often, I wonder if I've done enough. Can I let go now? Can I ever let go?

The experts tell me I may be in it for the long haul. ... Blake, son, I know it sounds crazy, but my mind always takes me back to that distant rooftop in Fallouja, where I snapped your picture. I think of that sunrise, bright and warm, and how lucky we were to see it.
My deepest thanks to Sinco, and evergreen prayers for Miller. And read more in
Part 1
and
Part 2
of Sinco's full recounting.

Related Posts
Want to stay connected? You can subscribe to PTSD Combat via Feedburner or follow Ilona on Twitter.