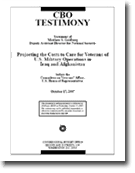 Deputy Assistant Director for National Security Matthew S. Goldberg's written statement given to the Congressional Budget Office yesterday offers an analysis of the costs of taking care of returning troops returning home from our wars in Afghanistan and Iraq. Extended has the summary stats. The full document is available online [pdf].

A few other stats reported previously by the CBO included.


From the summary:


Source: Congressional Budget Office



+ As of December 2006, more than 1 million active-duty military personnel and over 400,000 reservists had deployed to combat operations in the Iraq and Afghanistan theaters. Of those, 690,000 have either separated from the active component or become eligible for VA health care as reservists. In turn,

one third of those personnel (numbering 229,000) have sought VA medical care since 2002.



+ About 3,800 U.S. troops have died while serving in OIF, and over 400 have died in OEF. A total of almost 30,000 troops have been wounded in action during those two operations.

+

The survival rate among all wounded troops has averaged 90.2 percent during OIF and OEF combined

. By comparison, the survival rate during the Vietnam conflict was 86.5 percent. Among seriously wounded troops, the survival rate was lower—76.4 percent—during the Vietnam conflict and has also been lower—80.6 percent—for OIF and OEF combined. Higher survival rates during OIF and OEF reflect the widespread use of body armor, as well as advances in battlefield medical procedures and aeromedical evacuation. A census conducted by the Department of Defense (DoD) indicates

749 amputations from OIF and 42 amputations from OEF through January 2007

. The amputation rate is 3.3 percent among all wounded troops.

+ Through December 2006,

DoD physicians had diagnosed a total of 1,950 traumatic brain injuries (TBIs)

, of which over two-thirds were classified as mild. The

rate of TBI diagnosis is 8.2 percent among all wounded troops

. Some TBIs, however, are difficult to diagnose and may go unrecognized unless screening is performed after a soldier returns to the United States from deployment.

+ Post-traumatic stress disorder (PTSD) is also difficult to diagnose. Among OIF and OEF veterans who have received VA medical care, about

37 percent have received at least a preliminary diagnosis of mental health problems, and about half of those (17 percent) have received a preliminary diagnosis of PTSD

. The overall mental health incidence rate may be lower to the extent that OIF and OEF veterans who have not sought VA medical care do not suffer from those conditions. On the other hand, some veterans with PTSD or other mental health problems may not seek care because they fear being stigmatized.

+ Of the total 229,000 OIF/OEF patients seen by the VA,

3 percent (fewer than 8,000) have been hospitalized in a VA facility at least once since 2002; the other 97 percent were seen on an outpatient basis only

. Not all of those patients visit VA medical facilities in any single year; in 2006, for example, 155,000 OIF/OEF patients were treated by VA, accounting for 3 percent of the total veteran patient load. VA estimates an average annual cost of $2,610 per OIF/OEF veteran who used VA health care in 2006, versus an overall average of $5,765 per year for all VA patients.

+ VA's medical budget is discretionary (that is, lawmakers appropriate funds on an annual basis); it is not possible to project definitively VA's future medical appropriations because they depend on future acts of the Congress. However, depending on the future force levels deployed to OIF and OEF, if the Congress chooses to fully fund medical care for veterans of those operations,

VA medical costs explicitly associated with those operations could total between $7 billion and $9 billion over the 10-year period 2008 through 2017

, CBO projects. The costs of disability compensation and survivors' benefits could add another roughly $3 billion to $4 billion over the same period.
Meanwhile, from
Reuters
last month:
A long-term U.S. military presence in Iraq, as President George W. Bush has alluded to, would cost around $10 billion to $25 billion a year

, depending on how often troops are engaged in combat, the Congressional Budget Office said on Thursday.

CBO, a nonpartisan budget analyst for Congress, based its estimates on a 55,000-troop presence in Iraq, far smaller than the approximately 169,000 U.S. soldiers now fighting a war that is in its fifth year.

"The analysis addresses the potential costs of a U.S. presence that might last for several decades, as it has in Korea, and would not necessarily apply to operations over the next several years," CBO said.

On July 31, CBO said

the Iraq war has already cost U.S. taxpayers about $421 billion.

Bush could soon ask Congress for another $200 billion to cover Iraq and Afghanistan war costs next year.

The budget office prepared the latest report [pdf] at the request of Senate Budget Committee Chairman Kent Conrad, a North Dakota Democrat who opposed the war in Iraq.

Conrad, noting that CBO previously estimated a possible $1 trillion cost for maintaining troops in Iraq from 2009 to 2017, said the CBO estimate of costs for an additional 40 years would bring the tab to around $2 trillion. ...

The CBO report estimated that 55,000 U.S. troops engaged in long-term combat would cost around $25 billion a year, but could exceed $30 billion annually, in part depending on whether equipment wears out at a faster pace.

CBO said this would be in addition to one-time costs of $4 billion to $8 billion.

For a long-term noncombat mission, as U.S. forces have performed in the Korean peninsula or Germany, the $10 billion-a-year cost assumes the Pentagon would have to supply food, electricity, sewage and other utilities. But "costs would fall over time" if the Baghdad government improved the country's economy and infrastructure, CBO said.

CBO noted that it costs less than $1 billion annually to support about 80,000 U.S. personnel watching over the Korean border.
More
CBO Afghanistan and Iraq reports
.

Related Posts
Want to stay connected? You can subscribe to PTSD Combat via Feedburner or follow Ilona on Twitter.