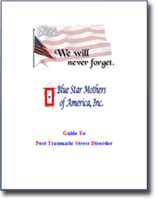 A wonderful resource to share with you on this day, Father's Day.

For those of who have loved ones deployed or blessedly welcomed back curious to learn more about combat PTSD, I have a good resource for you: The Blue Star Mothers has just published a free 17-page guide to help answer some of your questions.

From the American Forces Press Service:


After watching her own son return home from combat with post-traumatic stress disorder, an Army mom wants to share the lessons she learned -- and resources she found -- with others who find themselves faced with the same challenges.

Emily Afuola said she'll never forget the emotions that tugged at her and her family when they learned that Pvt. Matthew Afuola had been diagnosed with PTSD during his deployment to Afghanistan with the 10th Mountain Division. "When families find out about this, they're scared and worried. They're in a state of shock and a state of panic," she said. Afuola sought out every resource she could find to get answers and allay her and her families' concerns. "Initially, it was very, very hard," she said. "But I found that people were out there who wanted to help."

Afuola recognized that other families are confronting the same circumstances and wanted to share what she learned. She joined together with several other members of Blue Star Mothers of America, Inc., to produce a 17-page "Guide to Post Traumatic Stress Disorder"

to help them [link to guide in MS Word doc format]

. "We knew that other families are going through the same thing we did, and we're hoping that through this, they won't have to walk the same path," she said.



The guide offers basic, easy-to-understand information about what causes PTSD and symptoms to look for, as well as advice for getting treatment

. It recognizes the effect a servicemember's PTSD has on family members, and the role they can play in helping their loved one deal with the affliction. One of the guide's most valuable resources is an extensive list of places to turn to for help.
Click on 'Article Link' below tags for a sample of the guide...
TREATMENT TIMELINE



As the survivor starts showing signs of post traumatic stress, time is of the essence to receive proper treatment that will benefit them the most. The following is a condensed timeline that will help walk you through what to do and what will take place.

1. A loved one or yourself starts to recognize there maybe a problem.
2. If still in the military speak to a first sergeant, or someone above you in rank. You may also speak to a chaplain, as they will listen to what is happening or what you feel is happening.
3. If the symptoms last longer than a couple weeks start recording the symptoms so you will have a record. If it dissipates within the couple weeks it may be traumatic stress and not go any further, if it continues you maybe on a path that you will need treatment for PTSD.
4. Seek help with a professional
5. At this point, depending on the severity, medication may be prescribed
6. Start treatment, this may include: education on PTSD, training for relaxation, coping suggestions, discussions, assessments, and counseling sessions.
The treatment may start before, during, or following the evaluation.
7. Receive an evaluation: to receive an evaluation the symptoms must persist for one month or longer (reason for keeping a record as #3 suggests) and must interfere in their functioning capability.



An evaluation may include:


a. An interview: this is a short interview to see how your life is affected
b. An assessment: this can be 8-1 hour sessions or more. It will include covering your history, your experience (stressors) that affected you, and your symptoms. The assessment is done in depth. Family members may be asked to provide additional information.
c. A Global Assessment of Functioning Scale may be completed. This is a rating from the assessment and interview to be used as a diagnosis tool.



Counseling:

counseling sessions will be set up on an on going basis, as the professional so deems necessary. They may be held as an individual session, group session, or both. There are many other programs available for the survivor if they so desire or want more help and support. They may ask at the base hospital facility or the nearest VA/Vet Center.



Phone numbers:

it is extremely important to request phone numbers to have on hand for any emergency situation that might rise. These numbers should consist of at least one of the following: the counselor and or doctor, emergency treatment facility (hospital, clinic if there is one on base) including for the VA or you may request contact numbers for all of these facilities. You should have a copy of these to keep for yourself and for a loved one. Do Not wait until they are needed and you don't have them, you may never need them, but don't take that chance.

Lots of helpful information and links, including one to PTSD Combat.
Want to stay connected? You can subscribe to PTSD Combat via Feedburner or follow Ilona on Twitter.