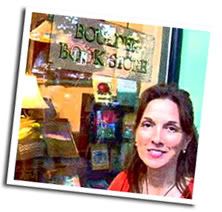 Returned from my Colorado book signings today (that's me in front of Boulder Book Store; many more photos coming as soon as I get them from a good friend who attended both, acting as event photographer).

Great successes again, being able to reach out and talk with local military family members and nonprofit groups and concerned citizens. Will write more on each of my stops in the coming weeks -- my first nice chunk of free time. In the meantime, you're invited to read two audience accounts, one from my June 5 Berkeley stop at Moe's Books, and the other from Wednesday night's Boulder stop.

Click on 'Article Link' below tags for a few snippets...

From electric firefly:


my new blogging hero

As the daughter of a Marine who served in both Vietnam and the Persian Gulf and an attorney who works with people with disabilities (specializing - if you can call it that at this early stage of the game - in mental illness) I have both a personal and professional interest in soldiers with PTSD.

Regardless of what you think about the validity of the war, I urge you to get informed about the issue and to do one small thing to help our returning veterans. (Many small efforts or big efforts are also appreciated.) You can support any number of bills currently in Congress or the Senate that offer an increase in the duration of guaranteed medical coverage veterans returning from Iraq or Afghanistan, that create new systems to prevent veteran suicides, or that give veterans easier access to the benefits system.

To that end, I encourage you to check out Ilona Meagher's PTSD Combat Blog. This woman is my new blog hero. She is a former web developer who read an article about returning vets committing suicide and murder and launched her own investigation into the impact of PTSD on our troops and their families. She realized that most of the news coverage was from small town papers who wouldn't be able to keep the articles in their databases for long, so she started her own blog site. She has since written a fabulous book - Moving a Nation to Care - and created one of the best repositories of information regarding PTSD in current combat veterans. She did all of this simply because she cared about the issue. I am truly inspired.

And I am truly humbled...and blushing.

From WheatherDem:


Yesterday, Ilona came to Boulder. She gave a talk at the Boulder Book Store on the Pearl St. Mall, staring with how she came to write about Post-Traumatic Stress Disorder (PTSD). The thing that struck me most about her talk was the very real emotions she has about the subject matter. This issue does mean something to Ilona and that gives her a huge benefit when writing/talking about it. She's passionate about it and that's something I think is severely lacking in today's instant gratification culture. ...

I doubt Ilona (or a number of the rest of us) expected to be doing what she's (we're) doing today just a few short years ago. And that is what is great about this community. "Ordinary" citizens are discovering that in fact they are extraordinary.

When alarm increases, people are moved to get out of their comfort zone and do whatever they can to turn the tide around, aren't they? I'm honored to be a part of the extraordinary group of Americans that are doing our best to do just that.

Thank you both so much for your coming out to see me on the road, for your gracious and insightful recaps, and for taking the time to help spread the word. This is exactly what the 'Moving a Nation to Care' project was intended to be in my brightest dreams.

[UPDATE July 9, 2007]: Not an audience member, but one awesome guy working hard to raise combat PTSD/reintegration awareness in his community. Thanks, happyfluke. You rock...


Want to stay connected? You can subscribe to PTSD Combat via Feedburner or follow Ilona on Twitter.