Most everyone by now has chimed in on their Memorial Day thoughts. I've wanted to wait a bit and have a chance to let the past few days soak in before adding mine.

I'm feeling very blessed to be with my family, and to have a nice break at long last this coming week. My husband and I drove alongside a handful of small town cemetaries yesterday, flags waving, many people visiting. It was a sunny day and yet always in the back of my mind was the knowledge that we are in the midst of a very sacred remembrance day...yet another year at war with so much more loss and pain.

Great losses have been paid. Many now funnel their griefwork into helping another generation returning home scarred by war. Penny Coleman and others like her are just such healers.

Click on 'Article Link' below tags for more...

I've been planning a post on a special lady since my New York City book tour stop last weekend. Penny Coleman, whose Flashback: Posttraumatic Stress Disorder, Suicide and the Lessons of War is now available in paperback and comes highly recommended (even withholding Penny's gracious penning of Moving a Nation to Care's foreword). To give a glimpse of Penny's work, a highly-coveted interview in Library Journal in which she describes what compelled her to write her book:


I wanted to hear how other women had survived their husbands' suicides and whether they blamed themselves, their husbands or the war. So I began interviewing other women whose husbands were also veterans of the war in Vietnam, who came home with what is now known as PTSD (post traumatic stress disorder), and had subsequently taken their own lives.

The more I talked to other widows, the angrier I got. We all blamed our selves for not having loved enough, or noticed enough, or intervened appropriately. We had failed; we were abandoned. The government knew better and they didn't tell us. They exploited the stigma attached both to PTSD and to suicide that isolated and silenced us.

I was about two years into my research when the US invaded Afghanistan and then Iraq. What had been primarily an historical investigation was transformed into a cautionary tale.

Penny's work has been transformed and has been transforming.

It's becoming a tradition that I think of Penny and Daniel on Memorial Day, along with all of my other new military friends that have shared so much with me on this journey. From last year's post, just as appropriate today:



I...dedicate this Memorial Day to those who've worn the uniform, served in combat, yet go unrecognized on our KIA lists or memorial walls at their death. Penny Coleman's late husband, Daniel O'Donnell, became one such casualty of the Vietnam War when he took his life after battling something later referred to as posttraumatic stress disorder [PTSD].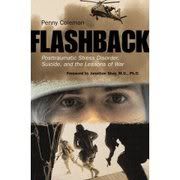 I had only weeks earlier been first contacted by Penny. She has since become a well-timed and much-appreciated mentor to me on my journey this past year exploring the topic of combat PTSD. Taking my hand (literally last weekend -- that's us in the picture above at my Barnes & Noble book signing in New York City on May 18), Penny answered my questions and listened to a novice's tales of woe like a soulful sage. After sending Cho and me at ePluribus Media a copy of Flashback -- our review -- she agreed to an exclusive interview.

A few comments that are especially compelling:


In a perfect world, a great deal more energy would be put into solving international problems other than with soldiers. The military keeps experimenting with prophylactic measures (pre-induction screenings, in-service therapies, deployment durations, unit organization, training variants, post-service questionnaires, etc.), and hoping they have finally solved the problem. They have not. But their optimism has consistently translated into a lack of preparedness, a lack of resources, and a lack of commitment to preventive rather than curative measures.

That said, all of the following would be an improvement--which is to say that the suggestions on this list are not currently being done. Deploying soldiers should be thoroughly screened for any sign of past or current mental or emotional problems. Soldiers in a combat zone who express concern about their mental state should not be shamed and ignored, but sent immediately for counseling, if not home.

Psychotropic drugs should never be used in a combat zone. Every effort should be made to protect troops from injury, either mental or physical, and that would include putting them in situations where civilians are routinely killed. When they come home, psychiatric evaluations should be mandatory and de-stigmatized, and there should be periodic follow-ups, perhaps for the rest of their lives.

Treatment for all war injuries, physical and psychiatric, should be absolutely free and compensation should be paid to those who can no longer work. Every candidate for the military, every soldier and every veteran should be thoroughly warned about the predictable incidence of PTSD and the statistical likelihood that it will end in suicide.

That is a wholly incomplete list, but it includes some of the true costs of war that are being currently ignored. If it seems prohibitively expensive, then perhaps we can no longer afford war.

I could go on and on about Penny -- and I do. She's worth every word and more. Thank you, Penny for sharing your journey and advice and friendship with me. A great pleasure to have met you last weekend. For anyone not familiar with Penny's work, head over to Flashback's companion website. And if you're fortunate enough, you may be able to catch another run of the play of the same name when it arrives on Broadway!


Flashback the play, is structured as an "argument" between two main characters, the widow of a Vietnam veteran suicide and a veteran who trained and served with her husband and remained a friend until his death. Woven through their efforts to sort feelings of guilt and responsibility, five other widows speak, with exquisite personal detail, about their attempts to cope with both psychic and social injuries before and after the deaths of their husbands.

Most Americans are unaware of the deep and lasting wounds suffered so predictably and frequently by combat veterans. These characters describe a commonality of symptoms that provide compelling evidence of the reality of combat-related PTSD and the predictable outcome of ignoring its lethal effects. Because they speak without conventional anti-war rhetoric or partisan accusation, their words are accessible to a broad cross-section of Americans, both those who support and those who disagree with our current military ventures, including military families.

To all of our military families, our nation is honored by your service.

My thoughts with you as always.




Related Posts



Want to stay connected? You can subscribe to PTSD Combat via Feedburner or follow Ilona on Twitter.