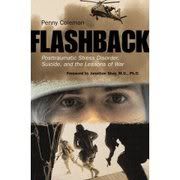 A number of weeks back, I was contacted by Penny Coleman. She's the author of the thoroughly provocative and deeply researched work, Flashback: Posttraumatic Stress Disorder, Suicide, and the Lessons of War.

I'd personally like to dedicate this Memorial Day to those who've worn the uniform, served in combat, yet go unrecognized on our KIA lists or memorial walls at their death. Penny Coleman's late husband, Daniel O'Donnell, became one such casualty of the Vietnam War when he took his life after battling something later referred to as posttraumatic stress disorder [PTSD]. As she says in her book:


The overwhelming evidence proves beyond a doubt that war is a disease that kills and maims, not just by tearing apart soldiers' bodies, but also by ravaging their minds. In every war American soldiers have fought in the past century, the chances of becoming a psychiatric casualty were greater than the chances of being killed by enemy fire.
Today, I remember these fallen casualties of war...
Want to stay connected? You can subscribe to PTSD Combat via Feedburner or follow Ilona on Twitter.