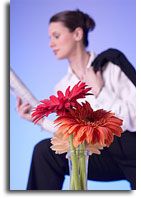 Haven't had a roundup in a while, so there's a lot to catch up on including a snippet of a DoD briefing answering a question on PTSD (they fell a bit short at it, imho); the VA's battle to stay on top of the rising cases of PTSD in our returning vets; virtual reality and fly fishing therapy for PTSD; a story of one vet's successful battle to win PTSD benefits from the VA; figures on Japanese troops coping with PTSD...and more.

Click on 'Article Link' below tags for more...

PTSD Combat News Roundup: July 14-27, 2006

July 14, 2006 - DoD News Briefing with Col. MacFarland from Iraq:


Q. Colonel, I'm Carl Osgood with Executive Intelligence Review. There's been a number of stories recently about troops coming back from Iraq and Afghanistan with mental health problems. I'm wondering, how much of an issue is combat stress for you and your troops, and what kind of measures are you taking to deal with it?

COL. MACFARLAND: Well, well, thanks for that question. Combat stress is something that we are very concerned about, and whenever a unit suffers a loss -- which occurs all too frequently, unfortunately -- we immediately put a combat stress team, which -- we have organic teams of brigades down with that unit. They spend a few times, and they talk to the soldiers and work with them. And, of course, we all have our unit chaplains as well who do a terrific job.

So we do the immediate, on-the-scene counseling and working with the units, helping them to overcome the stages of grief and get them back into the fight, and at the same time setting the long-term conditions for their sustained mental health. More >>

July 15, 2006 - Stars and Stripes:


Military health officials trying to keep pace with war's mental toll

As an Army computer specialist, Brian didn't expect to find himself in combat in Iraq. But two months after arriving in Baghdad, while on patrol with a cavalry unit, he faced his first of many brushes with death when a makeshift bomb exploded near his vehicle. "That scared the [expletive] out of me," said Brian — which is not his real name. As a member of Alcoholics Anonymous who recently completed mandatory treatment for alcohol and drug abuse problems, he spoke on condition he wouldn't have to give his name.

Brian didn't realize his clashes on the battlefield had mentally scarred him, but memories of what he went through put him in a state of perpetual anxiety. After returning from Iraq, he dealt with his anxiety the same way many Vietnam veterans did and still do: He turned to alcohol and drugs.

Substance abuse often goes hand in hand with post-traumatic stress disorder, a psychiatric condition that affects roughly 15 percent of Vietnam veterans and perhaps as much as 17 percent of Iraq veterans — including, doctors say, Brian. The condition often occurs after experiencing or witnessing life-threatening events. ...

Having slipped through the PTSD screening process, Brian dulled his anxiety with a self-prescribed regimen of alcohol and drugs. His heavy drinking and risky behavior got him two charges of drunken driving in less than seven months. "It wasn't until I got my second DWI that I was ready to admit I had a problem," he said.

He was about to get promoted to sergeant, but instead was busted down to private, sentenced to 45 days of extra duty and restriction, and had to forfeit pay. He was also ordered into the Army Substance Abuse Program. It was only after his mental health had thrown his career on the rocks that doctors said he likely suffered from PTSD.

After the diagnosis, he was enrolled in a six-week in-patient treatment program at Landstuhl Regional Medical Center in Landstuhl, Germany, that helped him deal with his dependence on alcohol and drugs and identify the events that had driven him to substance abuse. More >>

July 17, 2006 - Worcester Telegram & Gazette:


War on terror revives old battles

Stationed in South Korea in the 1970s, Army veteran Randy Della Penna had his share of disturbing experiences. As the war in Iraq becomes more controversial and the deaths of American soldiers continue, Mr. Della Penna has had a recurrence of these memories. Diagnosed a year ago with post-traumatic stress disorder, he believes those memories are the reason he's jobless and now living at the Massachusetts Veterans Shelter.

Attention is slowly being focused on the sharp increase of PTSD suffered by American servicemen and women who have served in Iraq and Afghanistan. The New England Journal of Medicine reported two years ago that 15 percent to 17 percent of the returning GIs were exhibiting PTSD symptoms, depression or other mental health problems.

Not documented, but obvious to counselors who work with vets and several veterans organizations, is a similar increase in the incidence of nightmares, flashbacks and delusional thinking — all symptoms of PTSD — among soldiers who served in previous eras, particularly Vietnam. They are convinced it is a result of memories of their own experiences provoked by news accounts and images of the combat and suffering in Iraq and Afghanistan. "You see these veterans watching the news, angry or shouting at the television," said Denis M. Leary, executive director of the veterans shelter on Grove Street. "They find themselves getting anxious again when they see a veteran in combat, guns firing, like on CNN these days."

To hear Mr. Leary tell it, the good news about PTSD is that given the right treatment the symptoms can be eliminated or at least controlled through cognitive or behavioral therapy or medication. But he says the Veterans Administration system is overwhelmed and cannot handle its backlog. "They have a long waiting list at the VA center on Lincoln Street because they can only do so much with the force of clinicians they have up there," he said. "And treatment makes a huge difference." More >>

July 18, 2006 - SF Bay Area Independent Media:


Iraq Vet and NJ Native Tells His Story

War means something different to those of us that have looked through the sights of a rifle at another human being's face. Collateral damage means something different to those of us that have seen the lifeless body of a 9-year-old girl caught in the crossfire. Or for those of us that have struggled to save the life of a 7-year-old boy with parts of his face and neck blown off while his father screams in agony to just let him die and concentrate on saving his other son.

I've only mentioned a fraction of what still haunts me from Iraq. I've been diagnosed with PTSD and, for about a year, I've been going to therapy for two hours a week. I suffer from nightmares, insomnia, flashbacks, and panic attacks. I suffered ligament damage in my knee and ankle while on a mission in Iraq that will require two surgeries to repair. I also have hearing loss from explosions and gunfire. I'm currently using private health insurance to get care, because the treatment that I have received at the VA has been offensive. A huge strain has been placed on my marriage, and at times I don't think that it will survive. Ultimately I'm left asking, for what? More >>

July 19, 2006 - Waterloo/Cedar Falls Courier:


Iraq vet wins battle for benefits

A Courier story in mid-May related the former Iowa National Guard soldier's battle with post-traumatic stress disorder and his ongoing fight, at that time, to get disability pay to support his family. The story was part of a series of articles about the disorder --- everything from history to prevention --- and the toll it is taking on Northeast Iowa veterans and their families.

Nolan's struggle with the Veterans Administration is apparently over. A VA psychiatrist concurred with the Waverly resident's mental health counselor and family doctor that he does have the disorder and is entitled to disability pay. Early last month he received his first monthly check for about $1,400.

The 23-year-old said the money will go a long way toward recovery, knowing now he can better support his wife and five children. More >>

July 22, 2006 - The Daily Yomiuri (Japan):


Stress haunts returning troops / No fatalities, but GSDF moves to tackle post-conflict trauma

In the United States, 9,154 soldiers, or 5 percent of the about 180,000 involved in combat operations in Afghanistan and Iraq in the three years after October 2001, developed PTSD symptoms such as nightmares or personality disorders, according to the Government Accountability Office. Although similar data is not disclosed in Japan, the GSDF's study shows nine GSDF members, or 0.9 percent of about 4,000 who returned from Iraq, were hospitalized or treated for depression between one and five months after returning home.

Meanwhile, among those who were sent to Iraq, five GSDF members including security personnel who were placed in relatively more dangerous frontline positions, committed suicide two to 17 months after they returned to Japan.

According to the Defense Agency's figures, of every 100,000 Self-Defense Forces members aged between 20 and 59, 38.6 SDF members commit suicide compared with 43.3 in the general male population. However, among those who were sent to Iraq, the figure jumps to 78.9. "The suicide rate of those who were dispatched to Iraq is twice as high as that of other members," said a Democratic Party of Japan House of Representatives lawmaker at a Diet session on June 22.

Hiroshi Kato, head of research at the Hyogo Institute for Traumatic Stress, said suicide rates and other statistics concerning stress among SDF members should be made public. "[SDF] members are suffering from extreme stress, and it's necessary to provide them with some care," Kato said. "Maybe the SDF decided not to disclose data regarding suicide and depression because it didn't want to spark anxiety among their families. But this data should be properly analyzed and disclosed after SDF members complete their mission." More >>

July 24, 2006 - Bangor Daily News:


3 wounded veterans experience restorative power of nature

James Stuck and two other wounded soldiers - Christopher Short, 24, of Little Rock, Ark., and Russell Martin, 26, of Dover, Del. - arrived at Bangor International Airport on Friday. They enjoyed a fly-fishing weekend on Moosehead Lake thanks to Project Healing Waters, a volunteer-run charity that helps service personnel recover from injuries by introducing or rebuilding their fly-fishing and fly-tying skills. ...

The deep wounds

Tim Trafford watched the three soldiers carefully from across the Legion hall. As a constituent service representative for U.S. Rep. Michael Michaud, his job involves working with veterans like Short, Martin and Stuck to ensure they get the government services they require.

As a Vietnam War veteran who served as an Army helicopter pilot in 1968-69 and eventually retired as a lieutenant colonel after 24 years of service, Trafford was glad the soldiers received such a warm welcome. "The vets from Vietnam did not have the support that these guys have had," Trafford said, "so when the vets were forced to make that choice whether to go on with their lives or give up, they had no support system whatsoever. So they gave up."

That feeling helped fuel the warm greeting the soldiers met in Greenville, Trafford said. "All of us don't want them to go through what we went through," he said. "Every veteran has a choice. They can feel sorry for themselves or they can go on with their lives, and the more support we show them, the easier it is for them to go on with their lives. That's why events like this are so important."

Still, even today, combat-scarred veterans can be their own worst enemies, Trafford said. "They have been taught by the Army, by its culture, that they don't want to admit that they have problems," Trafford said. "When they lose a limb, they have to come to grips with the fact that they are vulnerable. That's difficult."

Trafford dealt with an Iraq war veteran from Maine who suffered 40 percent disability from combat wounds and post-traumatic stress disorder, but his doctors were prepared to discharge him with a 10 percent disability, which would have been disastrous.

Trafford argued until he realized the doctors didn't know of the soldier's problems because the soldier didn't tell them. A heart-to-heart talk with the soldier eventually led him to seek proper treatment and to get the disability rating he deserved, Trafford said. "The issue is," Trafford said, "at what point are they willing to accept treatment. Some kids with PTSD won't admit that they have it and won't seek treatment. "You have to look at their eyes," he added. "Their eyes will tell you a lot about what's going on in their heads. Always look at the eyes." More >>

July 24, 2006 - Vallejo Times Herald (letter to the editor):


The third war

Everyone is aware of our brave men and women fighting in Iraq and Afghanistan. The Bush administration has extended the tour of duty of our soldiers over and over again, pushing our troops to the point of exhaustion and into the real problems of Post-Traumatic Stress Disorder, or PTSD and multiple physical injuries.

But are you aware of the third war our troops face when they get home? This is the war against the Veterans Administration.

These are the people who are supposed to help our injured soldiers, your father, mother, brother, sister and others. Help them with physical and mental disorders. But it seems that the Veterans Administration is more interested in saving money by not giving our men and women the ratings they deserve to receive the benefits from fighting in these unpopular wars.

I served in Vietnam in 1967-68. It took me four years to receive my ratings. This was 40 years ago. The VA has not changed one bit. I have an opportunity to work with veterans and I hear the same stories from them that the Vietnam veterans faced.

The Veterans Administration still drags its feet in issuing ratings. The Veterans Administration is requiring our brave men and women who have been in Iraq and Afghanistan to document their experiences before they receive any kind of rating.

You do not have to be a military strategist to realize the war in Iraq and Afghanistan is unconventional. So if you drive a supply truck or you're a combat medic, infantry, etc., you are at high risk of injuries and death. If you are in a combat zone you face countless dangers. But the Veterans Administration seems to think that our brave men and women are on some kind of vacation with weather and scenery.

Please contact Sen. Boxer and U.S. Rep. Miller and ask them to investigate the VA's antiquated rating system and help our returning veterans from the stress they will face when they apply for their VA ratings.

Ask them to start with the Oakland Veterans Administration office, since this is the office that rates our veterans in this area. We must stop the arrogance, incompetence and mismanagement at the VA. We must fight for our troops on many fronts - this is just one.

Gary Belem, Vallejo

July 24, 2006 - Oregon Public Broadcasting:


Military suicides on the rise

The rate of suicide among US military personnel is on the rise.

Defense officials say they are committing new resources to detecting and preventing suicidal behavior in soldiers, including those fighting in Iraq and Afghanistan. But watchdogs -- and a recent government report -- suggest the Pentagon may not be doing enough to make sure at-risk personnel get treatment once they get home.

No legislation has been passed, but Oregon lawmakers are pushing the military to do more. Terry Gildea reports from Capitol Hill.

-----------

It was nearly a year ago that the Army awarded Specialist Leslie Fredrick of Fort Lewis, Washington the Combat Action Badge for his service in Iraq. Two weeks after getting the honor, Fredrick shot himself.

Gordon Smith: "It's a tragedy to ever lose a soldier for any cause, but it just seems extra cruel when the cause is suicide. They're defending our country, America's interests and if we can't give them mental health assistance when they're in harm's way, we're really falling down on the job." Preventing suicide is a very personal issue for Oregon Senator Gordon Smith -- his own son Garrett committed suicide.

88 active duty soldiers killed themselves in 2005, a number that was up 13% over 2003 and more than 70% over 2001.

Paul Rieckhoff, executive director of Iraq and Afghanistan Veterans of America, calls the figures alarming. And he says an overstretched military and repeat tours of duty are taking a toll on soldiers. Paul Rieckhoff: "The last rotation, roughly 40% were there for the second time. Many are there now for the 3rd or 4th time. Divorce rates are going up, the violence continues to increase, and roughly one in three are coming home with mental health issues or Post Traumatic Stress Disorder, so our people are really showing signs of wear." More >>

July 26, 2006 - BusinessWeek:


A Dose of Virtual Reality

Dr. Dennis Wood takes patients on what some might consider an odd journey. He starts off leading them to a military compound in Fallujah, Iraq. He then guides them through an Iraqi marketplace before they accompany a patrol through Iraqi homes. And if he thinks they're up to it, he may even take them onto a battlefield, in the midst of explosions and aircraft flying overhead.

But neither Wood nor the patients is anywhere near Iraq. The therapeutic conflict is part of a virtual reality program developed at the Virtual Reality Medical Center in San Diego and funded by the Office of Naval Research (ONR). It's designed to help personnel returning from the wars in Iraq and Afghanistan cope with so-called acute post-traumatic stress disorder, or PTSD. Brought about by distressing experiences like those in war, PTSD can lead to flashbacks, other psychological ailments, and social problems.

COPING STRATEGIES. A therapist at the Naval Medical Center in San Diego, Calif., Wood monitors patients' heart and breathing rates and even how much they're sweating to see the effect of the virtual environments. The aim is to get patients to draw on their meditation training to regain perspective—and stay calm—when a stimulus causes an emotional response. "The idea being to be in the high-stimulus environment for a long period of time, maintaining low psycho-physiological arousal," Wood says. "The person then can take that learning in the therapeutic environment and transport it out or generalize it to day-to-day life." More >>
Want to stay connected? You can subscribe to PTSD Combat via Feedburner or follow Ilona on Twitter.