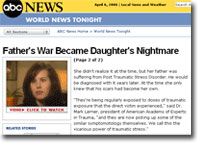 ABC News' Sunday Spotlight this past weekend showed their viewers how "the vicarious power of traumatic stress" affects family members of a veteran coping with posttraumatic stress disorder.

Through the experiences of the daughter of a Vietnam veteran, we learn that combat PTSD has a broad reach beyond the battlefield -- scooping up even those who've never seen a day of combat. View the video report, and then thank ABC Weekend News for covering this important issue.

If you're a family coping with PTSD, you might want to check out some of these helpful combat PTSD books.

Want to stay connected? You can subscribe to PTSD Combat via Feedburner or follow Ilona on Twitter.