How many times has the Bush Administration uttered the phrase 'post-traumatic stress disorder' in speeches or remarks archived at Whitehouse.gov? I did a search this afternoon and found not even one document returned.

Why is a disorder that afflicts tens of thousands of our Iraq and Afghanistan veterans unutterable by this administration? And are Democrats also silent on this issue?

Click on 'Article Link' below tags for more...


To head off any confusion, the question I'm proffering here is: Is PTSD as radioactive to the Bush administration as AIDS was to Reagan's? I'm not comparing the two illnesses with one another.
Since Vice President Dick Cheney is currently the big buzz in news these days, I thought I'd be clever and come up with a post-traumatic stress disorder [PTSD] angle to the story.

As I began my search for that PTSD angle, I found Cheney to be as accommodating to me as he was to the local Texas authorities last weekend. It seems our Vice President, who proclaims to support our troops, has apparently never gone on record uttering the term `post-traumatic stress disorder.'

Even though it is now reported that 40,000 troops have returned from combat showing symptoms of mental health disorder, Cheney's made absolutely no acknowledgement of the problem in any of his speeches or remarks. As a matter of fact, neither has our President: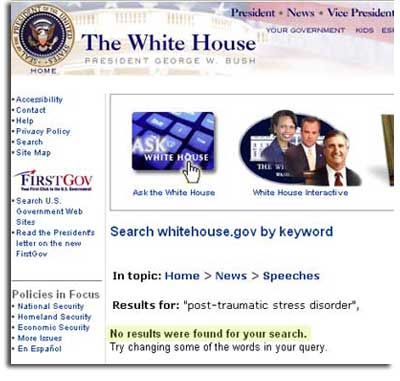 The Reagan administration had a problem uttering the deadly acronym: AIDS. Do our leaders try to banish that which makes them uncomfortable?

Perhaps I'm not being fair.

Perhaps my opinion of what constitutes authentic support of our troops differs from that held by our Vice President. One look through his speeches and remarks, we quickly learn that he sure does talk a lot about supporting our troops:




No lack of found articles there. So, supporting the troops appears to be as important to him as it is to me. Why then the silence on PTSD? If we advocate for better diagnosis and treatment of PTSD for our troops (along with the funding of the Veterans Administration (VA) to be able to meet its soaring needs), isn't that one way we can show our honest support of them?

Apparently, Dick Cheney doesn't think so.

::

OK, fine. I don't want to beat on a guy who's already down - even if it's Dick Cheney.

Let's take a look at other leading political figures. Are they as silent as our Vice President -- this administration -- is on this issue? Or do others speak out more on PTSD? Maybe we'll find there's an across-the-board silence on this issue -- that should go a ways towards absolving Dick Cheney, won't it?

How about Senator John Kerry. Is he silent on this issue?




Nope. 67 articles found including:


And there are 63 more to choose from. So, John Kerry doesn't seem to have a problem talking about PTSD. Why does Dick Cheney?

::

Now, John Kerry's just one man.

Are there other examples of Democratic officials unafraid of talking about PTSD, too? You bet there are. Feel free and take a look over at ePluribus Media where I've collected a number of choice quotes. One examination of them, and you'll see that the Democratic party walks the walk vs. just talking the talk when it comes to supporting our troops. Because if we're not willing as a nation to support those troops that are hurting the most, then who are we exactly protecting?

Our silence on the plight of our soldiers and marines returning with post-traumatic stress disorder only protects the very people most directly responsible for sending them to the battlefield. They deserve better than silence from our leaders.

So, if Cheney and Bush aren't talking about PTSD, what are they talking about?




1,422 speech and remark results for the search term: Terror.

And that's just Dick Cheney.
Want to stay connected? You can subscribe to PTSD Combat via Feedburner or follow Ilona on Twitter.