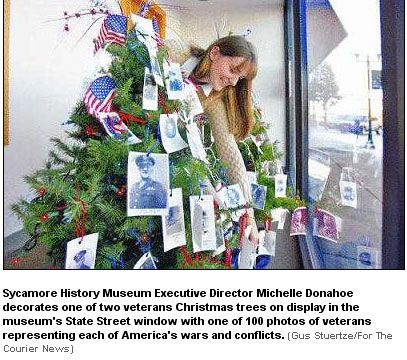 Recent stories that bring to life the many ways that we honor our veterans during the season of tinsel and light.
In educational interest, article(s) quoted from extensively.
First up, Nicole Soszynksi reports for the Elgin [IL]
Courier News
:
SYCAMORE -- Two little artificial Christmas trees stand in the window of the Sycamore History Museum, adorned not with silver or gold, but something much more valuable.

Each tree has white lights, American flags and photos of veterans hanging from the branches

.

These trees tell the stories of Sycamore-area veterans, Executive Director Michelle Donahoe said. The museum, 308 W. State St., is hosting its third annual veterans Christmas tree decoration.

"Viewers can learn more about their community," Donahoe said. "They can take a moment for all that these veterans did for them."



More than 100 photographs of men and women who served or are currently serving in the military were submitted to the museum

, she said. The photographs state the veterans' names, the branch of military they served in and how many years they served. Veterans from the Civil War, World Wars I and II, Vietnam, the Korean conflict, Desert Storm and Operation Iraqi Freedom are all represented on the tree, Donahoe said.

She received photographs of couples who met while they were serving and who eventually got married. She added that their children brought in the photograph of their parents for remembrance. People walk by the trees and learn something new about the members of the community that they didn't already know, she said.

"People enjoy looking at and recognizing pictures of people they know," Donahoe said.
Andrea Noble for the
Maryland Gazette
:
Flowers, wreaths and even a miniature Christmas tree dot the 102 acres of Maryland Veterans Cemetery in Cheltenham on Crain Highway. But in the rear of the cemetery, in one of the oldest sections, almost all of the graves were bare of ornamentation, at least until Friday.



On Friday, a group of about 10 seniors from the Bowie Senior Center travelled by bus to the cemetery to lay 50 handmade wreaths, adorned with red bows and American flags, on the graves of the veterans buried there

, including four of the seniors' family members.

Marion May, president of the Veterans of Foreign Wars Post 8065 Bowie Memorial Post, organized the excursion to honor veterans who may not have any family left to do so.

She specifically picked an older section of the cemetery, which opened in 1978, on the premise that there may not be any surviving family members left to honor them

. ...

"I don't think these guys get enough credit for what they do," said Bowie resident Mary Louise Estok, whose husband, Thomas, served during the Korean War and is still alive.

Bowie resident Cornelius Mabry, who served in the Vietnam War, had previously laid wreaths for unknown soldiers at Bowie Memorial Day services at Veterans Park in Bowie but had not been to Cheltenham before. Recalling the unpopularity of the Vietnam War, he said veterans' camaraderie and support for each other is important.

"

The veterans have a soft place in my heart

," said Bowie resident Pat Palarino, whose son and husband both serve in the Army.
Tim Karo for the
San Francisco Examiner
:
On a cold wet afternoon, the holiday spirit was brought to our veterans, thanks to the tireless effort of two brothers, Richie Lyon and Jimmy Scardino as well as their friends and family, along with staff and family members from Swords to Plowshares.



This year's holiday dinner with all the fixings and a gift bag giveaway was for an estimated 270 homeless veterans

, Tuesday December 16th 2008, at the Arc of Refuge Center on Howard Street here in San Francisco. The line was the longest ever seen according to one staff member from Swords to Plowshares,

it seems that with all the social service cutbacks and the rising number of homeless veterans, this couldn't of come at a better time

, no one will be turned away.

And they weren't, a festive occasion, complete with Christmas songs, turkey, lasagna, cole slaw, salad, and pumpkin pie. The participants were provided holiday cards to send to family and friends across California and The United States, to extend well wishes and to let others know all is well.

Christmas gifts (holiday backpacks) filled with all the essentials a person would need to survive in a shelter or on the streets during an abnormally cold December, were given out to each participant who came to the afternoon dinner. "The food was great" the spirit and sense of family was the best! which seemed to be the consensus of the participants,

another veteran who served two tours in Iraq, who calls home golden gate park, characterized the experience as one of "belonging", without being "hassled"

.

Merry Christmas to our veterans we'll never forget you and what you have done for us!
James Minton for the
Louisiana Advocate
:
Military veterans serving sentences at Dixon Correctional Institute donated 85 bikes Wednesday to organizations that will distribute them in time for Christmas

to needy children in two parishes. The Veterans Incarcerated group raised the money to buy the bicycles and tricycles by operating a concession stand that serves the public during prison visiting hours.

"We're still running that concession stand — every weekend," said Robert Cox, the group's inmate leader. The group has 28 members, and another six inmates who are not veterans also help out with the fundraising project, Cox said.
Nora N. Garza for the
Texas Monitor
:
Have you been enjoying the chilly weather? If you close your eyes, you can almost convince yourself that the icy drizzle splashing on your face is soggy snowflakes.

If the cold weather doesn't get you in the mood for Christmas, the goodwill and generosity being demonstrated all around us should. Many of the organizations associated with the Texas AgriLife Extension Service conduct special community service projects during this time of year.

On Tuesday, I had the joyful experience of singing with the Extension Education Association of Hidalgo County.

Club members led patriotic songs and Christmas carols for residents at the Alfredo Gonzales Texas State Veterans Home in McAllen

.

The songs about patriotism were made even more poignant when residents and staff lined the hallways earlier in the morning to honor a resident who had passed away. Taps was played as his body was wheeled away on a gurney.



The members of the Extension Education Association hosted the activity as a way to show appreciation for the sacrifices veterans and their spouses made for our country

. Following the songfest, members hosted a merienda, serving bean tamales.
Jeff Muniz for
WEEK-NBC
[East Peoria, IL]:
A retired soldier is serving in a different way this December and that's earned him "Veteran of the Month" for the state. Ron Umdenstock from East Peoria earned the honor for his involvement in the "Gifts to Yanks Who Gave" Program.



For more than ten years, he's collected cash, wrapped presents and delivered Christmas gifts to veterans in hospitals and nursing homes

. Nearly 8-thousand gifts go to Illinois veterans each year.

"If you go to the nursing homes and give these gifts out it's a real thrill. You'll have some real tears in your eyes when you go through that. A lot of veterans don't have anybody," Umdenstock says.

"I spent a little time in a hospital and the difference between getting a handmade quilt like what Ron gives out versus having to use a hospital sheet is a big difference," Illinois Department of Veterans' Affairs Director Tammy Duckworth says.

Besides the gifts, Umdenstock also helps veterans fill out paper work and even give them a ride to the doctor. Umdenstock makes it a goal to raise 150-thousand dollars each year and he has always reached that lofty figure or exceeded it.
Sharon Foster for
American Forces Press Service
:
A Christmas tree farm in Whitehouse, Ohio, is celebrating the holiday season by giving away 100 Christmas trees to military families.



"We've been giving trees to military families since the war started," Duke Wheeler, owner of Whitehouse Christmas Tree Farm, said. "We feel it's important to let these families know that we appreciate their sacrifices. … We're grateful for all that they do."



The tree farm is giving away 7-foot Christmas trees through Dec. 20 to military families

who have a servicemember overseas or a servicemember who recently returned from duty. Family members can cut down their own tree at the farm or have it cut down while they wait. ...

For the program, trees are cut and collected from several Christmas tree farms around Veterans Day, and transported by the growers to the Ohio Department of Agriculture in Reynoldsburg to be inspected, packed into boxes and put on a FedEx truck for overseas shipment.

"This year alone, with 20 growers, we had 30 high school and middle school students come and help us pack 325 trees," Amy Galehouse, Operation Evergreen coordinator for OCTA, said.

Galehouse said the trees were shipped out Nov. 12 and arrived in Kuwait on Nov. 18. "It usually takes two weeks for the trees to get all the way to Afghanistan," she said. "Seventy-five went into Iraq, 100 into Kuwait and 150 into Afghanistan."

Wheeler says he is happy to...reach out to servicemembers and their families during the holidays. "

This is just a small token, a simple 'thank yo

u,'" Wheeler said.
And I do hope that freelancer J.P. Devine will oblige me the opportunity to share this large portion of his masterful article, which appeared in the
Kennebec [Maine] Journal
; I've left the last paragraphs off, so please do read it in full if you can:
You want to make a World War II veteran cry? Of course you don't. You have one in the family. So don't play "I'll Be Home For Christmas" this year. While you're at it, avoid "Have Yourself A Merry Little Christmas" and anything by Nat King Cole.



It's tough in any war to hear those songs when you're 17 or 18 and so far away from mashed potatoes and gravy

; but remember, World War II was horribly different. In all the wars since that one, GIs got to come home once in a while. In Korea, it was basically a nine-month tour. In Iraq, I'm told, it was basically 18 months to two years. Now we have videos and the Internet and cell phones. Not to diminish any military pain, but In World War II, once you went overseas, unless you came home on a stretcher or in a box, you were there for the duration; and that was nearly four long years, in many cases.

The boys who landed on Omaha, if they got off the beach, went on through France, Belgium, and into Germany before they saw Mom and their girls again. They slept on the ground, in foxholes, in the snow, in bombed-out buildings; and they wore many of the same clothes for up to four years.

They already had done Africa and were pretty tired of missing Christmas in the snows of Maine all those years.

In the Pacific, my brothers tell me, Tokyo Rose was on the radio day and night, haunting and taunting the boys with sad songs from home, especially at Christmas. There was no one Rose. There were several Roses who tormented the boys by telling them their girls were fooling around on them at home, or that Mom was decorating the tree and crying. I don't think there is an Iraqi "Rose."



There they were, sleeping in the mud and waiting for mail that sometimes never came

; and when it did, they had moved on to another village, another hole, another possible rendezvous with death.

But no matter where they were -- in a bombed-out church in France, a hole in the Ardennes or fighting malaria on Guadalcanal in the Pacific --

Christmas always came, and it was the most dreaded day of the year

. If they were fighting hand to hand on Saipan, slogging through bloody mud in Burma or shivering at Bastogne, nobody knew if it was the Fourth of July or Valentine's Day or even a birthday. But they all knew when it was Christmas Eve and Christmas Day.

Even during the Korean War, the sad Christmas songs were torture. From patrols in the snow at Pyongyang to the Cherry Bar on a downtown side street in Tokyo, the sad dirges went on and on.

We drank more, we cried more in the fabled "season of joy."
Keeping our veterans and military families in my heart throughout the season, especially those so far away from loved ones today.

Related Posts
Want to stay connected? You can subscribe to PTSD Combat via Feedburner or follow Ilona on Twitter.