From NPR:


New data from a public health registry that tracks the health effects of 9/11 suggest that as many as

70,000 people may have developed post-traumatic stress disorder as a result of the terrorist attacks

.

The estimate, released Wednesday by New York City's Department of Health, is based on an analysis of the health of 71,437 people who enrolled in the World Trade Center Health Registry. They agreed to be tracked for up to 20 years after the Sept. 11, 2001, attacks, and the study was based on answers they volunteered about their health two and three years after the attack.

Of the estimated 400,000 people believed to have been heavily exposed to pollution from the disaster, data suggests that

35,000 to 70,000 people developed PTSD and 3,800 to 12,600 may have developed asthma

, city health officials said.

They include rescue and recovery workers, lower Manhattan residents, area workers, commuters and passers-by.
One of those people on the scene was a man named Kenny Johannemann, a WTC janitor who worked part-time in the basement of the North Tower. Michael Daly picks up the story in the
New York Daily News
:
Johannemann often said he might have been killed on 9/11 had he not stopped to get a cup of coffee just before the plane hit. Otherwise, he might have been on an elevator when a jet crashed and flaming fuel poured down the shaft.

Instead, he was waiting for an elevator when he heard a huge bang and the doors burst open.

A man tumbled out on fire and Johannemann helped him to an ambulance

. "He was burned up bad but he was still alive," Johannemann told People magazine.

In the aftermath,

Johannemann appeared on the "Jenny Jones Show" and received the letter from the White House

. Privately, the hero became a reclusive alcoholic.

"He just started backing away and not bothering with anyone," Joseph Maya recalled. He avoided family, even on the holidays he had always loved. He seemed convinced he was friendless and alone.
Eleven days ago, on August 31, he committed suicide.
In educational interest, article(s) quoted from extensively.
To contrast today's reported 9/11 PTSD figures, let's take a quick look at some previous data collected [master list of
September 11-PTSD studies
], beginning with
Psychological Sequelae of the September 11 Terrorist Attacks in New York City
, which appeared in March 2002's New England Journal of Medicine.
Findings:
In our survey of a representative sample of adults living south of 110th Street in Manhattan, conducted

five to eight weeks after the September 11 attacks, 7.5 percent of the respondents reported symptoms consistent with the diagnosis of current PTSD

, and 9.7 percent reported symptoms consistent with the diagnosis of current depression.

These prevalences suggest that

in the area below 110th Street approximately 67,000 persons had PTSD and approximately 87,000 had depression during the time of the study

. Although the estimated prevalences of current psychopathology vary according to the population studied, in a benchmark national study, the prevalence of PTSD within the previous year was 3.6 percent,10 and the prevalence of depression within the previous 30 days was 4.9 percent,11 suggesting that the prevalences in our survey were approximately twice the base-line values. ...

Persons directly affected by disasters have higher rates of post-event psychiatric disorders than persons indirectly affected. Our survey showed that

the prevalence of PTSD was higher among the persons who were most directly exposed to the attacks or their consequences

(e.g., those living south of Canal Street, the area closest to the attacks, and those who lost possessions) than among persons with less direct exposure. Factors associated with grief (e.g., loss of a family member) increased the likelihood of depression, a finding that is consistent with the results of previous studies. ...

We also found a

relation between a low level of social support and both PTSD and depression in bivariate analyses

and between a low level of social support and depression in adjusted analyses. Social ties have a positive role in mental health. After a disaster, a low level of social support has been shown to be related to PTSD and depressive symptoms
Frayed or nonexistant social supports in the midst of trauma recovery is the one commonality running through all of the incidents explored in this post.
But what about training/preparation for trauma?
Information on the incidence of PTSD in 9/11 workers from a September 2007 Journal of American Psychiatry article [
pdf
]:
[T]he likelihood of developing posttraumatic stress disorder (PTSD) as a result of working at the WTC site was highly dependent upon an individual's background, how soon they reported to work at the site and how long they worked at the site.

Individuals with a wide variety of previous training and experience worked at the WTC site in the days, weeks, and months following Sept. 11. Highly experienced personnel, such as medical, fire and rescue personnel as well as police officers, participated in the rescue/recovery efforts, as did individuals with little or no previous experience who volunteered.

In "Differences in PTSD Prevalence and Associated Risk Factors Among World Trade Center Disaster Rescue and Recovery Workers," Megan A. Perrin, M.P.H., former research scientist with the New York City Department of Health and Mental Hygiene, and her colleagues report that approximately 20 percent of construction/engineering personnel and unaffiliated volunteers were likely to develop PTSD within two to three years, compared with only six percent of police officers. The likelihood of developing PTSD was also higher for people who started working at the site on or immediately after Sept. 11, for those who worked on site for longer periods of time, and for those who were injured while working at the site.

"The findings of this study establish a substantial risk of mental repercussions in volunteers who respond to disasters, including terrorist attacks," said AJP Editor-in-Chief Robert Freedman, M.D. "

While we always knew that people who were directly involved were at risk, we now know that the risk extends to those who come to help

."

The analysis was based on interviews with 28,692 workers enrolled in the World Trade Center Health Registry. The workers were assessed through 30-minute computer-assisted telephone interviews, conducted between Sept. 5, 2003, and Nov. 20, 2004.

The highest rates of PTSD were found among workers who performed tasks outside of their training

. These included emergency, medical, and disaster personnel who engaged in firefighting and sanitation workers who performed search and rescue operations.



The probability of developing PTSD was also elevated for those who worked at the site for more than three months, for all types of workers except police officers

. Again with the exception of police officers, the relationship between time worked and the probability of developing PTSD was strongest for those who began working at the WTC site on Sept. 11, when the exposure to trauma and risk of injury were greatest.

"

These findings confirm that the mental health impact of the WTC disaster was significant for rescue and recovery workers

, especially for those who worked outside their area of training or regular occupation," said Megan Perrin, M.P.H., lead author of the study. "The results also reflect the critical importance of preparedness training and reinforce the necessity of providing mental health services to workers following a disaster."
The fate of one of those heroes from a 2003
USA Today piece
:
The firehouse in Maspeth, Queens, lost 19 firefighters on Sept. 11, 2001. But in the minds of those still working there, the terrorist attacks claimed another life a year later. Gary Celentani, 33, a strapping firefighter who followed two brothers into the New York City Fire Department, was at home Sept. 25, 2002, when he shot himself to death with a rifle.

Sept. 11's role in Celentani's death may never be known. In the weeks before his suicide, he suffered his mother's death and the end of a romance. Although 6-foot-3, Gary was a "teddy bear," says his brother, Ralph, who believes Sept. 11 was at least part of the reason Gary killed himself. "Nobody knew how much pain he was in," he says. ...

Celentani's suicide illustrates a disturbing trend that has emerged after tragedies such as last year's Pennsylvania coal mine disaster, the Oklahoma City bombing and Sept. 11.

Some of those intimately involved in storied rescue efforts — men and women lauded as heroes — have committed suicide

. ...



After Sept. 11, at least three New York men involved in rescue and recovery efforts have committed suicide

, union officials say. James Kay Jr., an emergency medical technician, shot himself early last year. Six months later, Daniel Stewart, another EMT, hanged himself. And there was Celentani.

What's more, Philip McArdle, the health and safety officer for the 8,600-member Uniformed Firefighters Association, knows of

about a half-dozen suicide attempts by other firefighters since Sept. 11.

"That number could go higher, depending on what we do to take care of these people," he says.

Experts, citing causes from post-traumatic stress to the destructive power of sudden fame, worry more such deaths will follow.

...

For firefighter Celentani and the other men and women who make a living rescuing and tending to others, traumatic situations are a routine part of life. And the pressure of dealing with such emotional events can take a toll.

At one time, there were three Celentani brothers in the fire department: Gene, a retired lieutenant; Ralph, a captain; and Gary, who joined the ranks July 14, 1996.

Gary, like most new firefighters, rotated through different engine and ladder companies. After Sept. 11, he was transferred to the Queens firehouse that housed Squad 288 and Hazmat 1.

In the weeks that followed, he and his brothers worked in the World Trade Center ruins. His two best friends were killed there, says brother Ralph, along with nearly 30 others Gary knew.

His life became consumed with attending colleagues' funerals when he wasn't digging through rubble and human remains

. He kept a shrine of photos of fallen firefighters in his apartment.

The rescue and recovery efforts weighed on all three brothers. Ralph knew at least 70 firefighters killed. But Gary seemed to suffer more.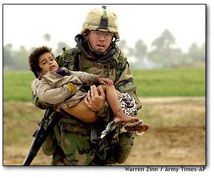 Those who come to the aid of fallen comrades and civilian casualties in the combat zone also can suffer negative consequences in the years following their experiences.
You may recognize this photo.
It was snapped by Army Times photographer Warren Zinn on March 25, 2003 -- just days into our invasion of Iraq. Dwyer, a medic born into a family of New York City police officers (his father and three brothers are all cops), enlisted two days after the attacks of September 11.
Joseph Dwyer
served in Iraq in the 3rd Squadron, 7th Cavalry Regiment, 3rd ID, also known as "the tip of the tip of the spear." Their 21-day push to Baghdad included only four days free of enemy fire. The photo that made Dwyer famous was taken in Faysaliyah following 10 straight hours in danger, as Iraqi fighters attacked his convoy and a rocket propelled grenade (RPG) struck his vehicle.
After calling for air strikes, a nearby house had been hit. The residents inside were injured, including little Ali Sattar. Dwyer scooped the frightened boy up and whisked him to receive care for his wounds; he also raced into the national conscousness at the time, as Zinn's powerful photo made the cover of USA Today.
At the time, readers wrote in their support of what they saw in the photograph, saying that it symbolized everything that was right about America. One reader wrote that it "explains, as no words ever could, why so many Americans support this war." The writer also thanked Dwyer "for being the American many of us aspire to become."
["Image of soldier, boy explains mission," USA Today, March 31, 2003 -- no longer available online]
Unfortunately, once Dwyer returned home, the hero was left to deal with his experiences on his own. He began drinking and sniffing inhalants, trying to tamp down flashbacks and nightmares and the endless hypervigilence and fear that consumed him.
Family and friends tried to reach out to help, including organizing an intervention. Dwyer himself also tried to pull himself out of his downward spiral. But, three days after the family's October 2005 intercession, Dwyer -- in a deep PTSD psychosis -- discharged "
volley after volley
" of gunfire in his apartment as police stood by.
Eventually, from the strain, his marriage frayed and broke down completely with his wife taking their daughter and fleeing for their own safety. His security blanket now gone, Dwyer's self-abuse gained even more momentum. From the
Associated Press
:
Officers had been to the white ranch house at 560 W. Longleaf many times before over the past year to respond to a "barricade situation." Each had ended uneventfully, with Joseph Dwyer coming out or telling police in a calm voice through the window that he was OK.

But this time was different.

The Iraq war veteran had called a taxi service to take him to the emergency room. But when the driver arrived, Dwyer shouted that he was too weak to get up and open the door. ...They found Dwyer lying on his back, his clothes soiled with urine and feces. Scattered on the floor around him were dozens of spent cans of Dust-Off, a refrigerant-based aerosol normally used to clean electrical equipment.

Dwyer told police Lt. Mike Wilson he'd been "huffing" the aerosol. "Help me, please!" the former Army medic begged Wilson. "I'm dying. Help me. I can't breathe."

Unable to stand or even sit up, Dwyer was hoisted onto a stretcher. As paramedics prepared to load him into an ambulance, an officer noticed Dwyer's eyes had glassed over and were fixed.

A half hour later, he was dead. ...

[F]or most of the past five years, the 31-year-old soldier had writhed in a private hell, shooting at imaginary enemies and dodging nonexistent roadside bombs, sleeping in a closet bunker and trying desperately to huff away the "demons" in his head.

When his personal problems became public, efforts were made to help him, but nothing seemed to work

.

This broken, frightened man had once been the embodiment of American might and compassion. If the military couldn't save him, [friend and fellow former Fort Bliss medic Dionne] Knapp thought,

what hope was there for the thousands suffering in anonymity?
Dwyer died on June 28, 2008.
As for our WTC hero, Kenny Johannemann, Donna De La Cruz
wrote
of his experience in her September 12, 2001, AP piece:
As the twin giants of the skyline crumbled from their 110-story grandeur to five stories of rubble, survivors coughing up dust and eyes glazed with terror fled across bridges or simply ran through streets piling up with debris.

The lucky ones got out alive but will carry scars on their memories forever.

Clemant Lewin, a banker, said he looked from his window across the street from the towers and saw people jumping from the 80th floor. A man and woman held hands as they plunged to the pavement.

"I'm traumatized for life," Lewin said. "Someone needs to take responsibility for this. This was somebody's father, this was somebody's sister, somebody's mother. We should have seen this coming. I'm disgusted."

Soon after the first terrorist-controlled jetliner sliced into one of the towers, an elevator door opened inside and there stood a man on fire.

Kenny Johannemann, a janitor, said he and another grabbed the burning man, put out the fire and dragged him outdoors. Johannemann said he then heard the second explosion and looked up. He, too, saw people jumping from windows high up in the buildings.



"It was horrendous. I can't describe it," Johannemann said.
Blogger
Bad American
:
Kenny Johannemann was used by the system who needed a hero and when they were done with him, he was cast back on the scrap heap of a previously ordinary life now shattered irreparably.

And then he was expected to pull himself up by his bootstraps.

Remember the rescuer of the Baby Jessica, paramedic Robert O'Donnell who also committed suicide? This is nothing new... It's the same with the servicemembers that come back from the gaping maw of America's wars.

What has never changed is the absolute unwillingness of a nation that spends $62 billion to build a handful of F-22 raptor fighter jets to spend a fraction of that to take care of the people who stand behind the machines and the ordinary, un-uniformed people like Mr. Johannemann who rise to the occasion to do extraordinary things for others.



We demean ourselves as a nation and people by not paying attention and providing care to these people after the cameras have been switched off and packed away.
While these above three cases are hardly reflective of everyone's experience in similar circumstances, they should give us pause.
They should move us to consider what we might do differently to better support and prevent such traumas and eventual tragedies in the future. Maybe, if we're bright enough, we can find some higher purpose for the raw suffering they felt during their brief time on earth with us.
Are we strong enough to honor them this way?
More information


New York City's government website reviews September 11's possible mental health effects, including, post traumatic stress disorder (PTSD), depression, general anxiety disorder (GAD), and substance use disorders, and offers general information and downloadable fact sheets.

The National Center for PTSD also has an info-rich Self Care and Self Help Following Disasters page well worth a look.

Related Posts
Want to stay connected? You can subscribe to PTSD Combat via Feedburner or follow Ilona on Twitter.