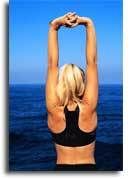 I've been a runner for years (more like "jogging" the way I do it :o) and have always leaned on a number of yoga and qigong moves for my warm-up/cool-down. The spinal twist is one of my favorites as are mountain pose and warrior pose.

This summer, however, I've picked up my yoga and qigong practices a notch and have found my daily 30 minute routines not only give my body a great workout, they help to clear the mind of stress with every stretch and inhalation.

What works for general tension also appears to work for those coping with PTSD, as research continues to show:


In a study [pdf] published last year in the Annals of the New York Academy of Sciences, a prominent PTSD expert found that

a group of female patients who completed eight hatha yoga classes showed significantly more improvement in symptoms

—including the frequency of intrusive thoughts and the severity of jangled nerves—than a similar group that had eight sessions of group therapy. The study also reported that

yoga can improve heart-rate variability, a key indicator of a person's ability to calm herself

. ...

The study's most striking findings were patients' own descriptions of how their lives changed, says the author, Bessel van der Kolk, a professor of psychiatry at the Boston University School of Medicine and medical director of the Trauma Center, a clinic and training facility in Brookline, Massachusetts. Van der Kolk, who has studied trauma since the 1970s, is considered a pioneer in the field. ...

Van der Kolk first became interested in yoga several years ago, after

he concluded that therapists treating psychological trauma need to work with the body as well as the mind.

"The memory of the trauma is imprinted on the human organism," he says. "I don't think you can overcome it unless you learn to have a friendly relationship with your body."
In extended, you'll find a few more paragraphs from the Yoga Journal piece on Van der Kolk's efforts in this field, along with a look at recent studies and articles on the subject.
In educational interest, article(s) quoted from extensively.
For those in a hurry to get started, Yoga For Vets has a nice list of
yoga classes for warriors
that are available across the country; I'm not sure when the list was created, as it doesn't include the programs introduced below, but it's worth a look-see. The Returning Veterans Resource Project NW has also collected a number of
complimentary yoga, pilates and t'ai chi programs
(as well as a whole slew of other resources for returning vets).
What a great benefit these programs are to our communities. They provide a healthful way to release stress and boost confidence, directly affecting the quality of life for local military families in general and the community as a whole.
Kudos to all who are doing this great work out there!
Continuing:
To learn more about yoga, van der Kolk decided to try it himself. He chose hatha yoga because the style is widely available, got hooked on it, and became convinced it could help his patients. "

The big question became: How can you help people confront their internal sensations?" he says. "Yoga is one way you can do that

."

Van der Kolk found yoga a safe and gentle means of becoming reacquainted with the body. "

Yoga reestablishes the sense of time

," he says. "You notice how things change and flow inside your body."

Learning relaxation and breathing techniques helps PTSD patients calm themselves down when they sense that a flashback or panic attack is coming

. And yoga's emphasis on self-acceptance is important for victims of sexual assault, many of whom hate their bodies.

Already, the military has begun to investigate yoga's therapeutic potential. In a preliminary study [view the PowerPoint presentation given at the 10th Annual Force Health Protection Conference] at Walter Reed Army Medical Center in Washington, D.C.,

nine active-duty soldiers with PTSD were able to sleep better and felt less depressed after 12 weeks of Yoga Nidra

(also known as yogic sleep, a practice that elicits deep relaxation).

"They felt more comfortable with situations that they couldn't control, and as a result, they felt more control over their lives," says Richard Miller, who is serving as a consultant to the Walter Reed researchers. Miller is a Sebastopol, California-based clinical psychologist, yoga teacher, and cofounder of the International Association of Yoga Therapy. A larger Yoga Nidra study, of 100 active-duty soldiers, is slated to start in late 2007 or early 2008. Still another, at the Atlanta Veterans Affairs Medical Center, will look at a combination of meditation, hatha yoga, and other techniques with veterans recently returned from Iraq.
Read
the full Yoga Journal article; lots more info there.
So, while the military
embraces
yoga for active troops as seen by the wide support of its Warrior Resilience Program at Fort Bliss and all of these studies under way, private yoga practitioners across the country are springing into action, too, offering returning veterans complimentary classes to support their reintegration process.
From the
Department of Veterans Affairs
:
The War-Related Injury and Illness Study Center-DC is pleased to offer Yoga classes to interested combat veterans. Yoga therapy refers to an ancient Indian body of knowledge that has been practiced for over 5000 years. The word "Yoga" comes from the Sanskrit word "yuj" which means "to unite or integrate."

Yoga therapy is designed to achieve and maintain one's personal balance through exercise, breathing, and meditation - the three main Yoga structures

.

The WRIISC-DC Yoga classes, may be appropriate for combat veterans experiencing chronic pain, post-traumatic stress disorder and/or other health concerns. During these classes, the WRIISC-DC yoga instructor teaches yoga techniques that may be used to improve health symptoms and enhance overall quality of life.

There are two Yoga sessions offered each Thursday on a walk-in basis from 7:30 a.m. to 9:00 a.m. and from 9:30 a.m. to 11:00 a.m. Please try to arrive 15 minutes prior to the start of the class.

If you are a combat veteran and are interested in attending our free yoga classes, please contact the WRIISC office at (202) 745-8249 for more information
From the [Westborough, MA]
Community Advocate
:
Four years ago, Lucy Cimini, founding director of the Central Massachusetts Yoga Institute (CMYI) in West Boylston, decided to try to offer some relief from the effects of PTSD and developed a class for veterans. She called the class "Yoga Warrior" and offered it free of charge.

PTSD soldiers who have participated in the program describe it on the CMYI website as "therapeutic because it is not therapy: there is no analyzing, no talking, no remembering."



After witnessing the program's success, Marlborough resident Lynn Stoller partnered up with Cimini. Stoller, who has a background in occupational therapy and yoga, and Cimini are using the "Yoga Warrior" classes to study the effects of yoga on returning veterans with PTSD. Stoller explained that one of the more detrimental effects of PTSD is that soldiers have a hyperactive "flight or fight" response.

"This was entrained in the soldiers' minds [so that they would] be battle-ready," she said. This response, which is essential on the battlefield, leaves returning soldiers with difficulty regulating their responses and returning to a normal sensory input. As a result, Stoller explained, soldiers will try to control this response by avoiding situations - like crowds - that could trigger it.

"Trying to control sensory input often ends up limiting their world ... They cannot turn this off when they come home," Stoller said.

The abnormal behavior, according to Stoller, is caused by the fact that the autonomic nervous system (ANS) is out of synch. Functions of the ANS are performed without conscious control, except through breathing.

Because yoga is centered on connecting the mind and body in the present moment through breathing, it can help reset the nervous system.



"Through breath, it reconnects the mind and body in the present moment," Stoller said. "... Working with these breathing patterns can help reset the ANS. I have discovered that yoga can help give some relief."

Because of the success that Cimini has had over the years with veterans in West Boylston, Stoller is in the process of organizing a "Yoga Warriors" class in the Framingham area.

"These vets are returning from war with significant problems," Stoller said. "I do not feel like our society is adequately addressing it or are prepared for what is coming down the road."

To offer this program, Stoller and other instructors often volunteer times and rely on minimal grants to off set some of the costs. Because of the positive results that have been achieved,

Stoller and Cimini are working to have yoga classes approved as a health benefit for veterans

.

"We have Vietnam veterans still dealing with PTSD and now we have young troops returning home with it," Stoller said. "... This is an extremely important cause."

For more information about the classes opening up in Framingham or in West Boylston, contact the CMYI at 508-835-1176 or visit the website at www.centralmassyoga.com.
From
Medical News Today
:
The New York Sports Clubs announced a collaboration with the Queens Vet Center, a counseling service that helps veterans of all wars readjust to civilian life. Because of the proven benefits of yoga in helping to reduce stress, the New York Sports Clubs in Glendale at 80-00 Cooper Avenue in Queens will offer free weekly yoga classes for veterans to complement the services provided by the Vet Center.

The Vet Center offers free counseling services such as psychotherapy, group counseling, marriage counseling, and employment counseling to help veterans deal with conditions such as post-traumatic stress disorder. Veterans from all wars and conflicts, including Iraq, Afghanistan and Vietnam, are eligible to visit the center.

"

At the Center, we believe that healing from trauma involves the body, mind and spirit, which is really the essence of yoga,

" says counselor Francisca Nazario. "That is why we were so grateful when the New York Sports Clubs volunteered to organize classes for our vets."

"

The response to the yoga classes has been very positive

. We're honored to be able to help the veterans and it's our privilege to work with such a worthy organization as the Queens Vet Center," says Alex Alimanestianu, CEO for New York Sports Clubs.
The above are simply a small smattering of the wide range of yoga classes available to veterans today.
Again,
Yoga for Vets
has compiled an extensive list of programs; more
complimentary veterans reintegration retreats and counseling resources
for you to dig through as well. If you'd rather being your yoga practice at home, YogaDownload has
free multimedia resources
for you.
And, finally: Wounded Times shares a couple of
articles on yoga
; Healing Combat Trauma also has a great page of
yoga links
.

Related Posts
Want to stay connected? You can subscribe to PTSD Combat via Feedburner or follow Ilona on Twitter.