In Boston, Philadelphia, or New York City? If so, hoping to see you as I hit the road at long last in support of my book, Moving a Nation to Care.

An extra bonus for those of you making the events? Actually getting a copy of my book! As mentioned late last month, there has been an unfortunate delay in books arriving from distributor warehouse to Amazon.com and bookstores. I apologize to everyone who has worked so hard on this project, working towards our May 1 arrival and push. I'm disappointed, too. Humble beginnings, thy name is Moving a Nation to Care! :o)

No matter, we move forward.

Everything else is looking fine and we are in place to begin. Books have already been shipped to events in Boston, Philly, and NYC; so, there's that extra incentive of getting your copy before everyone else if you come out. Please join me as we officially kick off the Moving a Nation to Care project -- get some resources, share your knowledge, and/or network with like-minded individuals in your area. I hope we can do some good together...

And about the photo. Barnes & Noble had asked for some photos, and I thought this one would be interesting. The B&W pic I'm holding was taken about 10 years ago. Join me this Thursday night (May 10) in Waltham, MA; next Wednesday night (May 16) in Philadelphia; or next Friday night (May 18) in New York City to see what a difference a decade makes! (Photo by Mike Rohde.)

Click on 'Article Link' below tags for New England press release...

[Download PDF of New England press release]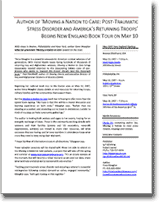 AUTHOR OF 'MOVING A NATION TO CARE: POST-TRAUMATIC STRESS DISORDER AND AMERICA'S RETURNING TROOPS' BEGINS NEW ENGLAND BOOK TOUR ON MAY 10

With stops in Boston, Philadelphia and New York, author Ilona Meagher takes her grassroots 'Moving a Nation to Care' project on the road.

Beginning her national book tour in the Boston area on May 10, 2007, author Ilona Meagher shares details on and resources for returning troops, military families and the communities that support them.

But the Moving a Nation to Care book tour is hoping to offer more than the typical book signing. "My hope is that this will be a shared discussion and learning experience on both ends," Meagher says. "Rather than my standing at a podium and projecting out to those in attendance, I prefer to think of my stops as lively community gatherings."

The author is inviting both seekers and sages to her events, hoping for an energetic exchange of ideas. Those in the community working directly with veterans and their families (private and VA counselors, nonprofit organizations, activists) are invited to share their resources, tell what successes they are having, and let area members in attendance know what more they need to keep doing their vital work. "I hope the flow of information moves in all directions," Meagher says.

These valuable resources will be shared with those not able to attend on the Moving a Nation to Care website, a project that will take off this spring and summer at www.movinganationtocare.com. "It's an empty canvass at the moment, but will become a richer resource as we pool our data, share what we know and what we've learned with one another."

"Tackling post-traumatic stress disorder and ensuring a veteran's successful reintegration following combat demand an active, engaged community," Meagher says. "Let's get moving on this together."

May 2007 New England Signings
________________________________________
Boston (Waltham), MA
May 10, 2007 – 7:30 p.m.
Back Pages Books
368 Moody Street

________________________________________
Philadelphia, PA
May 16, 2007 – 6 p.m.
Robin's Bookstore
108 S. 13th Street

________________________________________
New York, NY
May 18, 2007 – 7:30 p.m.
Barnes & Noble-Greenwich Village
396 Ave of the Americas @ 8th St.


Media Resources
________________________________________
Media Kit containing author bio, Moving a Nation to Care press release, clippings and reviews.

For information or to arrange an interview
________________________________________
Publisher
Ig Publishing
Robert Lasner
Ph/Fx: 718-797-0676
http://www.igpub.com
igpublishing@earthlink.net

===================

Thank you to BlueMassGroup.com for frontpaging a post announcing my trip out on Thursday:


(This issue is a big deal, touching on the fundamental decency with which we treat those who are willing to lay down their lives for their country. Thursday, May 10 at 7:30 pm at the Back Pages Book store in Waltham (368 Moody St.) - promoted by Charley on the MTA)

What ultimately happens to the thousands of American combat veterans returning from Iraq and Afghanistan with Post Traumatic Stress Disorder and other readjustment challenges will be the responsibility of all of us acting as a community.

Even if the VA had unlimited resources, research indicates that 60% of returning troops who recognize they have issues, will not seek help because of the stigma they feel society has towards PTSD. They will return home and live and work with us, as friends and colleagues. And how our society--our community--reacts to this challenge by either reinforcing the stigma or debunking it, will impact the gravity of this issue. So far history points to a tragic outcome with multigenerational consequences, unless we can become more enlightened.

This Thursday evening, May 10th, there will be a community event that will begin this process.
Want to stay connected? You can subscribe to PTSD Combat via Feedburner or follow Ilona on Twitter.