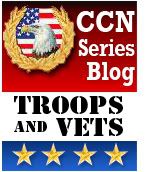 An invitation to the second in a series of articles of my work appearing in General Wes Clark's Clark Community Network Troops & Vets series on PTSD: Society and the Soldier: Post-Traumatic Stress Disorder – Part II.


The story of combat-related PTSD is a saga steeped in both sociopolitical intrigue and medical maneuvering. Conflict, inspiration, frustration, and relentless determination to find understanding and healing have been the markers of the experience.

The reality is that combat PTSD – or whatever we once called it, or whatever we're going to call it next – calls into question the human reliance on war to solve our problems.

While we may wish that our smart bombs and our superior military power will so overwhelm our enemies that our wars can be clean, quick and painless – and without any blowback on us or those we've sent to fight in them – there's no debating that war trauma has always existed, and it will exist as long as we wage war. In many aspects, the war trauma of today can be more debilitating than that of previous eras for a wide variety of reasons, which we'll look at in Part III of the Series. But a lingering shock to the system following combat has been a common thread that ties each generation to the next.
Read
Part I
if you'd like and then return to to
Part II
.
Want to stay connected? You can subscribe to PTSD Combat via Feedburner or follow Ilona on Twitter.