It's been a busy week over here, a lot of things to pass along.

I'd like to begin with a recap of a local veterans' group meeting that I was invited to attend Tuesday night. All of the details, more pictures and some resources and links in extended. But, first let me begin by sharing a photo: my first 'picture with the author' request (that's VietNow member Bruce Jacobsen below holding my upcoming book). What a thrill!




Click on 'Article Link' below tags for more...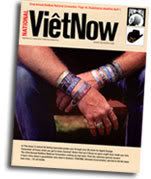 Much of my writing and research concerns the plight of our newest returning veterans from Iraq and Afghanistan. Since I set up the PTSD Timeline with a focus on OEF/OIF veterans, that's one simple explanation for the neglect of all the others; the greater reason, however, is that the issue of war, its vets, and its after effects is so broad and deep that any one person, especially a novice like myself, could very easily get lost in the gulf of problems and overwhelmed by the issues that have needed tending to for decades. Those in the fight a lot longer and stronger already had that area covered. But, even they need fresh faces and renewed energy in the form of new members and supporters. And as I learned this past week, you don't have to be a Vietnam vet to be a part of VietNow.

VietNow is family-focused. Their aim is on grassroots, personal and direct support of veterans and military family members in local communities. In mine, for example, the Rockford Charter Chapter participates in Adopt-a-Road, Special Olympics, Kids to Camp, Christmas for Vets, Rockford Rescue Mission, Salvation Army programs and many more. They play a role in local StandDowns that aim to reach out and provide services for homeless vets in the area. VietNow members also encourage and support their friends doing vital work at the Rockford Vet Center and are involved in running a shuttle van service from the area to the Madison VA Hospital -- a virtual lifeline for vets who might not have any other way to get to the nearest VAMC for care. The group has not been free of some bumps in the road, but they are clearly moving forward and helping many in this community if those in attendance were any indication.


Another example of VietNow's mission to care for all vets -- no matter if they made it home from the battlefield or not -- is in its loyalty to those still missing in action. They have made it a mission to "strive to achieve the most accurate and full accounting of the heroic Americans still listed as POW/MIA." One of those still listed as missing is Alan Lee Boyer, a 22-year old Green Beret from Illinois MIA since 1968 while on a reconnaisance mission in Laos.

Alan's unit came under enemy fire and a helicopter rescue was attempted, which led to the rescue of seven South Vietnamese before the rope was shot away. Three Americans were stranded, Boyer among them. At last sighting, they were alive and unhurt, but when the Huey came back two days later they had vanished, and are still classified as MIA. Boyer is honored by Rockford's VietNow National Headquarters by their naming their clubhouse after him; his mother is still very active in the chapter.

And if the Vietnam veteran you're seeking to locate made it home, but you're simply unable to locate them, VietNow also offers a veteran locator forum to assist you in your search.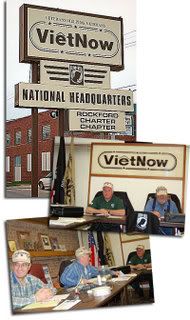 Here's a little history on the organization, from their brochure:


The Beginning of VietNow

VietNow was founded in Rockford, Illinois, in 1980, with a few meetings now and then just to talk. Vietnam veterans were not welcomed into other veterans' organizations for several years since Vietnam was termed as a 'conflict' and not a war. There was little or no public support for them, so it was only natural to turn to each other for mutual support and camaraderie. As more veterans heard of these informal meetings, our ranks swelled, and a grassroots support organization formed.

Coming Together at the Wall

Then, in 1982, at the dedication of The Wall in Washington, D.C., Vietnam veterans from across the nation gathered there to remember, to weep, and ultimately, to heal. Many vets saw our trademark tan hats with the VietNow logo (which stand for 'Vietnam to Now'), and wanted to share in the 'Belonging, Pride, and Acceptance' and 'Veterans Helping Veterans.' In 1983, VietNow became a national organization, and we now have chapters across the country. The National Headquarters remains in Rockford. Learn more >>>

It was at the headquarters, during a general membership meeting on officer election night, where I had the opportunity to meet Bruce Jacobsen, as well as President John Bates, Vice-President Dave Scott, Secretary Dwayne Barton, and Treasurer Darrell Gilgan (pictured above) and many other members, including combat photographer Joe Whinnery (pictured below). Bruce honored me by introducing me and my upcoming book, Moving a Nation to Care. In fact, Bruce submitted a short review of the book in the March chapter newsletter. Here's a snippet:


Shattered Bodies and Minds

The nation's attention has finally been turned toward the reality of war and the burden that veterans carry following the battles. Battle injuries in the Global War on Terror have been awarded over 30,000 Purple Hearts, and it is estimated that 150,000 have received concussive head injuries. Newsweek quotes Linda Bilmes as saying that 700,000 GWOT veterans will flood the system in the coming years. On the news is the flap and repercussions of the condition of Bldg 18 at the Walter Reed complex. Newsweek in its March 5, 2007 issue brings reality to the public's attention.

None of this might have happened without the outspoken hard work done by Ilona Meagher, who credits the efforts of VietNow in her book. She has, by research, collected factual historical information and compiled it into a text that should be read by all, especially by the bean counting bureaucrats, before they launch the nation into war. It isn't an easy read, as it tackles the raw hard reality faced by veterans, old and new alike.

The VietNow website has a solid collection of articles on PTSD that I had read over during my research for Moving a Nation to Care. I would highly recommend them.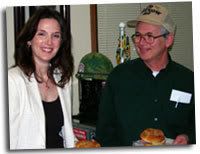 So, while this blog and my work is targeted towards today's returning troops, our former vets are never far from my mind and their concerns are no less deserving of our attention or care than those of our Iraq and Afghanistan veterans. In fact, some of the greatest support and real boots-on-the-ground help that I've received has come out of the Vietnam veteran set. These guys (and gals) have learned lessons the hard way and have a lot to offer the latest generation. Let's support them, so that they may support their newest combat brothers and sisters as they return home.

There are a lot of different veterans organization out there. Although the two groups that I have worked closest with include Iraq and Afghanistan Veterans of America (IAVA) and Veterans for America (VFA), it's also worth taking time to reach out to smaller or more local groups in your area to see what they're doing and ask how you might be able to help them in their work.

Have you taken a look at what groups exist in your neighborhood?


Want to stay connected? You can subscribe to PTSD Combat via Feedburner or follow Ilona on Twitter.