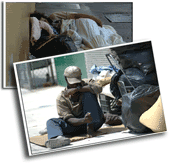 From the Washington Post:


The number of homeless veterans from recent wars is hard to gauge. From 2004 to 2006, the Department of Veterans Affairs

provided shelter to 300 veterans of Iraq and Afghanistan tours

, out of the tens of thousands who have served.

That figure "is not even close to accurate," said Paul Rieckhoff, executive director of the Iraq and Afghanistan Veterans of America, because it doesn't include the "others sleeping in buses, their cars or on the streets."

In New York City alone, he said his organization has helped 60 homeless veterans since 2004.
Indeed, Newsweek
reported
earlier this month that the estimated OEF/OIF homeless veteran figure is closer to 500-1,000.
Click on 'Article Link' below tags for more...


Continuing:


A recent study found that

those who have served multiple tours are 50 percent more likely to suffer from acute combat stress.

... Veterans' homeless shelters across the country, such as the Maryland Center for Veterans Education and Training in Baltimore, are bracing for increased demand. "The wave has not hit yet, but it will," said retired Army Col. Charles Williams, MCVET's executive director.

Nearby, the South Baltimore Station shelter is doubling the size of its program in anticipation of the Iraq war vets it expects to serve, said Woody Curry, the center's program director. He thinks it will be several years before they start showing up in large numbers. "Usually it takes a period of time before it surfaces -- the PTSD," he said. "And the military mentality leads you to try to tough it out and not say anything." ...

Meanwhile, a report by the Democratic staff of the House Veterans Affairs Committee found that

from October 2005 to June 2006, the number of Iraq and Afghanistan veterans seeking services from walk-in veterans centers doubled, from 4,467 to 9,103

.

"It's clear from the report that Vet Center capacity has not kept pace with demand for services, and the administration has failed to properly plan and prepare for the mental health needs of returning veterans and their families," U.S. Rep. Michael H. Michaud (D-Maine), a member of the committee, said in a statement.

Please read the full piece to hear of one vet's struggle with PTSD and homelessness. And check the homeless veteran 'Stand Down' days schedule to either contribute or volunteer at an event near you, or to seek help yourself if you are a veteran currently in need of a safe place to get some help and assistance.

A sample of upcoming Stand down events:


Mar 16, 2007 - Hattiesburg MS - Rebecca Ford 601-545-2925
Mar 22, 2007 - Raleigh NC - Carson Dean 919-508-0718
Mar 31, 2007 - Los Angeles CA - Doris Nickelson 310-518-1855
Apr 21, 2007 - St. Louis MO - Kathryn Sturgeon 314-615-7623
Apr 27, 2007 - St. Cloud MN - Lori Helget 320-656-6101
May 16, 2007 - Las Vegas NV - Shalimar Cabrera 702-429-7294
May 17, 2007 - Los Angeles CA - Doris Nickelson 310-518-1855
May 17, 2007 - Saint Paul MN - Kara Cornils 612-727-1355
May 23, 2007 - Lansing MI - Kate Reed 517-484-4414

Related Posts
Want to stay connected? You can subscribe to PTSD Combat via Feedburner or follow Ilona on Twitter.